Message for students 2022:Masanao Natsumeda
Supporting stable system operation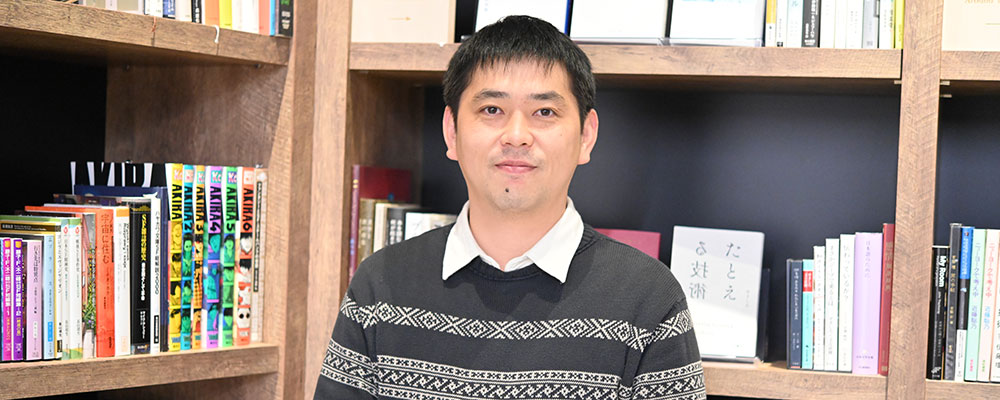 Secure System Research Laboratories
Senior Researcher
Masanao Natsumeda
Technology that detects signs of anomalies in social infrastructure
Natsumeda made the transition from atom optics, which he majored in at university, to the world of data analysis. He was seconded to NEC Laboratories America to lead a large-scale project for Lockheed Martin. He won Local Commendation for Invention of Kanto 2020 "The Encouragement Prize for Invention" and the Promotion Foundation for Electrical Science and Engineering Encouragement Award in 2021. Currently, he is studying at a University of Tokyo graduate school.
I majored in photonics at university. I engaged in basic research on trapping atoms using light. The research that I dealt with during that time was related to a research area in which NEC was producing significant results, and therefore I joined NEC in 2008, believing that I could apply the knowledge and experience I cultivated at university.

After joining NEC, I engaged in research concerning light up to 2012. One of the projects is the next-generation optical disk initiated in 2006. Eventually, device-related businesses shrunk within NEC and a shift to ICT-related developments emerged. The focus areas switched over to services and software, and research themes significantly changed alongside that switch as well. Initially, there were times when I was unsure of what to do. However, eventually I recovered my confidence and was able to trust in my ability to apply what I had been doing to analytics for industrial systems, which was physically visible.

From 2012, the invariant analysis technology devised by NEC Laboratories America was applied to industrial systems, of which I came to take part in the research activities. This technology captures the industrial system's behavior based on the data collected from sensors. Specifically, by collecting data while verifying the relationships among sensors, a model is created based on normal system behavior. When the model detects a change in data, it indicates it as an abnormal value, which is used to foresee a problem that is about to occur.

The first project that I was engaged in involved utilizing this technology to monitor a large-scale plant. Stable operation of such systems is heavily dependent on the experience of seasoned technicians; when people who know the plant floor well leave the company, it may cause problems in the operation.
If we can ensure safety in such a way that does not rely too heavily on humans, then even when technicians leave their jobs slowly over time, the remaining younger generation of operators combined with new technologies should be able to continue stable operation.

In 2017, a project to adapt AI and machine learning technologies to the aerospace domain came up as a joint initiative between NEC and Lockheed Martin. In this project, I took charge of technical verification of the invariant analysis technology.

Aside from this project, I am now engaged in research aimed at establishing applied technologies that positively work on businesses, such as developing a technology that forecasts the remaining life of equipment for the optimization of business costs and feedback to design.
A company that invests in people's growth and supports challengers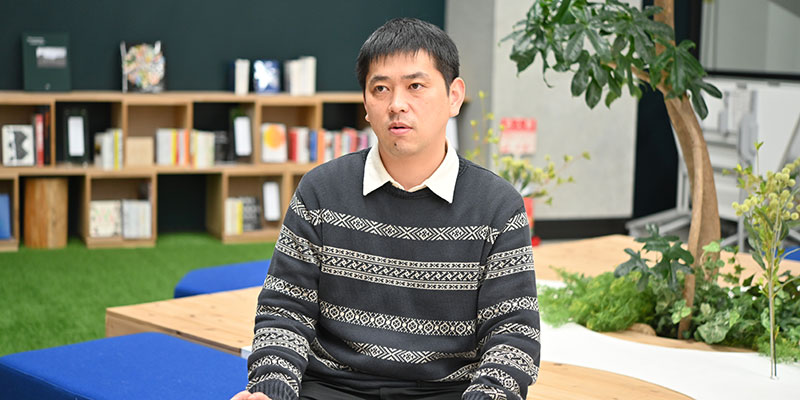 NEC's appeal is its willingness in investing in people's growth. Most of the jobs that have been assigned to me were challenging to me. These assignments were not made based on a 100% guarantee from the get-go that I could do it. If you say that you are willing to take on a difficult task, people will assign it to you.

I have never heard of anyone being held back by people around them. NEC is a place where the doors are always open for people who actively want to try. And it is a company that does not spare investment in growth and encourages you to try even when you don't have enough capacity yet.

I was put in charge of a task to give a technical presentation to a Taiwanese electric power company around 2014. While I was not very proficient in English, I was able to fulfill my role of advertising the technologies that I was involved in to the global market.

NEC also has a system called Career Review, where you discuss your medium- to long-term career plan with your supervisor. Since joining NEC, I have been sharing my desire to experience in working abroad with my supervisor during Career Review sessions. As a result, I finally got to be seconded to NEC Laboratories America in 2017 and spent about four years in the state of New Jersey in the United States with my family. Through leading big projects and launching research projects, not only did I grow as a corporate researcher, but I also learned a lot through private life. Living abroad can come with some little problems. I acquired the guts and negotiation skills to get through small problems. I realized that a change in environment can really make a person grow. Recently, I feel that collaborations with overseas NEC Laboratories are getting increasingly active, such as in joint projects and research presentation meetings. I hope that you take on the challenge if you have any interest in working abroad.

Another NEC appeal is its culture of open-mindedness toward different opinions. My supervisors have been people who would listen to me seriously regardless of what I say. Many of the people here will readily accept opinions from members and help out to improve.
The importance of researchers having entrepreneurship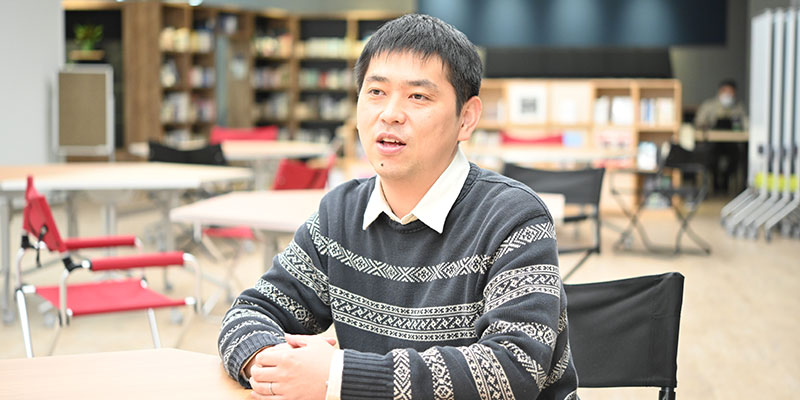 I think it is important to be curious about everything. In the course of your research, you may sometimes face a point when you have to find something new, something that you have never experienced before. If you have the curiosity, it will rev up the courage to start something new. In my case, I switched my subject of research drastically from photonics to data analysis technology. Thanks to curiosity, this gap did not make me hesitate.

My belief is to "go ahead without fear of failure." As one kind of opportunity, being able to access a new place for research through a study-abroad system or studying in a university in Japan is another one of NEC's appeals. In my case, I am currently studying in a graduate school in Japan, which allows me to do doctorate course research while working. If the company recognizes that what you are researching can potentially lead to NEC's development, it will support your tuition and give you time to study.

What I feel nowadays is the need for entrepreneurship among researchers who work at companies. I feel that there is an increasing importance in getting people around you to resonate with what you firmly believe is important, rather than contributing to something whose value is obvious. In a world where diversity is called for and where what is useful or preferred is becoming unclear, it is important to have your own hypothesis and keep communicating so that its value can be recognized in society. Having that perspective as your core will be necessary in the future especially for researchers who seek active roles in laboratories in the industry.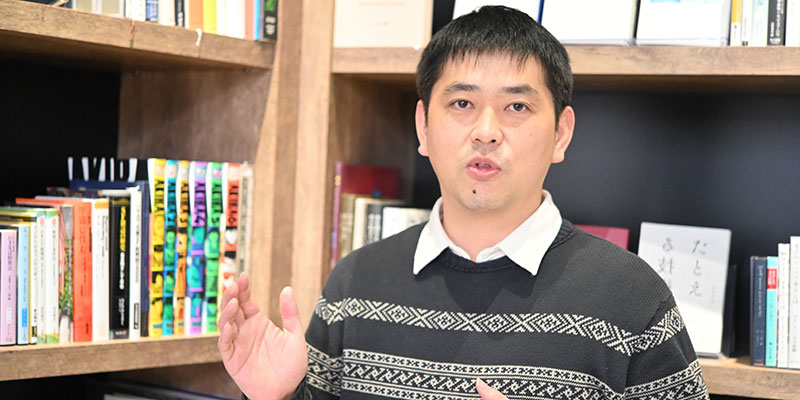 ※

The information posted on this website is the information at the time of publication.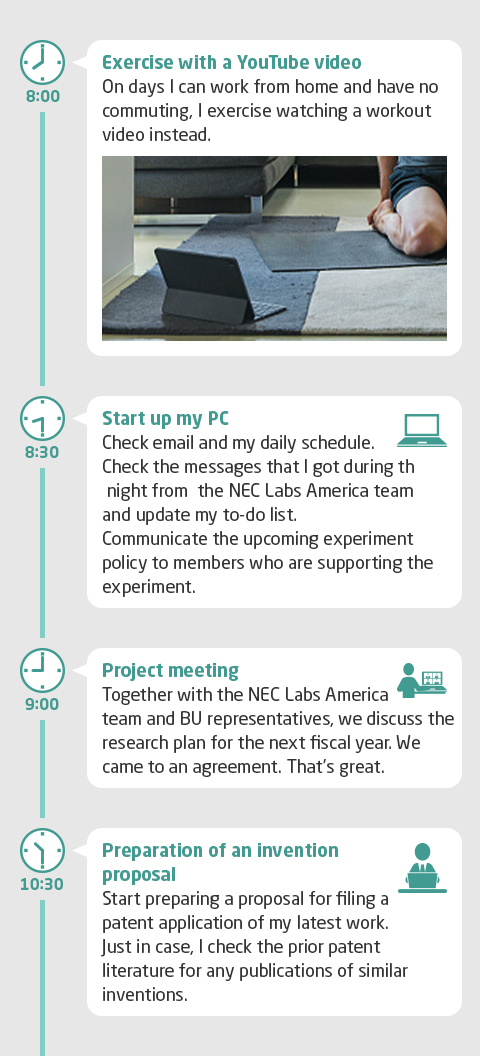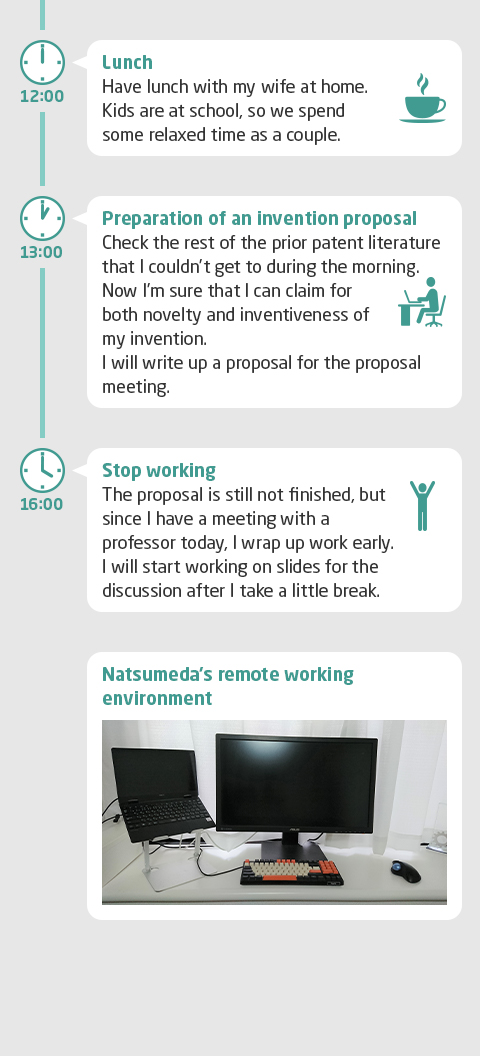 Message to my past self in my school days

As indoor activities, I play table games with my children on days I am off work. This started when I discovered some games at my parents' place that I used to play as a child. I also like outdoor activities. I recently tried a half marathon. Now that I have earned a personal experience that you can complete a half marathon after practicing for three months, I started inviting people around me to half marathons.