Displaying present location in the site.
SJC2 submarine cable to enhance connectivity between North and Southeast Asia
~ NEC Corporation supplies SJC2 global consortium with submarine cable ~
Tokyo, 15 March, 2018 – The Southeast Asia–Japan 2 consortium (SJC2) signed an agreement with NEC Corporation (NEC; TSE:6701) to build a high performance submarine cable connecting Singapore, Thailand, Cambodia, Vietnam, Hong Kong, Taiwan, mainland China, Korea and Japan.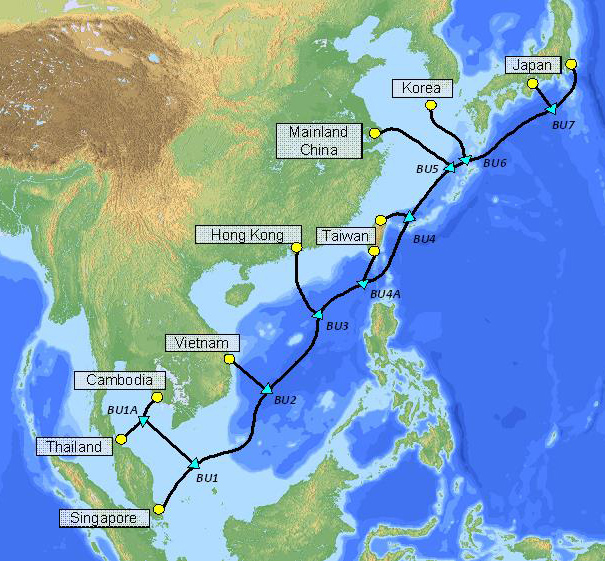 Construction of the 10,500-kilometer long cable is expected to be completed by the fourth quarter of 2020.

The cable will feature up to eight fibre pairs of high capacity optical fibre with initial design capacity of 144 Terabits per second, roughly the equivalent of simultaneously streaming 5.76 million ultra-high definition videos per second. Its high capacity allows it to support high bandwidth intensive requirements such as the Internet of Things, robotics, analytics and artificial or virtual reality applications.

Ms Linette Lee, Chairperson of the SJC2 consortium and Director, Submarine Cable Investments at Singtel's Carrier Services, International Business Unit, Group Enterprise said, "The construction of SJC2 cable marks a key milestone in intra-Asian digital collaboration. The newer and higher capacity cable complements the earlier SJC which was completed in 2013. It is a critical infrastructure to provide seamless connectivity, lower latency and network diversity to enterprises and customers in this economically dynamic part of the world."

The SJC2 will be built and operated by a global consortium comprising telecommunications and technology companies, including China Mobile International; Chuan Wei; Chunghwa Telecom; Facebook; KDDI; Singtel; SK Broadband; and VNPT.

"NEC is honoured to be selected by the SJC2 Consortium as the supplier for the most advanced optical fiber submarine cable system, landing at eleven locations across nine countries and regions. SJC2 is designed so that once completed, it can carry at least 18Tbps of capacity per fiber pair. The robust and flexible design will enable SJC2 to cope with future changes in capacity demands," said Mr. Atsuo Kawamura, NEC's Senior Vice President, Telecom Carrier Business Unit. "SJC2 will provide seamless connectivity and network diversity, while serving to complement other Intra-Asia submarine cables, among others, such as the original SJC built in 2013," he added.
***
About SJC2 consortium
The SJC2 is a global consortium comprising telecommunications and technology companies, including China Mobile International; Chunghwa Telecom; Chuan Wei; Facebook; KDDI; Singtel, SK Broadband; and VNPT.

About NEC Corporation
NEC Corporation is a leader in the integration of IT and network technologies that benefit businesses and people around the world. By providing a combination of products and solutions that cross utilize the company's experience and global resources, NEC's advanced technologies meet the complex and ever-changing needs of its customers. NEC brings more than 100 years of expertise in technological innovation to empower people, businesses and society. For more information, visit NEC at http://www.nec.com.

The NEC Group globally provides "Solutions for Society" that promote the safety, security, efficiency and equality of society. Under the company's corporate message of "Orchestrating a brighter world," NEC aims to help solve a wide range of challenging issues and to create new social value for the changing world of tomorrow. For more information, please visit





NEC is a registered trademark of NEC Corporation. All Rights Reserved. Other product or service marks mentioned herein are the trademarks of their respective owners. ©2018 NEC Corporation.