Displaying present location in the site.
NEC supplies submarine cable for system connecting Hong Kong and Guam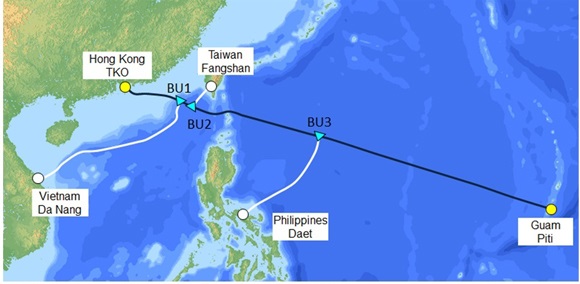 ※

Tokyo, January 20, 2017 - NEC Corporation (NEC; TSE: 6701) today announced the signing of a contract with RTI Connectivity (*1) to supply a high capacity optical submarine cable for a new system connecting Hong Kong and Guam.

The 3,900 km Hong Kong Guam Cable System (HK-G) is scheduled to begin operation in January 2020, featuring 100 gigabit per second (Gbps) optical transmission capabilities that deliver a total capacity of more than 48 terabits per second (Tbps). This contract will partially utilize capital from the Fund Corporation for the Overseas Development of Japan's ICT and Postal Services (Japan ICT Fund).

The HK-G is slated to connect in Guam with the SEA-US optical submarine cable system that directly connects Southeast Asia to the United States, and that NEC began constructing in March 2015. As a result, this project contributes to the expansion of communications networks between China, Hong Kong and the United States, in addition to those between Southeast Asia and the United States. Moreover, the HK-G will complement other regional submarine cables, thereby increasing network redundancy and helping to ensure high capacity, highly reliable communications.

"NEC is delighted to be selected as the supplier of the HK-G Submarine Cable planned by RTI Connectivity," said Mr. Toru Kawauchi, General Manager of NEC's Submarine Network Division. "With Guam becoming a new hub in the Pacific, we look forward to helping the RTI group of companies provide for the expanding Asia-Pacific demand for more connectivity."

NEC has more than 40 years of experience in the submarine cable business and is recognized as one of the world's top submarine system vendors. NEC has laid a total of more than 250,000 kilometers of submarine cable-the equivalent of six trips around the earth. As a total system integrator, NEC produces optical submarine cable (*2), optical submarine repeaters and equipment for connecting optical transmissions to land, in addition to carrying out ocean surveys, route design, laying optical submarine cable and training personnel for the handover of these systems.

***

---
※

| | |
| --- | --- |
| *1 | Private cable developers established by US entrepreneurs in Singapore for the optical submarine cable business |
| *2 | NEC's affiliate company, OCC Corporation, is the only company in Japan capable of manufacturing optical submarine cable capable of withstanding deep sea water pressure of 8,000 meters |

---
※

About NEC Corporation
NEC Corporation is a leader in the integration of IT and network technologies that benefit businesses and people around the world. By providing a combination of products and solutions that cross utilize the company's experience and global resources, NEC's advanced technologies meet the complex and ever-changing needs of its customers. NEC brings more than 100 years of expertise in technological innovation to empower people, businesses and society. For more information, visit NEC at http://www.nec.com.

The NEC Group globally provides "Solutions for Society" that promote the safety, security, efficiency and equality of society. Under the company's corporate message of "Orchestrating a brighter world," NEC aims to help solve a wide range of challenging issues and to create new social value for the changing world of tomorrow. For more information, please visithttp://www.nec.com/en/global/about/vision/message.html

NEC is a registered trademark of NEC Corporation. All Rights Reserved. Other product or service marks mentioned herein are the trademarks of their respective owners. ©2017 NEC Corporation.