Displaying present location in the site.
PT.Telkom selects NEC to build the "Indonesia Global Gateway (IGG)" submarine cable
- 100Gbps submarine cable links Indonesia with Singapore -
※

Tokyo, Japan, September 8, 2016 - NEC Corporation (NEC; TSE: 6701) today announced the signing of a contract with PT. Telekomunikasi Indonesia, Tbk (Telkom) to develop the Indonesia Global Gateway Cable System (IGG), an optical submarine cable system that will connect the islands of Sumatra, Batam, Jawa, Bali, Kalimantan and Sulawesi with Singapore.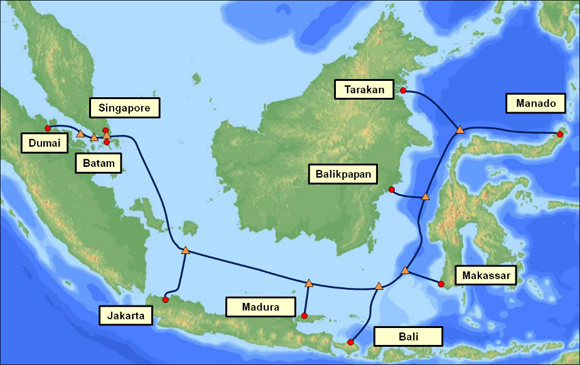 ※

The IGG is a 100 Gigabit per second (Gbps) x 80 wavelengths (wl) x 4 fiber pairs (fp) optical fiber submarine cable system, measuring approximately 5,300 kilometers, that will connect the cities of Dumai, Batam, Jakarta, Madura, Bali, Makassar, Bilikpapan, Takaran and Manado with Singapore. Once IGG is completed in early-2018, this cable system will not only enhance connectivity among these major cities of Indonesia, but it is designed to provide direct connectivity between two international submarine cables, one from Europe landing in Dumai, and the other from the west coast of the U.S. terminating in Manado.

"NEC is honored to be selected once again by Telkom as the supplier of an optical fiber submarine cable system, the advanced 100Gb/s IGG system, providing connectivity among nine Indonesian cities and Singapore, and linking two international submarine cables at Dumai and Manado. Since first building an optical fiber submarine cable system for Telkom in 1991, NEC has continuously helped to expand Indonesia's domestic connectivity. The Papua Cable System (SMPCS) being the latest such contribution, NEC is proud to have the chance to add yet another page to its service history with the IGG," said Mr. Toru Kawauchi, General Manager, Submarine Network Division, NEC Corporation.

***



---
※

About NEC Corporation
NEC Corporation is a leader in the integration of IT and network technologies that benefit businesses and people around the world. By providing a combination of products and solutions that cross utilize the company's experience and global resources, NEC's advanced technologies meet the complex and ever-changing needs of its customers. NEC brings more than 100 years of expertise in technological innovation to empower people, businesses and society. For more information, visit NEC at http://www.nec.com.

The NEC Group globally provides "Solutions for Society" that promote the safety, security, efficiency and equality of society. Under the company's corporate message of "Orchestrating a brighter world," NEC aims to help solve a wide range of challenging issues and to create new social value for the changing world of tomorrow. For more information, please visit
http://www.nec.com/en/global/about/solutionsforsociety/message.html.

NEC is a registered trademark of NEC Corporation. All Rights Reserved. Other product or service marks mentioned herein are the trademarks of their respective owners. ©2016 NEC Corporation