Displaying present location in the site.
FASTER Cable System is Ready for Service, Boosts Trans-Pacific Capacity and Connectivity
The 9,000 km submarine cable system linking Japan and the West Coast of the U.S. completes construction and is ready for service
※

June 29, 2016 6:00 UTC - FASTER, a consortium of six international companies, together with its supplier NEC Corporation, today announced that construction and end-to-end testing of a new trans-Pacific submarine cable system, the "FASTER Cable System," has been successfully completed and will start service on June 30, 2016.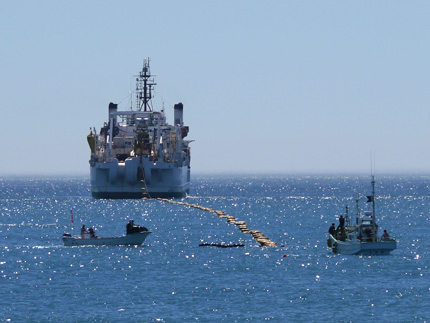 ※

The 9,000km trans-Pacific cable, the FASTER Cable System, lands in Oregon in the United States and two landing points in Japan, namely Chiba and Mie prefectures. The system has extended connections to major hubs on the West Coast of the U.S. covering Los Angeles, the San Francisco Bay Area, Portland and Seattle. The two landing points in Japan facilitate the cable's easy access to major cities in Japan. FASTER's robust and resilient connectivity to many neighboring cable systems extends the cable's capacity beyond Japan to other Asian locations.

FASTER is the first trans-Pacific submarine cable system designed from day one to support digital coherent transmission technology, using optimized fibers throughout the submarine portion. The combination of extremely low loss fiber, without a dispersion compensation section, and the latest digital signal processor, which compensates for the huge amount of cumulative dispersion at the end of the cable, enable this six-fiber pair cable to deliver 60 Terabits per second (Tbps) of bandwidth across the Pacific.

"From the very beginning of the project, we repeatedly said to each other, 'faster, Faster and FASTER,' and at one point it became the project name, and today it becomes a reality. This is the outcome of six members' collaborative contribution and expertise together with NEC's support," said Hiromitsu Todokoro, Chairman of the FASTER Management Committee.

"This was the first trans-Pacific submarine cable built solely by NEC Corporation, employing the latest 100Gbps digital coherent optical transmission technology. We are honored that the consortium entrusted us to build FASTER. Although we faced many challenges during the construction, I am truly glad that we were able to overcome these and to welcome this day," said Kenichi Yoneyama, Project Manager for FASTER at NEC's Submarine Network Division. "This epoch-making cable will not only bring benefits to the United States and Japan, but to the entire Asia-Pacific region."

Construction of the system was announced in August 2014 by the FASTER consortium, consisting of China Mobile International, China Telecom Global, Global Transit, Google, KDDI and Singtel.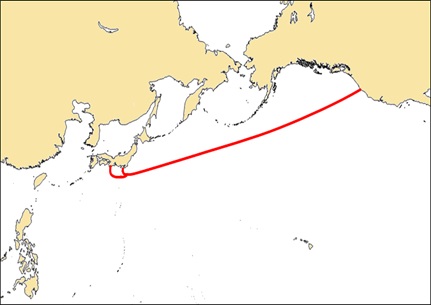 ※

***



---

About China Mobile International

China Mobile International Limited (CMI) is a wholly owned subsidiary of the China Mobile Group. The company is responsible for the operation of China Mobile's international business. Leveraging the strong support by China Mobile, CMI provides a full range of comprehensive international telecommunications services which includes IDD, roaming, data, MNC solutions and Value Added Services across the globe. CMI aims to bring customers with seamless, carefree, borderless digital life. For more information, please visit

www.cmi.chinamobile.com

.

About China Telecom Global

China Telecom Global Limited (CTG) is a wholly owned subsidiary of China Telecom Corporation Limited to manage its international business. Headquartered in Hong Kong, CTG's global network platform spans Asia, Americas and the Europe, Middle East, Africa (EMEA) region, offering world-class integrated communication services to multinational businesses, telecommunication service providers and overseas Chinese consumers around the world. Our comprehensive communication and ICT solutions deliver industry-leading resilience, speed, and diversity to meet the high level requirements from our customers and partners. China Telecom's international operation has presences in 31 countries and regions around the world. More information, please visit

www.chinatelecomglobal.com

.

About Global Transit

Global Transit (GTL) connects Asia to the rest of the world through its award-winning international bandwidth solutions. A 100% subsidiary of Malaysia-based TIME dotCom, GTL provides customers with unrivalled land and sea fibre connectivity that spans Asia, Europe and the United States. From holding major points-of-presence in key cities in Asia, Europe and the U.S. to owning stakes in several subsea cable systems like Unity and the Asia Pacific Gateway, GTL is well positioned to serve regional carriers, mobile operators and Internet Service Providers. Visit

www.globaltransit.net

for more information.

About KDDI

With more than 40 million subscribers, KDDI is Japan's second- largest mobile operator. Furthermore, together with its subsidiaries, now KDDI is the only Japanese ICT solution company that provides comprehensive services for consumers and corporate clients. With services from fixed to mobile communications and solutions, "TELEHOUSE" data centers and broadcasting, KDDI aims to be a company that creates new styles for customer's lives and corporate activities from local communities to overseas with communication as its base. Please visit

www.kddi.com/english/index.html

for more information.

About Singtel

Singtel is Asia's leading communications group providing a portfolio of services including voice and data solutions over fixed, wireless and Internet platforms as well as infocomm technology and pay TV. The Group has presence in Asia, Australia and Africa with over 595 million mobile customers in 25 countries, including India, Indonesia, the Philippines and Thailand. It also has a vast network of offices throughout Asia Pacific, Europe and the United States. For more information, please visit

www.singtel.com

.

About NEC

NEC Corporation is a leader in the integration of IT and network technologies that benefit businesses and people around the world. By providing a combination of products and solutions that cross utilize the company's experience and global resources, NEC's advanced technologies meet the complex and ever-changing needs of its customers. NEC brings more than 100 years of expertise in technological innovation to empower people, businesses and society. For more information, visit NEC at

http://www.nec.com

.