Displaying present location in the site.
Construction commences on Angola Cables' South Atlantic Cable System (SACS) by NEC
- First submarine cable system directly linking Africa and Latin America will help to spur international trade and economic growth in both continents -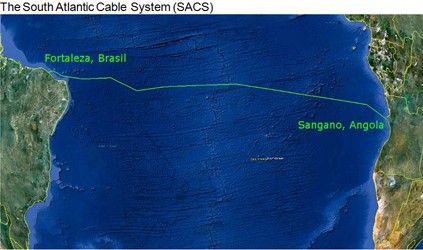 ※

Luanda, ANGOLA and Tokyo, JAPAN - Angola Cables S.A., an Angolan telecoms wholesale operator, and NEC Corporation, a leading IT system supplier, announced today that the contract to build the South Atlantic Cable System (SACS), the first subsea fiber optic cable system ever to connect Africa and South America in the southern hemisphere has come into force. SACS is scheduled to be ready for service by the middle of 2018. The project cost is expected to reach $160 million and will be partially co-funded by the Japan Bank for International Cooperation (JBIC) and Sumitomo Mitsui Banking Corporation (SMBC) with the support of Nippon Export and Investment Insurance (NEXI) through the Banco de Desenvolvimento de Angola (BDA).

SACS will connect Luanda, Angola and Fortaleza, Brazil, directly linking the African continent to Latin America for the first time, spanning more than 6,200 km across the South Atlantic, enabling high speed and large capacity international data transmissions. From Fortaleza, SACS can be connected to another cable system which stretches to Miami Florida, enabling Angola and Africa to connect directly with the USA.

SACS will feature the latest optical technologies to provide the most advanced subsea telecommunications system, coupled with a control plane based on innovative Software-Defined Networking (SDN) technology to serve bandwidth-intensive applications. SACS will have an initial design capacity of 40Tpbs (100Gbps x 100 wavelengths x 4 fiber pairs).

"Our main objective is to improve the quality of communications between Africa and the Americas, creating a totally new route in the south hemisphere, providing term and peak capacity product offerings and support for the region's expanding data requirements of today and for tomorrow," says Antonio Nunes, CEO of Angola Cables. "SACS will be constructed using state-of-the-art technology, with 100G-coherent design for low latency, reliable delivery for even the most demanding bandwidth needs and direct data centre to data centre connectivity across the Atlantic."

"The South Atlantic Cable System is a unique cable system that will directly link Angola to Brazil and the rest of the world, and NEC Corporation prides itself to be the system supplier and would like to thank Angola Cables for giving NEC the chance to be part of this epoch-making cable," said Toru Kawauchi, General Manager at NEC's Submarine Network Division. "We would also like to extend our gratitude to JBIC, SMBC and NEXI, for providing the much needed financial support, without them SACS would not have been realized. As one of the world's top vendors of submarine cable systems, with more than 40 years of experience constructing over 200,000 kilometers of cable systems, NEC is committed to the successful completion of SACS and to building on our relationship with Angola Cables."

***


---
※

Angola Cables is an Angolan telecommunications company founded in 2009, which operates in the international wholesale market and whose core business is the commercialization of capacity in international circuits for voice and data through Submarine Cable Systems connecting Africa to Europe and Americas and also between South America and North America. It also operates the Angonix (the biggest Angolan IXP) in its data center in Luanda, the Angonap. Angola Cables' goal is to transform Angola into one of the telecommunication hubs in Africa. For more information visit

www.angolacables.co.ao

---
※

About NEC Corporation
NEC Corporation is a leader in the integration of IT and network technologies that benefit businesses and people around the world. By providing a combination of products and solutions that cross utilize the company's experience and global resources, NEC's advanced technologies meet the complex and ever-changing needs of its customers. NEC brings more than 100 years of expertise in technological innovation to empower people, businesses and society. For more information, visit NEC at http://www.nec.com.

The NEC Group globally provides "Solutions for Society" that promote the safety, security, efficiency and equality of society. Under the company's corporate message of "Orchestrating a brighter world," NEC aims to help solve a wide range of challenging issues and to create new social value for the changing world of tomorrow. For more information, please visithttp://www.nec.com/en/global/about/solutionsforsociety/message.html.

NEC is a registered trademark of NEC Corporation. All Rights Reserved. Other product or service marks mentioned herein are the trademarks of their respective owners. ©2016 NEC Corporation.