Displaying present location in the site.
A Global Consortium to Build New Trans-Pacific Cable System "FASTER"
Contract has been awarded to NEC to build new 60Tb/s system expected to be ready-for-service during the second quarter of 2016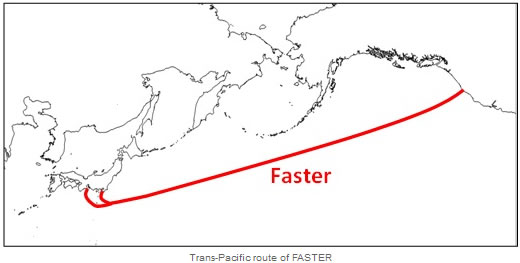 ※

August 11, 2014 - A consortium of six global companies announced that they have signed commercial agreements to build and operate a new Trans-Pacific cable system to be called "FASTER" with NEC Corporation as the system supplier. The FASTER cable network will connect the United States to two landing locations in Japan. The total amount of investment for the FASTER system is estimated to be approximately USD $300 million.

In order to address the intense traffic demands for broadband, mobile, applications, content and enterprise data exchange on the Trans-Pacific route, FASTER will feature the latest high-quality 6-fiber-pair cable and optical transmission technologies, with an initial design capacity of 60Tb/s (100Gb/s x 100 wavelengths x 6 fiber-pairs).

This new cable system will be landed at Chikura and Shima in Japan and will feature seamless connectivity to many neighboring cable systems to extend the capacity beyond Japan to other Asian locations. Connections in the United States will extend the system to major hubs on the US West Coast covering the Los Angeles, San Francisco, Portland and Seattle areas.

The six-company consortium is comprised of China Mobile International, China Telecom Global, Global Transit, Google, KDDI and SingTel. The name FASTER was adopted to represent the cable system's purpose of rapidly serving surging traffic demands.

Mr. Woohyong Choi, the chairman of the FASTER executive committee, said, "FASTER is one of a few hundred submarine telecommunications cables connecting various parts of the world. These cables collectively form an important infrastructure that helps run global Internet and communications. The consortium partners are glad to work together to add a new cable to our global infrastructure. The FASTER cable system has the largest design capacity ever built on the Trans-Pacific route, which is one of the longest routes in the world. The agreement announced today will benefit all users of the global Internet."

"NEC Corporation is proud to be the system supplier for the FASTER cable system, a state-of-the-art long haul system that will provide additional connectivity and capacity between regions of the world that increasingly require more bandwidth," said Mr. Naoki Yoshida, general manager at NEC's Submarine Network Division. "Backed by more than 30 years of experience in constructing over 200,000 kilometers of cables, NEC is one of the world's top vendors of submarine cable systems."

Construction of FASTER will begin immediately and the system is targeted to be ready-for-service during the second quarter of 2016.
※

About China Mobile International

China Mobile International (CMI) is a wholly-owned subsidiary of China Mobile Limited (stock code: 941), the world's largest mobile operator in terms of network scale, customer base and market value. As the international arm of China Mobile, CMI provides a full range of international telecommunication services, including IDD, Roaming, Internet, MNC Service, Value Added Services etc. CMI aims to construct a world-class international network and platform to offer highly reliable products and services, providing customers with the experience of "Feel At Home" wherever and whenever they are. For more information, please visit

www.cmi.chinamobile.com About China Telecom Global

China Telecom Global Limited (CTG) is China Telecom Corporation Limited's wholly owned subsidiary managing international business. Headquartered in Hong Kong, CTG's global network platform spans Asia, Americas and the Europe, Middle East, Africa (EMEA) region, offering world-class integrated communication services to multinational businesses, telecommunication service providers and overseas Chinese consumers around the world. Our comprehensive communication and ICT solutions deliver industry-leading resilience, speed, and diversity to meet the high level requirements from our customers and partners. China Telecom international operation has presences in 26 countries and regions around the world. More information, please visit

www.chinatelecomglobal.com. About KDDI

With more than 40 million subscribers, KDDI is Japan's second- largest mobile operator. Furthermore, together with its subsidiaries, now KDDI is the only Japanese ICT solution company that provides comprehensive services for consumers and corporate clients. With services from fixed to mobile communications and solutions, "TELEHOUSE" data centers and broadcasting, KDDI aims to be a company that creates new styles for customer's lives and corporate activities from local communities to overseas with communication as its base. Please visit

www.kddi.com/english/index.html About SingTel

SingTel is Asia's leading communications group providing a portfolio of services including voice and data solutions over fixed, wireless and Internet platforms as well as infocomm technology and pay TV. The Group has presence in Asia and Africa with over 500 million mobile customers in 25 countries, including Bangladesh, India, Indonesia, the Philippines and Thailand. It also has a vast network of offices throughout Asia Pacific, Europe and the United States. For more information, please visit

www.singtel.com

.

About Global Transit

Global Transit (GTL) connects Asia to the rest of the world through its award-winning international bandwidth solutions. A 100% subsidiary of Malaysia-based TIME dotCom, GTL provides customers with unrivalled land and sea fibre connectivity that spans Asia, Europe and the United States. From holding major points-of-presence in key cities in Asia, Europe and the U.S. to owning stakes in several subsea cable systems like Unity and the Asia Pacific Gateway, GTL is well positioned to serve regional carriers, mobile operators and Internet Service Providers. Visit

www.globaltransit.net

for more information.

About NEC

NEC Corporation is a leader in the integration of IT and network technologies that benefit businesses and people around the world. By providing a combination of products and solutions that cross utilize the company's experience and global resources, NEC's advanced technologies meet the complex and ever-changing needs of its customers. NEC brings more than 100 years of expertise in technological innovation to empower people, businesses and society. For more information, visit NEC at

http://www.nec.com

.

Forward Looking Statements

This press release contains forward-looking statements that involve risks and uncertainties, including statements relating to the growth of traffic demands, design capacity and bandwidth supply resulting from this cable system. Actual results may differ materially from the results predicted. The potential risks and uncertainties that could cause actual results to differ include, among others, risks related to the difficulty of predicting capacity requirements, rapid technological changes and the introduction of new products and technologies that make it difficult to accurately forecast telecommunications traffic growth, the impact of increasing competition, governmental and regulatory uncertainties and changes in existing regulations, and FASTER's ability to complete its construction in the projected time frame due to, among other things, extensive construction lead times, the limited number of major submarine cable suppliers and their qualified and experienced submarine cable personnel and significant capital requirements. All information provided in this announcement is as of August 11, 2014, and neither FASTER consortium nor any other company referenced herein undertakes any duty to update this information.