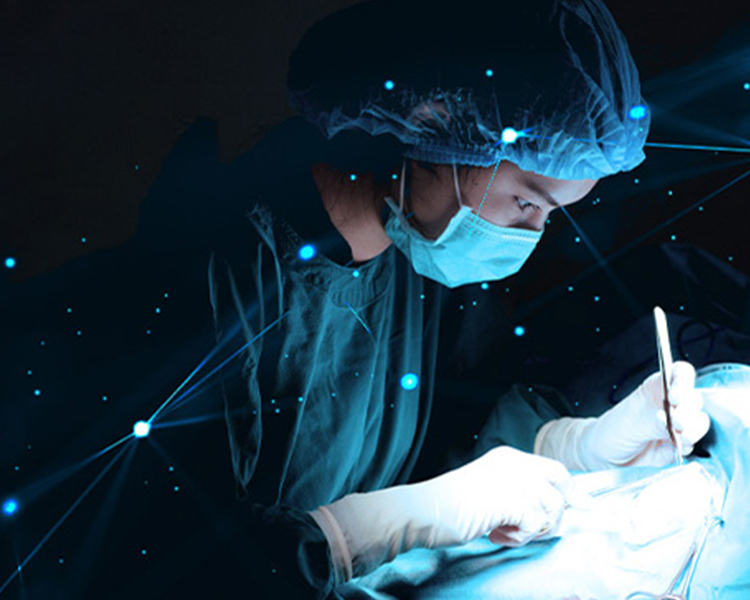 Performing Surgeries from
5,000 Miles Away
How 5G can give the world better healthcare
When the Covid-19 pandemic hit the planet, the world was forced into a lockdown, and geographical borders were closed. But the silver lining was that corporations, healthcare providers, and employers became more open to the possibilities of remote working and 5G connectivity. Indeed, the pandemic propelled technological development into the future, and what we could only imagine a few years ago has become a reality.

In the world of healthcare, there have been incredible advancements in combining technology and medicine, such as NEC's AI-assisted vaccine development program, the delivery of test kits using drones, remote surgeries, and more. The innovations born out of necessity during the pandemic are showing undeniable promise in their applications to the future of healthcare.

Harnessing the low latency and extremely high speeds of 5G, the field of telemedicine has made great strides to connect healthcare professionals with one another, and their patients. The use of online doctor appointments, digital devices to track a patient's health status, and even remote diagnoses, have increased by about 30 to 40 times from early 2020 to 2021. The industry is predicted to be worth over a quarter trillion dollars in the next few years.

So what exactly are companies doing? And how do they benefit us? Let us take a closer look at some marvels paving the way for a healthier and brighter world.
Advances In Surgery (AIS) – providing remote surgeries across the globe
Did you know that in 2019, a Barcelona doctor became the first surgeon to participate in a remote operation? The surgery was performed by a doctor in Shanghai, and the whole process was supervised in real-time by the surgeon in Barcelona. Since then, hospitals and surgeons in countries such as Spain, the United Kingdom, Mexico, Chile, Colombia, and Israel have also started to provide remote surgical support, ensuring that patients all over the globe can get access to the top minds in medicine.

This is all thanks to Advances In Surgery (AIS) TeleSurgeon, a 5G application that connects video devices in operating rooms with mobile and PC platforms for remote participation. According to the company's research, over 1.5 million surgeries are not performed annually worldwide due to the lack of knowledge of the local doctors. AIS' mission is to change that, and we can already see more healthcare specialists ready to adopt this breakthrough technology.
Neuroelectrics – treating epilepsy without drugs
Using a cloud-based analytics platform, Neuroelectrics allows epileptic patients to "train" their brains through a device at home to reduce their rate of seizures. Epileptic seizures are caused by abnormal electrical activity of nerve cells in the brain. Through live tracking and analysis of the patients' electroencephalogram data, they learn how to prevent seizures before they happen.

The company's pilot test in Boston found that an eight-week brain-training program in 20 epilepsy patients resulted in a median 44% reduction in seizure frequency, with four patients experiencing a 75% or more decline.

The device is now being considered for use in other fields such as depression, Alzheimer's disease, and Parkinson's disease.
Ponto Care – medical examinations anywhere you want
With Ponto Care, patients can schedule an appointment with a doctor and simply wait for the Ponto Care van to arrive at their homes or offices for an examination. The medical professionals in the van will give them the health examination, supervised by a doctor through video or virtual reality headsets. The doctor will also be able to talk to patients in real-time and explain their diagnoses to them.

Ponto Care's service was especially useful during the Covid-19 pandemic when patients were less willing to turn up physically at hospitals for fear of contracting the virus. The service also helped to alleviate the lack of medical staff otherwise allocated to help those in need of emergency care.
Autonomous robots and drones for transport
A company founded by two Google employees, Nuro developed a self-driving vehicle to transport medical equipment around a hospital compound. The vehicle, named R2, allows personnel to concentrate on their medical duties and minimizes the risk of disease transmission due to physical contact.

In the USA, Walmart has also partnered with Quest Diagnostics and DroneUp to deliver Covid-19 test kits via drones – free of charge to the address of patients.
The future of healthcare is here
With so many exciting innovations being introduced to the field of healthcare, we see a very positive change in attitude towards global cooperation, the employment of AI, and even treatments using 5G. In the next decade, we wouldn't be surprised to see many more breakthroughs that will make world-class healthcare available to all. And that is exactly what NEC is also setting out to do – Orchestrating a brighter world.
Teamwork Makes The Dream Work (Part 2)

No Spectators? No Problem