Accelerating business development by providing technology to startups


Venturing into Silicon Valley using an unprecedented approach in collaboration with Singularity University as the accelerator
NEC has established a new company, NEC X, in the heart of Silicon Valley to specialize in new business development. The company will pursue open innovation via the region's ecosystem of accelerators, venture capitals with abundant funds, and talents brimming with entrepreneurial spirit.

As its first initiative, the company will begin implementing the NEC Accelerator Program in collaboration with Singularity University in July 2018.

Singularity University was founded by futurist Ray Kursweill, the originator of the term "singularity" himself. The educational institution, which houses its facilities in the NASA Research Park, has gathered worldwide attention for its research focusing on AI and other technologies for keeping pace with the rapidly progressing times.

"Singularity University, a premier startup accelerator in America, trains individuals, startups, and major enterprises, to change their mindset into growing "exponentially." The project with Singularity University is already underway. Six startups had joined the pipeline in early May, out of which three had been selected and have already launched their businesses as startups," explained Dr. PG Madhavan, the leader of new business development at NEC X.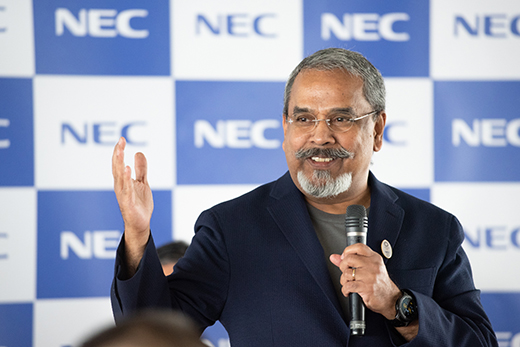 Dr. PG Madhavan has worked at major corporations like GE and Microsoft, aside from being a manager at startup companies. He is the best person NEC could tap to pursue its business in Silicon Valley. Dr.Madhavan says that he accepted the offer to work with NEC because he saw it as an opportunity for him to make use of the experience and knowhow he gained from his three previous careers; namely, in the academe, in startups, and in major corporations.

Dr. Madhavan commented that, "Personally, I see NEC X as a 'crucible' where we add various elements, such as Lab IP, business acumen, accelerator, and other key ingredients, to create an 'alloy' that is unique and strong – these are the NEC X startups that we aim to produce."
1. Events leading to the establishment of NEC X
Nishihara:
The establishment of NEC X has something to do with the other recently established company, dotData. Dr.Ryohei Fujimaki, who founded dotData, came to me about a year and a half ago saying, "The speed of our business development is too slow; if we go on like this, we have little chance of succeeding in the market." I therefore came to the conclusion that it's better to go out and put up one's own company, so I consulted Dr. Fujimaki about it. In other words, we thought it would be faster for our researchers to instead go outside the company and work directly with our customers to develop technologies, rather than stay within the company and rely on current approaches. This, however, is not a unique story about Dr. Fujimaki; many excellent researchers are of the type who would want to personally handle the commercialization of the technologies they developed and be the one to actually bring the product to the customer. We have been discussing the need to provide opportunities like this with research lab executives since last year. After regularly holding these discussions at the research labs, along with consultations regarding the establishment of the new company by Dr. Fujimaki and his team, we ended up coming together to form this new company.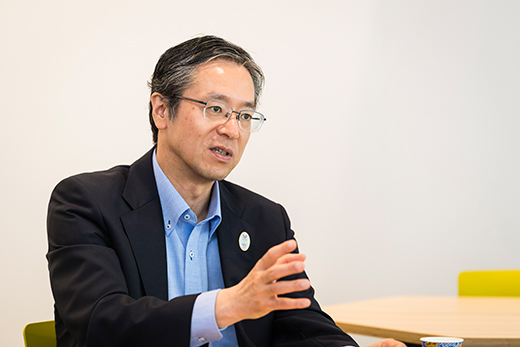 Fujikawa:
This is also what President Niino wanted for us to do. He pointed out that we cannot expect to maximize earnings by developing business from NEC's "No.1 and Only 1" technologies based only on in-house business needs; that we need to therefore go out and sell them outside of NEC's walls. These inputs and scenarios have eventually led to the decision to establish the new company.

Thus far, we have focused too much on product quality, and have taken a great amount of time until we launched our products to the world. There were instances wherein by the time we shipped the products, they fail to sell because they do not match the market needs anymore. If we continue to do this, we do not stand a chance of succeeding in the market.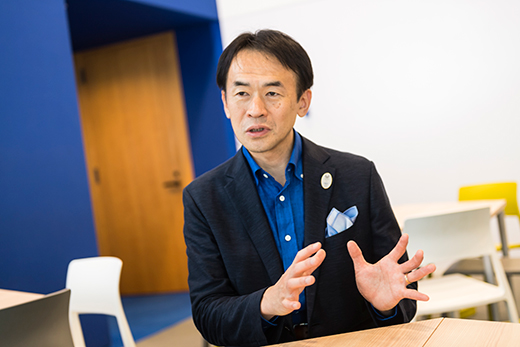 Nishihara:
We are thinking of prioritizing the provision of technologies that have high value and are easy to find funding for. The Research Labs, rather than aiming for minor solutions, would like to go for moonshot technologies. In other words, we will choose technologies that have the potential to lead to groundbreaking innovations. Brilliant researchers and entrepreneurs are motivated by opportunities that allow them to exhibit their own potential. We will therefore provide those venues and opportunities; not to mention the incentives and the benefits that we will share with them. I therefore invite people with an entrepreneurial spirit to join us and create something new by fully leveraging our R&D engine. Going forward, we will further strengthen our ecosystem to support these initiatives.
Supplement: NEC X Business Outline
NEC X will provide the Research Labs' technologies and talents to develop new business through open innovation with startup companies and venture capitals.