5G boosts unmanned remote construction
KDDI Corporation, Obayashi Corporation, and NEC conduct field experiment on remotely controlled construction machinery


The year is 202x and a sudden cloudburst has caused a large-scale landslide. The engine of a large loading shovel is thundering at the site and efficiently moving earth and sand from the landslide. Despite of that, there is no one sitting in the operator's seat in the loading shovel. The person operating the loading shovel is sitting in the remote operations room in a building in central Tokyo, far away from the landslide.

KDDI, Obayashi Corporation, and NEC have joined forces to conduct field experiment to realize a next-generation system to remotely control construction machinery.
Delays in communication disrupt remote construction
In the aftermath of earthquakes, typhoons, and heavy rainfall, disaster sites are not only difficult to access, but they are also dangerous due to the possibility of secondary disasters. Such sites require quick responses while assuring the safety and security of the workers. This is where remote operation of construction machinery comes in.

Remote construction work using loading shovels, bulldozers, and other types of machinery is already being implemented at various disaster sites. The operators located in the remote operations room operate the machinery while keeping their eye on the surrounding conditions and operations through monitors that show videos streamed from multiple cameras installed on the machinery.

Currently, remote construction systems mainly use Wi-Fi to transmit videos from cameras on construction machinery to the remote operations room. However, because Wi-Fi only has low power output, the further the distance, the smaller the transmission capacity, causing video transmission latency or reduced image resolution. As a result, the suitable distance between construction machinery and remote operations room's limited to about two kilometers. Furthermore, interference from other Wi-Fi networks is also a common occurrence, causing the images to be distorted or blocked. This results in reduced work efficiency.
Transmitting high-resolution worksite images in real time at super high speeds
The key to solving these issues is using the 5G next generation communications system. In addition to having super high communication speed in the 10 to 20 Gbps range, which is more than ten times the data transfer rate of the current mainstream 4G systems, 5G is characterized by its low latency and multiple connections.

KDDI, Obayashi Corporation, and NEC are conducting field experiment utilizing the 5G system to remotely controlled construction machinery. The companies undertake verification by combining 5G with an existing remote control system for construction machinery. Specifically, video taken by high-definition 4K cameras mounted on construction machinery is transmitted to the remote controller through a 5G system. The operator in the remote control room operates the equipment while watching the high-resolution video on monitors in real time.
In carrying out the field experiment, Obayashi Corporation is providing the unmanned remote construction system, as well as the knowledge and know-how they have accumulated through the use of the system at actual construction work sites. NEC is providing the5G wireless network equipment and codecs to compress 4K video in real time. KDDI which is involved in various 5G field experiments led by the Ministry of Internal Affairs and Communications, are in charge of organizing the field experiment results, and measuring and assessing radio wave properties and effects.

In order to verify the technology that combines the technological knowhow of the three companies, afield experiment using 5G-compatible wireless network system was conducted in February 2018 to remotely control construction machinery at a plant owned by Obayashi Corporation.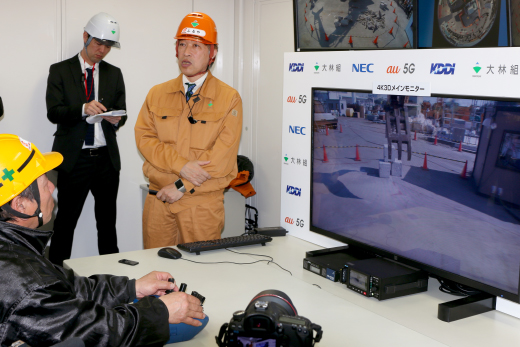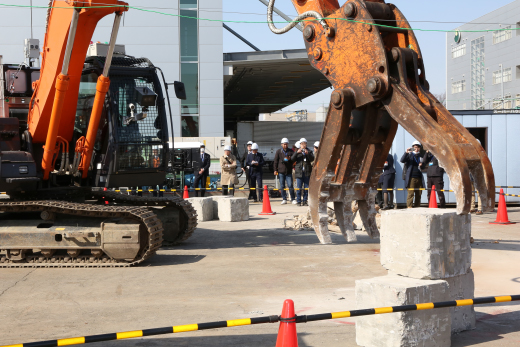 Going further, field experiment will be shifted to actual construction sites in order to verify the system from a myriad of different angles, such as eliminating latency, and improving image accuracy and operator work efficiency. Field experiment will be continued until March 2020 in order to uncover issues and improve the system in an aim to come up with a practical system.

How will construction sites change when a practical 5G remote construction system for construction machinery becomes available? First of all, worker safety and the work environment will be improved. In addition, thanks to the high-definition 4K video to transmission, this will allow them to work accurately and without any stress just as if they were on site because delicate operations such as changing the position and direction of arms and buckets will be possible.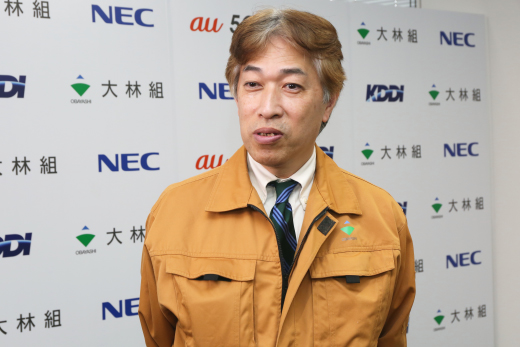 "Up until now, because of the limitations of wireless communications, we have been conducting the work by establishing remote operations room within two kilometers of construction sites. The launch of the 5G will make it possible for us to construct a permanent remote construction control room, which can potentially improve efficiency and reduce costs for projects by cutting the preparation time before launch of operations.
"Moreover, because 5G allows multiple concurrent connections, it provides the advantage of enabling control of multiple construction machinery at a single site. Unmanned remote work will not only be valuable for use at disaster sites, but we anticipate its usefulness to accomplish dangerous work such as demolishing buildings."

New 5G remote construction systems will help increase work efficiency to allow speedy recovery while also improving work quality. But more importantly, it will help bring relief and smiles back to people living in disaster-struck areas. Furthermore, it will help save time as workers no longer need to physically be on-site, and it is anticipated that ICT technology will alleviate manpower shortages.

Dr. Furuya of Obayashi Corporation said, "Transmission of images and video over communications networks is a fundamental technology and it is expected to evolve even more. 5G has the potential of changing construction methods and we have high expectations for NEC's AI and network technologies to help us create new business models in the future."
Application of 5G is expected in a wide range of fields in addition to construction
The appearance of 5G opens up the possibility to expand the limitations of network utilization and to create new and unprecedented value that goes beyond the construction and civil engineering fields.

The potential applications are wide and varied. For instance, 5G can be used in the following ways: remote medical treatment through which doctors at medical organizations in urban areas conduct surgery on patients on isolated islands; self-driving car systems; video-based monitoring of infrastructure; promoting public safety through the detection of abnormal behavior; and monitoring the operation of manufacturing equipment at factories.
5G mobile network positioned as the communication platform to support the age of IoT
5G is said to have a transmission rate that is ten times faster than 4G, making it possible to download a two-hour long, full high-definition video in seconds. It is also expected to support the transmission of 8K video.

The 5G network is also expected to deliver innovation in areas aside from improving manpowered productivity, with special focus on its application in the rapidly evolving field of IoT. The application of 5G to IoT, which connects objects around us to the Internet, will bring an exponential increase in the number of Internet-connected devices. The nature of 5G to enable "multiple concurrent connections" will be a huge advantage in that regard.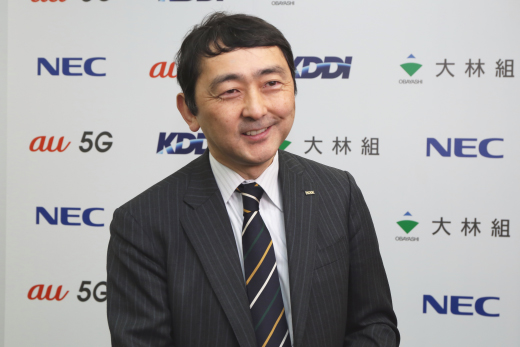 "The possibility of multiple concurrent connections can benefit our lives in many ways. Through the application of 5G, KDDI hopes to deliver the following three values: Contributing to the creation of a society where people can live safely, securely and comfortably; creating entertainment that is more exciting; and providing enhanced rich communications. 5G and IoT will serve as the core pillars in creating new value. This further underscores the importance of continuing to work in collaboration with a partner like NEC," says Mr. Matsunaga of KDDI.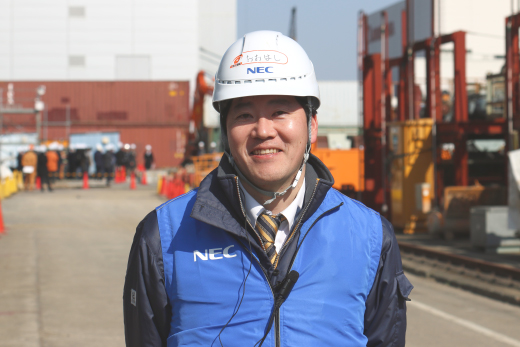 Mr. Ohashi of NEC shares his thoughts about providing innovative 5G-based solutions. "NEC has advanced technologies in both ICT and networks. We also have a proven track record in the AI field that includes our world's first and proprietary technologies. Using our comprehensive capabilities as a foundation, we hope to work with various partners to come up with ideas for creating new value and solving social issues through the promotion of 5G utilization and the spread of IoT."

How will 5G and IoT transform society in 202x, and what kinds of innovations will the technology bring about in the future? We look forward to finding out.