NEC and GE Digital Collaborate to Drive the Digital Transformation


(Please note: This interview was conducted in October 2016. Denzil Samuels has accepted another role outside of GE Digital.)

NEC and GE Digital (Note 1), General Electric (GE)'s division, overseeing its software and analytics strategy and operations, have announced a comprehensive alliance in the field of industrial IoT. Both companies seek to provide IoT solutions that bring about innovation and growth in global business initiatives in a variety of industries like manufacturing and national infrastructure. NEC possesses advanced technologies in AI and IoT. It boasts a wide range of technologies and wealth of achievements in system architecture and operations. GE is leading the "Industrial Internet" charge with (Note 2) Predix, its operating system built for the needs of industry. Through this partnership, NEC and GE Digital will build a uniform system within Japan, from the development of industrial IoT solutions to deployment, maintenance, and support. This system will enable them to provide advanced and highly reliable IoT solutions and support the digital transformation of customer companies.
Makoto Enomoto, Senior Vice President, NEC and Denzil Samuels, formerly the Global Head of Channels and Alliances, GE Digital shared their perspectives on the impact of the alliance and future outlook.
Note 1:

A division of General Electric with the purpose of providing software to solve customer issues. It integrates GE Software Center, Global IT Department, the software teams of various GE businesses, and the operation technology (OT) security department of Wurldtech, acquired in 2014.

Note 2:

New service business model created by utilizing data and analysis obtained from the IoT conversion of a company's own products. Predix is the operating system used to obtain the data.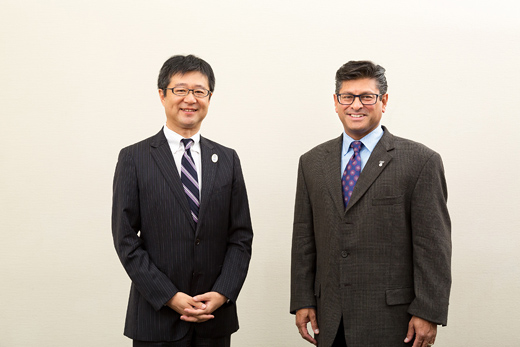 Technologies supporting creation of social value
──What value are GE and NEC providing to customers in different industries with their products and services?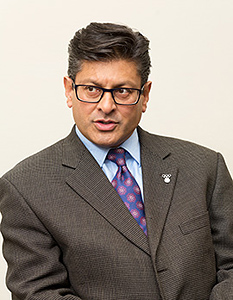 Samuels:
GE is a company that deals with extremely large industrial assets. We deal with the very things that define "industry" - Aviation, Energy, Transportation & Healthcare, for example. GE has also calculated that if the efficiency of the world's industries improves by 1 percent, more than 1 trillion U.S. dollars of economic value will be produced in a 15-year period from today. These are some of the reasons that GE is promoting the integration of industrial systems and digital technologies.
For example, the operational conditions of aircraft jet engines must be constantly monitored so failures don't occur in flight and cause a major disaster. By attaching sensors to each engine blade, a "digital twin" (Note 3) of the jet engine based on sensor data can be created. As a result, the need for part replacements can be understood in real time, leading to improved efficiency in maintenance and prevention of failures. This means, for example, using Predix-based industrial analytics, airlines can determine when a jet engine needs maintenance before a part breaks. Removing an engine for inspection during maintenance is a time consuming process. And, when a problem occurs suddenly, the engine's operational schedule is thrown off course. A long period of time is needed to identify the cause of the problem and procure parts. By monitoring the jet engine with a digital twin, an aircraft's operation can be extended, maintenance can be tailored to the specific engine, and an aircraft company can improve its efficiency. What's more, digital twins can be applied not just to products like jet engines, but also to major systems and operations like a power plant.
Note 3:

Digital representations of machines and operations, capturing everything from components to functions to entire processes and plants.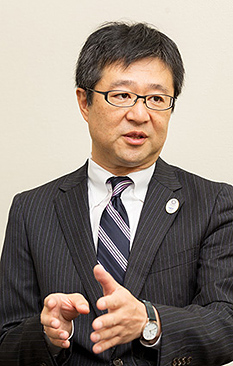 Enomoto:
As a social value creation company, NEC uses the power of ICT to address the variety of challenges that society faces.
One of the social challenges NEC is focusing on is the population issue. This issue has two aspects. The first is the issue of Japan's population. The number differs depending on the statistics, but in general researchers believe the population of Japan will fall 70 percent by 2050.
Meanwhile, overall on a global scale the world population will become 1.3 times the current population of 7.0 billion people. The population of urban dwellers will grow 1.8 times to reach 6.3 billion from 3.5 billion today.
These changes mean that demand for food, water, and energy will grow to 1.8 times the level today. It is said that two Earths' worth of resources will be needed.
To deal with such changes on a global scale, as a social value creation company NEC believes that ICT can be utilized to present solutions to these challenges.

The population of Japan is expected to decline due to a low childbirth rate. The country's social infrastructure assumes use and operation by 120 million citizens. Even if the estimated population of the country fall by 70 percent in 2050, the social infrastructure needs to be maintained correctly and efficiently. An example of the effect of population decline is that it may not be possible to place enough personnel at a fine level in a place where a large number of people gather, such as an airport or stadium, so that safety is ensured. We seek to secure the safety of such places with minimal personnel by developing and offering systems that utilize facial recognition technology based on NEC's advanced image recognition technologies. Such a system will be able to immediately identify a single person in a crowd so a suspect can be immediately spotted, even if he or she is mixed in with people.

Also, by using "Heterogeneous Learning Technologies," one of NEC's advanced AI technologies called "NEC the WISE" (Note 4), electricity demand can be forecast with precision from operational data and complex surrounding conditions, leading to improved efficiency in power generation and distribution. NEC's advanced AI technologies can be utilized with high accuracy in a variety of situations.
Note 4:

"NEC the WISE" is name of NEC's lineup of advanced AI technologies. "Wise" is usually used as an adjective; here "the WISE" turns the adjective into a plural noun meaning "wise persons." The name includes the idea of humans and AI working together to resolve complex and advanced social challenges with deep intelligence.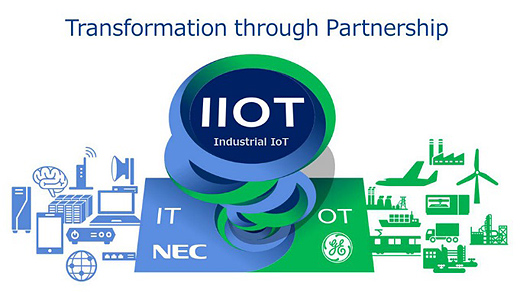 Accelerating the Fourth Industrial Revolution
──What challenges faced by industries and society will GE and NEC seek to address by providing systems and services with new value?

Samuels:
I am confident that the value provided by NEC and the value provided by GE will open the door to continuous growth for industries around the world.
Right now, industries in all areas are experiencing a revolution called the Fourth Industrial Revolution. From 1991 to 2010, industrial production around the world grew at an annual pace of 4 percent. This was the result of improving productivity, such as "Six Sigma," "lean manufacturing," and "just-in-time." However, since 2011 the annual growth rate has grown by a mere 1 percent. GE believes that more than 1 trillion dollars of value is produced by improving the world's productivity by just 1 percent. Improving productivity is essential for maintaining and stimulating activities and employment in society. Productivity improvement methods based on new concepts are therefore needed. GE seeks to accelerate the Fourth Industrial Revolution by advancing the digitization of industries with NEC. The alliance of GE and NEC will bring about revolutionary results by dramatically improving productivity 10, 20 percent from 4 percent in the past.

Enomoto:
GE and NEC both share a similar outlook on the effects and efficiency gained by expanding IoT and on the size of the IoT market in Japan. Both companies have also reached a similar high level in technological developments in preparing for the coming IoT era. GE and NEC both have a culture of utilizing systems and services in-house to test and refine results and operational methods before offering them to customers. Prior to the partnership, NEC dispatched its engineers to GE's factories, and GE dispatched its engineers to NEC's factories. This established opportunities to present to each company improvement plans by demonstrating the production systems developed and used by each company. As a result, we found that we both have built exceptional systems, and further cemented our trust.
Producing new value by uniting the strengths of NEC and GE
──What strengths will NEC and GE bring to each other through this alliance?

Enomoto:
Looking at GE's operational system in detail, I felt I could learn a lot about large-scale systems managed by engineering where hundreds of supply chains span dozens of countries. After customization, NEC's solutions operate through the process of development, implementation, and adjustment, and engineering for the customer. Logistics take place in each of these stages. So this path becomes complex as it spans different countries in a global business environment.
Improving the efficiency of such global logistics has long been a challenge. GE has the solution, and it is incorporated in Predix. We therefore determined that utilizing GE's system would be more efficient in terms of time and costs than developing a system ourselves. By quickly introducing, testing, and refining solutions, we can promptly respond to the demands of globally expanding customers.

Samuels:
GE can further increase the value of Predix, which crystallizes GE's accomplishments in OT, by leveraging NEC's image recognition technology, one of its advanced AI technologies, and its other leading IT systems and services.
Let me explain by using jet engine maintenance as an example. NEC has a world-class image recognition technology called the "Fingerprint of Things authentication technology." By utilizing this technology, a wrong screw can be found instantaneously from several million screws. For example, even a screw shorter than the specification is screwed into the engine, the mistake can be discovered simply from images taken externally of the screw threads. If this technology can be utilized by Predix, screws installed in a jet engine can be inspected with images and parts that need to be replaced can be discovered. Preparing and ordering the replacement can proceed automatically. The impact of integrating these technologies cannot be measured.

Enomoto:
After seeing a video introducing NEC's image recognition technologies, GE immediately conceived of ways to utilize these technologies within GE. We anticipate that NEC's technologies will be even more broadly used if GE's knowledge is used in manufacturing sites around the world.

Samuels:
NEC possesses powerful cyber security technologies that protect facilities and industrial systems, including IoT-enhanced factories, from cyber-attacks. Meanwhile, GE acquired Wurldtech in 2014, which has a strong track record in OT security technologies. These technologies protect not just GE products, but customers' production assets connected on the network. GE also applies OT security not just from a product standpoint but also through the evaluation of customers' vulnerabilities. By partnering with NEC, GE can integrate its OT security technologies with NEC's IT cyber security.

The integration of GE's accumulated OT and NEC continuously refined IT will produce advanced IoT solutions. I think this will be the biggest impact of the alliance between the two companies.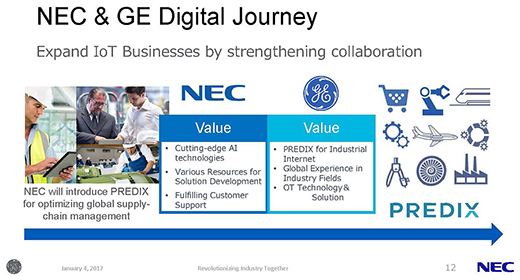 Providing not functions but results to customers
──What efforts are NEC and GE engaged in?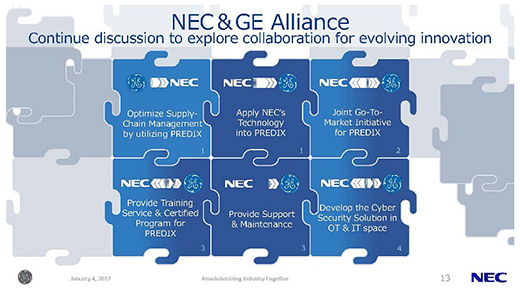 Enomoto:
We are first tackling six themes.
The first is using Predix in the supply chains of NEC solutions and services. The purpose is to increase operational excellence and reduce costs. Through experience in this project we will establish know-how on how to utilize Predix and how to integrate and optimize systems existing between Predix and customers. Finally, we want to provide end-to-end solutions by connecting Predix with backbone systems.
Second, we are providing several technologies from NEC's cutting-edge AI technology line-up "NEC the WISE" as micro-services on Predix.io, the website for Predix developers, and expanding these services on a global scale as cloud services. We plan to first apply NEC's image recognition technologies.
Third, we are providing training services and fostering certified engineers. In FY2017 we will train about 100 engineers as Predix Certified Developers. We will gain training know-how from this effort, and expand by offering training to customers.
Fourth is providing maintenance services. We are establishing a system in which Japanese customers can deploy and run Predix with peace of mind by utilizing NEC's maintenance technologies and resources. NEC's services do not end after an NEC product is sold. We walk alongside our customers to the end and provide support so results are produced.
The fifth effort is providing cyber security for industries by integrating IT and OT, as Mr. Samuels discussed earlier.
Sixth, both NEC and GE are carrying out joint marketing that show our commitment to Predix-related "outcome" instead of "output" for our customers. By leveraging both NEC's know-how obtained from its own deployment and GE's know-how obtained from global customers, we will provide IoT solutions with new value to customers in Japan and around the world.

Samuels:
We don't have a vendor relationship with NEC; we have a partner relationship. In a partner relationship, we invest in the partner, nurture their personnel, and grow together. What NEC and GE Digital wish to provide to customers are not "IoT systems" but results. Our priority is to leverage our technologies to achieve results for customers, like improving productivity, reducing costs, and minimizing risks.

──I look forward to seeing how IoT solutions produced from a synthesis of NEC and GE will transform industries from here on.

Enomoto:
Actually, NEC founder Kunihiko Iwadare worked with Thomas Edison as an engineer at Edison Machine Works, the predecessor of GE, for two years before establishing NEC. One-hundred twenty years later, NEC is playing a role with GE to support industries of the next era. I can't help but feel this is fate.
In Fourth Industrial Revolution currently underway, NEC is striving to become an even more indispensable company by thinking with GE and partnering with customers that are expanding their businesses globally and helping them leverage their achievements.