Mobility Innovation: Transforming Society from the Ground Up

Redefining the Meaning of Travel
The concept of travel and transportation has fundamentally changed over the last ten years, and the trigger for this shift has undoubtedly been the rise of Uber and similar ride sharing companies. Uber alone manages 17 million rides per day across the world and ride sharing services are just one part of the portfolio of next-generation transportation services. E-bikes and e-scooters have recently emerged as significant challengers to car usage in urban areas with the newest models of capable of 30 mph speeds. Hyperloop transportation systems are emerging in places like the Netherlands which will travel at speeds of over 1,000 kilometers per hour and provide a greener alternative to existing travel methods. Ride sharing services for air travel have emerged with companies like Blackbird offering app users a seat on a private plane for as low as US$50 and chartered helicopter flights from Palo Alto to Oakland only take ten minutes. Supersonic flight technology is mounting a comeback since the Concorde ceased operations in 2003 and could cut flight times in half and Virgin Galactic is taking orders for 90-minute flights into outer space for US$250,000. Given the massive amount of innovation in the transportation industry at the moment, it is likely that today`s definition of travel will be totally different when compared to a child born today.

In addition to new technologies and business models, the transportation industry is also evolving from a customer experience perspective and is moving towards a new concept known as Mobility-as-a-Service (MaaS). MaaS is the concept that any mode of shared transportation can be consumed on demand and redefines transportation as a holistic service which meets a consumer`s needs on demand. As such many players in the transportation ecosystem are working together to create new and unified services. In China, Toyota Motor Corporation and ride sharing company DiDi Chuxing recently announced a partnership to develop MaaS services including fleet management, maintenance, insurance and financing. The two companies will also promote the use of electric vehicles in the Chinese market.
What is MaaS and How is it Evolving?
According to the Mobility as a Service Alliance, there are four levels of MaaS service integration. The first level is simply the integration of information such as a web service which aggregates information on various transportation options. The second level is the integration of finding, service and payment such as an app which allows all of these under a unified platform. The third level is the integration of all of the above services into one bundle which fulfills a user`s transportation needs and eliminates the need for transportation vehicle ownership while the fourth level incorporates societal goals such as reducing carbon emissions and making cities more livable. The current focus level of the global MaaS market is on level 3 and level 4 integrated services.
MaaS as a Unified Customer Experience – Whim
Most of the world's activity in the MaaS market is taking place in Europe where there has historically been a large emphasis on smart and sustainable cities. One of the first commercial deployments of MaaS in the world was in Helsinki, Finland with the launch of the Whim app. The app allows users to book and purchase transportation via taxi, public transport, bikeshare and carshare. Whim has free, pay-as-you-go and subscription plans. The subscription plans range from 49 euros per month for unlimited public transportation and discounted taxis to 499 euros per month for the unlimited use of all services including taxis and car sharing. Whim is currently expanding in Europe and is now live in locations such as Birmingham in the United Kingdom and Brussels and Antwerp in Belgium. The local government in Antwerp is even offering a 10% subsidy of up to 50 euros per month to users who sell their cars and adopt MaaS.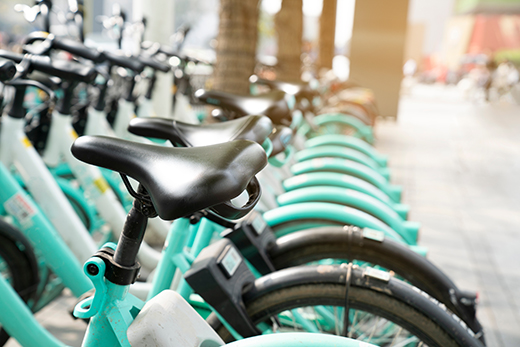 MaaS as a Smart and Sustainable City Enabler – UbiGo
UbiGo is also one of the world's first MaaS services and was first trialed in Gothenburg, Sweden in 2013. The service has evolved since then and more recently started operations in Stockholm and like Whim it offers a unified planning and purchasing platform for transportation services such as public transportation, car sharing, bike sharing, cars for hire and taxis. However, UbiGo is a little different in Whim in that is it positioned more as a partner to local governments as smart cities as opposed to a strictly private enterprise and has garnered much support from the Swedish government. The company has a strong focus on ultimately increasing the quality of life of urban dwellers, as it believes that its service will ultimately reduce the number of vehicles owned in cities. This in turn will reduce traffic, pollution, noise and car accidents. For example, UbiGo's users were rewarded one point for every ton of CO2 emissions they avoided by using the service and these points could then later be redeemed for goods and services.
What Does the Future Hold for MaaS?
Going forward MaaS will become increasingly common across the world as transportation companies unite services to create a Netflix-like experience for transportation. Hence the very meaning of transportation and travel will in themselves change in that the travel and transportation industry will be viewed as multi-modal and user-centric, a shift away from the soiled and vehicle-centric view which prevails today. New technologies such as 5G and autonomous vehicles will also enter into the picture which will enable a unified and hyperconnected user experience and a user will essentially have little difference in communication capabilities whether he or she is in an office, connected vehicle or at home. MaaS will also play an increasingly important role in the development of smart cities, as MaaS can optimize the use of public transportation and provide valuable data to city planners and administrators. Around 55% of the world`s population currently resides in urban areas, and this is set to rise to 66% by 2050. This will put increasing strain on existing public infrastructure and will fuel future interest in MaaS.