Real-time detection of abnormal conditions on expressways: Worldwide attention on NEC's revolutionary technology


If you drive, you may have had the experience of seeing a sign on an expressway saying "13-km, 100-minute traffic jam ahead" on the way back from a trip, making you feel suddenly even more exhausted. On the other hand, few people know about how expressway operators detect accidents and falling objects that cause such delays and congestion. In fact, thus far, the detection of abnormal conditions has mainly been done through "human" reports, such as those submitted by drivers and police. NEC's latest technology is now being introduced to detect such abnormal situations on roads in real time. This technology is known as "optical fiber sensing" of expressways, which is considered to be revolutionary in traffic engineering. Today, we will tell you how this technology contributes to the safety and security of roads.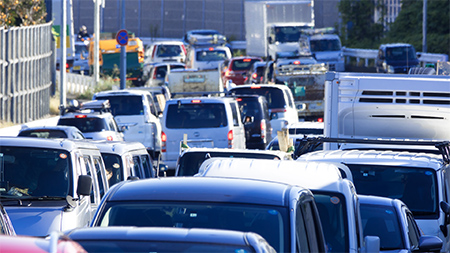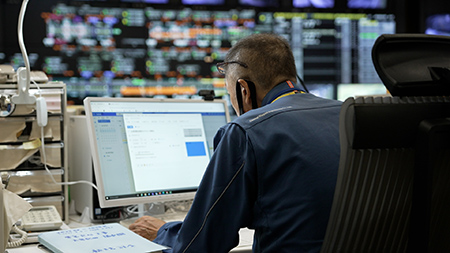 From dependence on people's reports to precise sensing using AI
"Around 10 accidents and 60 falling object incidents occur each day along the 600-km stretch of expressways within the jurisdiction of the Tokyo Regional Head Office. For the safety of our users, we must respond to these incidents as soon as possible," says Manabu Otani, Deputy Chief of the Facilities Section of the Maintenance and Service Business Division at the Tokyo Regional Head Office of the Central Nippon Expressway (NEXCO Central Japan).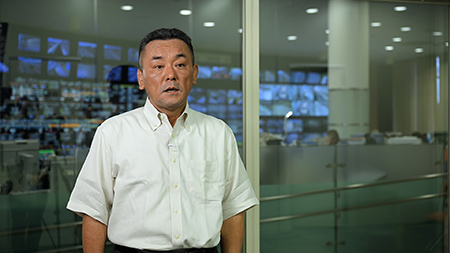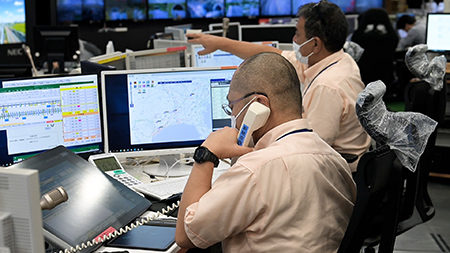 Conventionally, sensors have been embedded at two-kilometer intervals, but road congestion conditions can only be detected at the points where the sensors are located. "Although we have installed about 1,000 surveillance cameras, it is not realistic to manually monitor all of the images from those cameras 24 hours a day," says Otani, lamenting the difficulty of monitoring the entire stretch of roads in real time.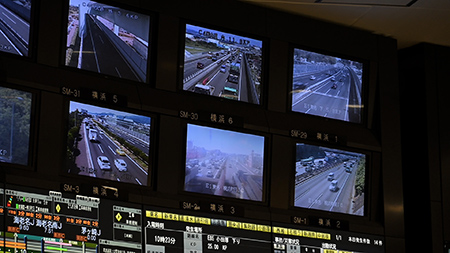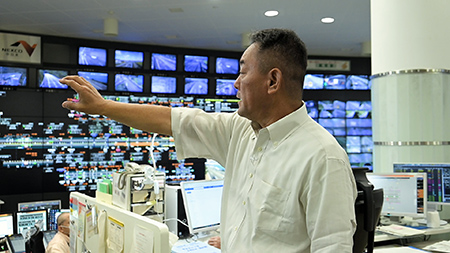 The optical fiber sensing system developed by NEC enables real-time monitoring of seamless "lines" rather than distributed "points" on the road. How does this system work?

Optical fiber sensing is a technology for measuring changes in road conditions by reading variations in responses caused by external vibrations and temperature fluctuations to optical fibers. A distinct feature of this technology is its ability to digitalize the entire road length precisely so that the data is nearly continuous. For example, compared with sensors installed at one-kilometer intervals, optical fibers can carry out sensing in units of 10 meters, resulting in a 100-fold increase in resolution.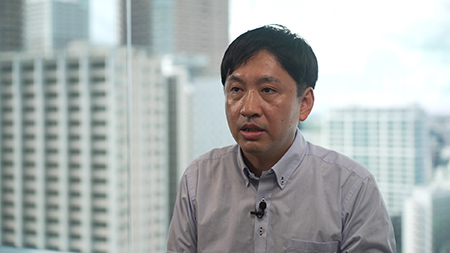 NEC was able to put this technology into practical use thanks to the implementation of noise removal using AI. In addition to vehicle vibrations, various types of noise such as that from natural phenomena add to the conditions on the actual road. Removing this noise using the power of NEC's AI renders the sensor data usable, making it possible to observe the situation of cars along the entire expressway. Tomoyuki Hino of NEC's Digital Technology Development Laboratory says with confidence, "The fusion of NEC's optical telecommunication and AI technologies has resulted in a solution that is useful for society."
World's first commercial use: Cost performance enabling the utilization of existing communication infrastructure for sensing is also a key point
NEC has succeeded in achieving the world's first commercial use of optical fiber sensing using the optical fiber for telecommunications on public roads. In cooperation with NEXCO Central Japan, NEC conducted research using actual vehicle vibration data. The results of the research were highly acclaimed overseas, including being selected as the "Best Technical Paper" at the Intelligent Transportation Systems (ITS) World Conference 2022 held in Los Angeles.

One of the reasons for the success of the world's first commercial use of this revolutionary technology in traffic engineering is its groundbreaking feature that enables the use of existing optical fibers for sensors as they are. Optical fibers are used in various areas, such as mobile and Internet communications, and there are optical fibers for communications already installed on expressways. NEC's idea was to use these existing optical fibers as sensors to monitor road conditions. Because the system uses existing optical fibers, there is no need to disrupt traffic and carry out new construction on roads, thus making it possible to introduce the system without burdening users and at low cost.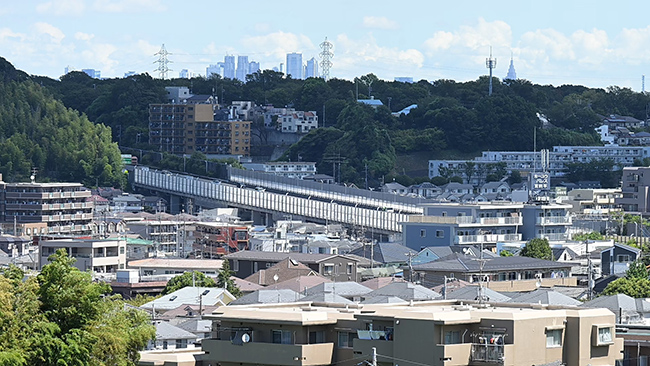 What's more, while ordinary sensors need to be replaced to add future functionality or improve accuracy, another major feature of optical fiber sensing is the ability to add functions and improve accuracy simply by updating the system software.
Striving to contribute to society from R&D to practical use and the forthcoming era of self-driving vehicles
One more reason behind the realization of this world's first success is NEXCO Central Japan's progressive stance when it comes to technology. According to Otani of NEXCO Central Japan, "As we researched sensing technologies with customer safety as our top priority, we concluded that optical fiber sensing could be an effective and low-cost option."

NEC began the delivery of its optical fiber sensing solution to NEXCO Central Japan in the spring of 2022. By the following spring in 2023, the decision had been made to introduce it to all areas under the jurisdiction of the Tokyo Regional Head Office. Otani shared with us his vision for the future, saying, "As we prepare for an era in which there will be more and more self-driving vehicles, we plan to implement additional safety measures to provide more precise safety information through the use of NEC's optical fiber sensing and other technologies."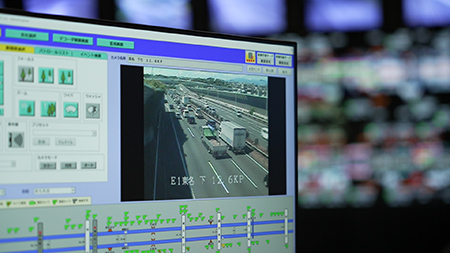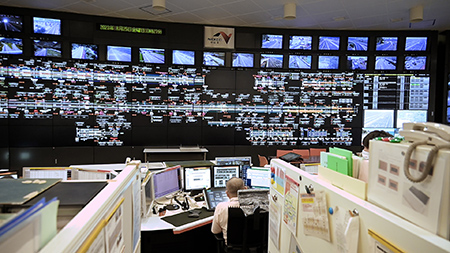 NEC has also provided road-related traffic control solutions for many years, and Hitoshi Sakurai, Smart City Business Development Division, Transportation Sales Department, who was responsible for introducing this technology to NEXCO Central Japan from both a technical and sales perspective, says, "Our thorough understanding of the issues facing NEXCO Central Japan led to a sound proposal and smooth introduction." Field trials conducted jointly with NEXCO Central Japan using real expressways made it possible to develop and verify AI algorithms, in turn paving the way for this revolutionary technology in traffic engineering to be put to practical use.
In addition to its research results being highly acclaimed overseas, NEC is also garnering attention focused on the commercial use of this technology. With the road-related issues facing NEXCO Central Japan being identical to those faced throughout Japan and the rest of the world, Sakurai and his colleagues are looking to expanding overseas with an emphasis on the safety and security of roads not only in Japan but also around the globe.

Aiming to achieve its Purpose of "creating the social values of safety, security, fairness and efficiency to promote a more sustainable world where everyone has the chance to reach their full potential," NEC will continue to rise to the challenges before it and expand its efforts to the rest of the world.
For more information and inquiries