NEC Contributes to Post-Conflict Reconstruction: Returning Mine-contaminated Land back to the People


Have you ever heard of "weapon contamination"? It describes hostile areas of land (and sea) where threats from landmines and other weapons continue to be a risk even after a conflict is concluded. For many years, people can continue to be threatened by the indiscriminate nature of these weapons where they live and work. Unfortunately, there are many people living like this all over the world. However, NEC employees who took notice of this hidden danger are now working to contribute to the clearing of landmines. They are driven by an unwavering resolve to uncover new and better ways to restore safety and security to these communities.
AI accurately estimates location of buried landmines
"We are achieving over 90% accuracy." This was the groundbreaking announcement made to a captivated audience at a web conference in September 2022, where representatives from NEC (Tokyo), NEC Laboratories Europe (Germany) and an expert from the weapons contamination unit of the International Committee of the Red Cross (ICRC) (Switzerland) participated. In an experiment to identify areas where landmines are likely to be buried, locations highlighted by NEC's predictive AI technology coincided closely with places where mines had actually been found. This is a promising result that points to a new method for efficiently locating areas that might be contaminated with landmines.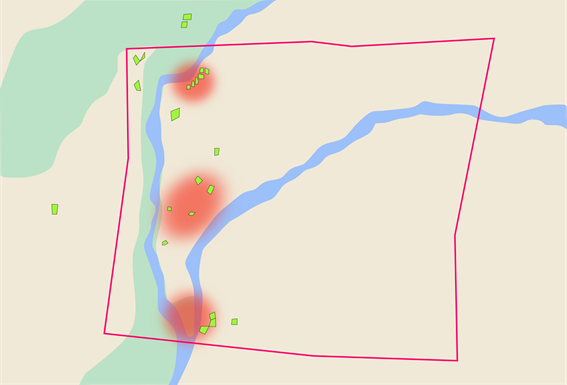 Upon hearing the announcement of these results, one member of the audience was holding his head particularly high. His name is Benjamin Butcher, a Professional with NEC's Global Relation Department. While he knew there was still a long way to go and hurdles to overcome, he could not hide his excitement over this breakthrough, exclaiming, "We did the right thing!"

Four years ago, in October 2019, a workshop was organized in Tokyo by the ICRC and Waseda University, to discuss the challenges on data protection in humanitarian assistance. There, Benjamin met the ICRC's Weapons Contamination expert who works on building solutions for mine detection that combine remote sensing and AI. As they talked, he learned about the work of people who risk their lives to find landmines and the difficulty of what they do.

Preliminary surveys to identify burial areas had to rely on analog methods, using a combination of information obtained in the field and human experience. Asking more, he learned that landmine data covers a wide range of information, including geographic and topographic maps, locations of infrastructure such as airports and roads, reports of local residents, types and characteristics of mines, and their actual position. However, despite the enormous amount of such data about affected areas, it was not being effectively utilized because it must be sorted and organized before being analyzed, but this takes a lot of work.

To begin with, it is rare for an organization involved in demining to have enough human resources skilled in data science. As Benjamin listened, he realized that this problem was "like any other company's problem." He thought that organizing and harmonizing the huge amounts of data should be able to reveal some useful clues and patterns.
Applying knowledge gained from smart cities
The first person that came to his mind was a member of the Smart City team from NEC Labs Europe whom he had worked with in the past. Smart City projects are implemented by linking and deriving solutions from multiple, diverse data sets. "Although it seemed like an unrelated theme, NEC might somehow be able to help," he thought.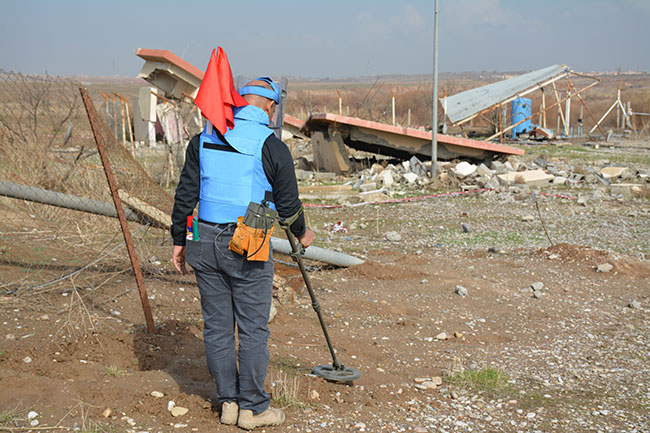 According to the

Landmine and Cluster Munition Monitor, the number of casualties due to explosive remnants of war ranges from around 5,000 to over 9,000 per year. If we can reduce this number, even a little, it will not only reduce injury and death, but also allow people to safely return and rebuild the economies of impacted regions. Ernö Kovacs of NEC Labs Europe, who was consulted by Benjamin, agreed to support the collaboration, saying, "The mission of this project is to enable many people in the affected areas to live safely. It is a challenging job, and I am proud to be part of it."

In the beginning there was no dedicated budget for this R&D, which started through personal connections. While doing their main jobs, the NEC Labs Europe team, therefore, used their own time to work on the project, consolidating their ideas at regular meetings between Japan and Europe. Despite the difficulties, Ernö recalls, "We worked hard because we were inspired by a noble goal to help rid the world of landmines."

In the winter of 2021, Satoko Suzuki, a Professional with NEC's Global Relation Department, joined Benjamin, who had until then been promoting the project by himself at the head office. At that time, although NEC had signed a Memorandum of Understanding (MOU) with the ICRC, obtaining the outside budget to initiate the first trials was proving difficult.

They were met with various obstacles throughout the project. However, they did not lose sight of the goal amidst the challenging circumstances. In part, this was because Satoko had the chance to travel to ICRC headquarters and see with her own eyes the wide variety of landmines on display. They are not only lethal, but explode in a way that causes injury, meaning they have been deliberately designed to slow down the movement of troops, which leads to civilian casualties and land contamination with harmful chemicals. While angered by this arbitrary cruelty, Satoko was committed to the idea that "NEC should be able to do something to solve the problem."

By April 2022, the concept was solidified, and working with the ICRC, the team had learned about the kinds of data that were available, how files were formatted, how data sets were related to each other, the methods for data integration and AI utilization, and a scheme for the demonstration experiment was finalized. All the team needed was funding.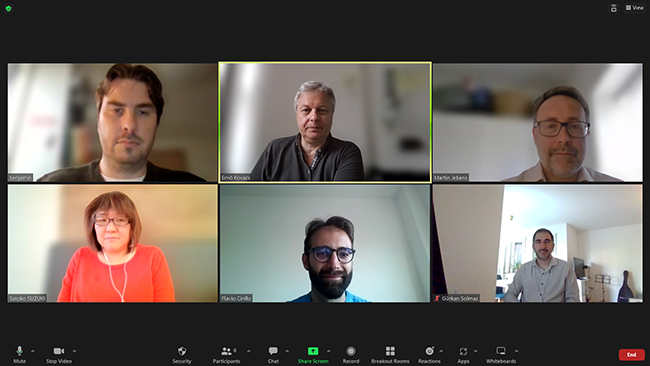 It was at this time that these activities caught the attention of NEC's President and CEO, Takayuki Morita, who saw an opportunity for NEC to support efforts to solve a global social issue by maximizing the power of digital technology and co-creating with international organizations. Morita evaluated the demonstration experiment plan for landmine searches, and with the encouragement of top management, practical application of the solution began to look like a real possibility.

NEC's Purpose is to "create the social values of safety, security, fairness, and efficiency to promote a more sustainable world where everyone has the chance to reach their full potential," and the team's goal was a perfect match for this Purpose. According to Benjamin, "since the Purpose was set, it was easier for us to explain and make others understand what we wanted to do and why."

The trial began the following month, in May 2022. Using data from specific regions that were plagued by landmines, AI predicted the locations of landmines with an accuracy of more than 90%. After announcing these results in March 2023, the story was widely covered by media from numerous countries. Moreover, NEC has received inquiries from a range of potential customers who are working on projects that include finding ways for refugees to return, and restoring farmlands to create employment.

In June 2023, ICRC President Mirjana Spoljaric visited NEC's headquarters, expressing that she "looks forward to the next step in our cooperation with NEC," aiming for greater use of digital technologies and more responsiveness to potential risks, which are crucial to address landmine issues.
This is just the beginning
President and CEO Morita says of this achievement, "I want this to become a major story of creating social value among numerous stakeholders, such as drone operators and heavy equipment companies. Businesses can deliver meaningful value, then reinvest to create new value. NEC, whose value is largely derived from cutting-edge technology, has an invested interest in maintaining this cycle."

NEC is now seeing a bright light from driving this cycle of both value creation and business application. The data organization know-how gained from the project can in fact be applied to other projects. Benjamin explains, "We now have the know-how to harmonize multiple pieces of data, such as data in different formats or data that are not correlated. In this regard, we can now see a variety of possible applications."

The challenge that began with the awareness of one employee turned into a selfless endeavor for an international team. Going forward, they aim to improve the quality of life in countries and regions that have been ravaged by conflict. And as new value and opportunities are generated from this endeavor, NEC can take a new step toward the next value creation—to create a brighter future that is safe, secure, fair, and efficient for all.