The Future Has Arrived in the form of NEC's Digital ID
What if you didn't have to carry cash, credit cards or a passport when you travel? What if checking in for a flight or checking out at your favorite store was as simple as taking a selfie? What if there was one technology that could make your hotel, banking and entertainment experiences safe and simple?
It sounds too good to be true, yet that's what NEC's Digital ID promises to deliver in the future.

Designed with advanced neural network technology and powered by cutting-edge artificial intelligence, Digital ID is biometric token that will enable you to identify and protect yourself across a range of experiences. The technology will enhance several aspects of your everyday life from banking and shopping to air travel. Digital ID will facilitate these experiences at key touch points, reducing the need for antiquated forms of payment and identification.

As advances in face recognition create new opportunities, Digital ID will fast change the way that we live, work and play.

ENHANCING THE AIR TRAVEL EXPERIENCE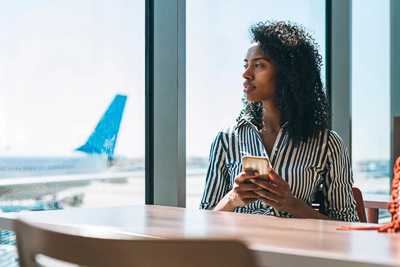 Long queues, time-consuming baggage drops, drawn-out security checks, inconvenient purchasing protocols, chaotic boarding procedures – these are the perils of the modern airport experience. Each pain point has the potential to get a vacation or a business trip started on the wrong foot, yet with the right tools, these pain points can be overcome. That's where Digital ID will come in.

Designed to facilitate seamless travel, the Digital ID experience will start at home. First, you will create an account on NEC's secure system by registering with your passport and a facial scan. From that point on, you will be able to log in on your mobile phone via three-factor authentication – username, password and face recognition – to find, book and purchase flight tickets.

When it's time to travel, Digital ID will facilitate flight check-ins through a contactless experience with face recognition. You won't need to pick up a ticket, simply log into your account and scan your face. Baggage drops are just as easy, which will enable you to use facial scans at a self-service kiosk to confirm your identity, tag your bags and make payment in the event of overweight luggage. The new process will reduce wait times so you have more time to enjoy airport facilities before your flight.
Digital ID will also make standard security procedures faster, eliminating the need for you to present passports or flight tickets. Once in the terminal, you will be able to purchase products at the duty free shop the same way – no tickets, no passport, just a quick facial scan. Face recognition will enable you to access the VIP lounge where you will be welcomed with a customized message after you identify yourself. At the gate, the same face recognition technology allows you to board your flight at a walking pace for a remarkably easy and enjoyable experience.

Upon arrival, Digital ID will make clearing immigration and customs a contactless experience so that you can start your trip on the right foot.

SECURE BANKING FOR THE DIGITAL AGE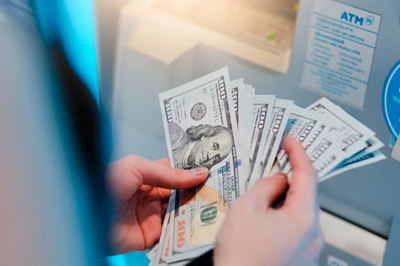 Amid the drive to digital-first banking, ATMs that use face recognition will make the travel experience smoother. With the help of Digital ID, you'll be able to make withdrawals and exchange money.

Registration is easy. As a first-time user insert your cash card and have your photo taken by a camera installed at the ATM. For security purposes, you must enter a one-time password which is sent to your mobile phone before your photo is registered. Once registration is complete, you can conduct card-less transactions using face recognition and PIN authentication.

Face recognition technology is a giant step forward in the evolution of security designed to protect your information and keep your money safe. Given the uniqueness of every human face, the technology makes it nearly impossible for anyone else to access your finances.

As ATMs that use face recognition become the global standard, you won't have to worry about carrying or losing your cash card while traveling, and every transaction will be secure.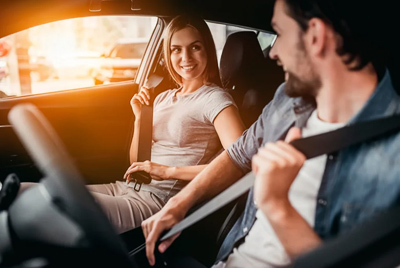 Renting a car at the airport can be an incredibly inconvenient experience that entails providing multiple forms of identification, signing several documents and incredibly long wait times. This is the last thing any traveler wants to experience when battling jetlag after a long flight or trying to make it to a business meeting on a tight schedule. Digital ID will make the rental process quick and convenient, enhancing your travel experience.

Digital ID will enable you to complete the car rental process in a matter of minutes after you store your driver's license information on your account. Upon reaching the rental desk, you will be able to scan your face to confirm your identity. With your information already stored on your account, there will be no need to fill out any forms or share documents. You will simply scan your face to make payment, take the keys and set off to your destination.

ENHANCING YOUR HOTEL STAY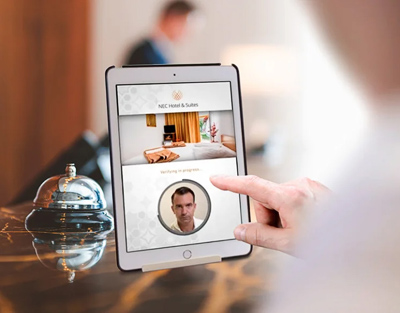 Whether you're traveling for business or pleasure, an arduous hotel check-in is the last thing you want upon arrival. Digital ID will make checking in simple by enabling you to identify yourself and make payment via facial scan. You will no longer need to dig through your bag for your passport and credit card. Simply look into the camera and head to your room. The process will take seconds.

At your room, you will be able to scan your face to unlock the door and personalize your experience with your pre-selected preferences across a range of room settings. Throughout your stay, face recognition will enable the staff to recognize you, learn about your travel preferences and better meet your personal needs for a superior customer experience. Everyone will feel like a VIP.

During your stay, you will be able to scan your face to search for sightseeing information using a mobile device provided by the hotel or digital signage within the hotel. Designed to deliver ultimate convenience, information will be shared in your language and according to your preferences once you've identified yourself by face.

REINVENTING BRICKS-AND-MORTAR RETAIL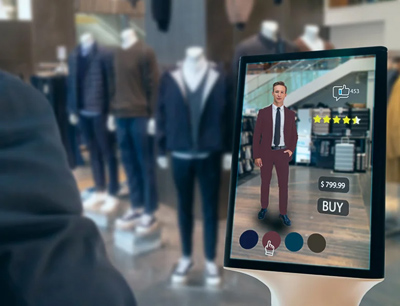 When it comes to bricks-and-mortar shopping in the digital age, improving the customer experience matters more than ever. Digital ID will enhance in-store shopping by making the experience convenient from start to finish.

Upon entering, Digital ID will enable shop attendants to recognize you if you are a repeat customer and greet you with a warm, personalized welcome so that you feel like a VIP. They will also be able to retrieve your shopping history in order to deliver a curated experience that aligns with a range of your tastes and preferences.

Long queues at the cash register are among the biggest bugbear for shoppers. Without the right technology, long queues can dent the overall shopping experience, especially for the 50% of travelers who go shopping during their vacations. Digital ID will enable you to make card-less, cash-less payments with your face so you don't have to worry about carrying your wallet. This will also reduce waiting times so you can breeze through your shopping experience and make the most of your trip.

HASSLE-FREE ENTERTAINMENT EXPERIENCES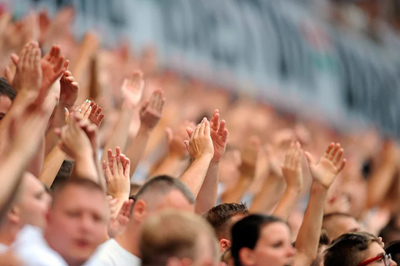 Going to watch your favorite band, support your local sports team or spend the day at a theme park should be a fun, hassle-free experience, but the reality is often much different. From ticket problems and security bottlenecks to gridlock at the concession stands, a string of small inconveniences can add up to a major headache that sours your experience.

Digital ID will create a frictionless, contactless experience at every touchpoint starting from the get-go. When entering the venue, you will be able to walk through the turnstiles after scanning your face instead of carrying paper tickets. Inside, Digital ID will enable you to make card-less, cash-less purchases at concession stands and merchandise stores the same way. In each situation Digital ID will make the experience more convenient, reduce wait times and enhance the guest experience.

ORCHESTRATING A BRIGHTER WORLD
The future is clear: As companies apply cutting-edge technologies to key touchpoints across a range of industries, NEC's Digital ID will enable convenient, seamless experiences that are safe and secure. From airports and hotels to retail stores and entertainment venues, NEC's Digital ID will reshape the customer experience and enhance our lives.