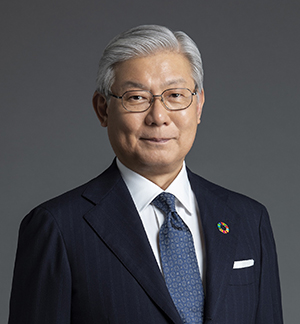 Takashi Niino became President and CEO (Representative Director) of NEC Corporation in April 2016.

In the six years prior to taking on this role, Mr. Niino served as a corporate planning executive officer in charge of orchestrating structural reforms and formulating company strategies. Under NEC's Mid-term Management Plan 2015 announced in April 2013, Mr. Niino became involved in numerous core initiatives focused on achieving new growth for the NEC Group. These initiatives included the establishment of a business incubation function to realize Solutions for Society and the launch of an administrative staff service company to drastically change the way in which NEC's staff divisions work.

After becoming president, Mr. Niino embarked on sweeping corporate reforms aimed at accelerating growth. In addition to spearheading Project RISE, an initiative launched in 2018 to drastically change NEC's employee evaluation system and code of behavior, he has committed himself to ensuring that NEC realizes growth and creates a corporate culture suitable for the digital era by actively pursuing external recruitment of executives.
| | |
| --- | --- |
| April 1977 | Joined NEC Corporation |
| April 2004 | Executive General Manager, 2nd Solutions Sales Operations Unit |
| April 2005 | Senior General Manager, 3rd Solutions Operations Unit |
| April 2006 | Executive General Manager, Financial Solutions Operations Unit |
| April 2008 | Senior Vice President, Executive General Manager, Financial Solutions Operations Unit |
| August 2008 | Senior Vice President |
| April 2010 | Executive Vice President |
| June 2011 | Executive Vice President and Member of the Board |
| July 2011 | Executive Vice President, CSO (Chief Strategy Officer) and Member of the Board |
| April 2012 | Senior Executive Vice President, CSO (Chief Strategy Officer), CIO (Chief Information Officer) and Member of the Board (Representative Director) |
| April 2016 | President and CEO (Representative Director) (to present) |