Submarine Cable Systems
Amazon Web Services, China Mobile International, Facebook


Submarine Cable Directly Connecting Asia and the USA
NEC to build a high-performance optical fiber submarine cable connecting two of the world's biggest bay areas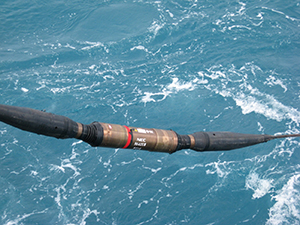 The digital economy has taken off in recent years, with growth driven by social media and booming e-commerce. We are also seeing a proliferation of personal mobile devices and 4G systems globally, particularly among emerging economies. As a result, the demand for greater digital capacity continues to grow at a rapid rate. This is especially true between Asia and the United States, where network traffic has doubled every two years and is expected to continue on this trend.

The Bay to Bay Express Cable System (BtoBE) consortium, a global consortium composed of Amazon Web Services, China Mobile International and Facebook is planning to lay an optical fiber submarine cable to connect Singapore and Hong Kong to San Francisco. Scheduled to be completed by the fourth quarter of 2020, the BtoBE will also be the longest optical submarine cable without optical regeneration in the world, measuring almost 15,000 kilometers (Singapore to San Francisco) in length.

For this project, the BtoBE consortium has selected NEC, one of the top-three vendors of optical fiber submarine cable systems. NEC has an excellent track record in this field, with over 50 years of experience in optical submarine cables and having constructed some of the largest cable networks in service today. In total, it has laid 300,000 kilometers of cables worldwide, a length that is equivalent to seven and a half times the circumference of the Earth. Furthermore, NEC has the production capacity to deploy optical fiber submarine systems on a competitive time scale, thereby reducing time to revenue.
For the BtoBE, NEC will provide a full turn-key optical fiber submarine cable system, including design, permit acquisition, manufacture, installation, testing and commissioning. This is supported by the skilled and experienced coordination and oversight of NEC's project management team, and the close connections NEC has built up with all parts of the value chain.

Featuring multiple optical fiber pairs, with each pair capable of carrying at least 18 terabits of digital data per second, the BtoBE will enable high-capacity data transmission directly across the Pacific Ocean, and further enhance and contribute to the much-needed expansion of communications networks between the two largest bay areas in the world. The BtoBE, once completed and commissioned, would enable almost 3,000 DVDs per second to be transmitted. Furthermore, because the BtoBE can directly connect Asia and the US West Coast without optical regeneration (without making a detour at Japan, Guam or Hawaii), it has the advantages of decreasing roundtrip latency to less than 130 milliseconds and lowering capex. These advantages will be further reinforced through the utilization of the most advanced optical submarine transmission equipment.

"NEC is honored to be selected by the BtoBE consortium as the turn-key system supplier for this world record-breaking optical fiber submarine cable system that covers the longest distance without regeneration. The BtoBE, landing at three locations spanning across the Pacific Ocean, is designed so that once completed, it can carry at least 18Tbs of capacity per fiber pair," said Toru Kawauchi, General Manager of the Submarine Network Division at NEC Corporation. "The BtoBE will provide seamless connectivity and network diversity, while serving to complement other Asia-Pacific submarine cables, among others."

The BtoBE will offer network providers and online service companies highly reliable communications between Asia and the United States, with improved network redundancy and flexibility, and complement existing trans-Pacific channels. This will in turn provide people in the Asia-Pacific region with faster and more reliable network communications, and improved online experiences.
China Mobile International