Lockheed Martin and NEC to Enhance Satellites, Space Travel with Artificial Intelligence
DENVER, COLO. and TOKYO, Dec. 14, 2017 - Lockheed Martin (NYSE: LMT) and NEC Corporation (NEC; TSE: 6701) today announced that Lockheed Martin will use NEC's System Invariant Analysis Technology (SIAT) in the space domain.

SIAT's advanced analytics engine uses data collected from sensors to learn the behavior of systems, including computer systems, power plants, factories and buildings, enabling the system itself to automatically detect inconsistencies and prescribe resolutions.

NEC's advanced Artificial Intelligence (AI) capabilities and Lockheed Martin's space domain expertise offer new opportunities in developing enhanced integrated satellite and spacecraft operations with uniquely developed prescriptive analytics. These include rapid assessments of changes in performance and the space environment, such as the potential influence of space weather on electronics. With this information, operators can improve product performance and lifecycle efficiency.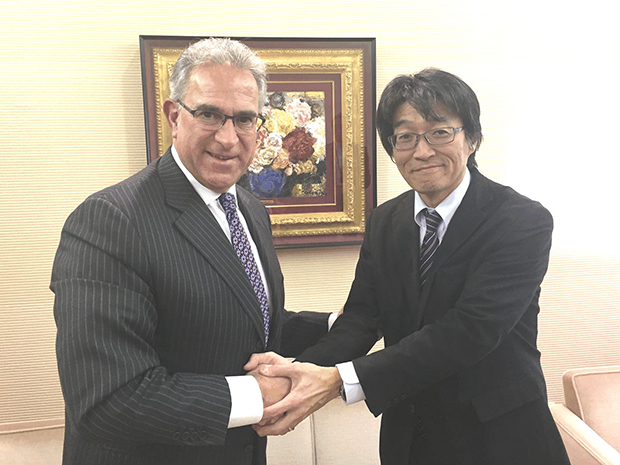 Carl Marchetto, vice president of New Ventures at Lockheed Martin Space (left),
Tomoyasu Nishimura, senior vice president, NEC Corporation (right)
"Lockheed Martin and NEC are experts in space and systems, and that's the right blend to explore how AI can improve space products for astronauts and people on the ground," said Carl Marchetto, vice president of New Ventures at Lockheed Martin Space. "AI can revolutionize how we use information from space, both in orbit and on deep space missions, including crewed missions to Mars and beyond."

"The innovative SIAT developed by NEC can make valuable contributions to solving the challenges faced by Lockheed Martin in the space field," said Tomoyasu Nishimura, senior vice president, NEC Corporation. "Going forward, NEC aims to continue strengthening this solution and to globally support safety, security and operational efficiency in a wide variety of fields."

"It is an honor to see NEC's SIAT being used by Lockheed Martin, one of America's leading space innovators," said Masahiro (Mark) Ikeno, president and CEO, NEC Corporation of America. "We are confident in SIAT's ability to contribute to the reliability, safety and security of Lockheed Martin's developments in the space field."
***
About Lockheed Martin
Headquartered in Bethesda, Maryland, Lockheed Martin is a global security and aerospace company that employs approximately 97,000 people worldwide and is principally engaged in the research, design, development, manufacture, integration and sustainment of advanced technology systems, products and services.

About NEC Corporation
NEC Corporation is a leader in the integration of IT and network technologies that benefit businesses and people around the world. By providing a combination of products and solutions that cross utilize the company's experience and global resources, NEC's advanced technologies meet the complex and ever-changing needs of its customers. NEC brings more than 100 years of expertise in technological innovation to empower people, businesses and society. For more information, visit NEC at http://www.nec.com.

The NEC Group globally provides "Solutions for Society" that promote the safety, security, efficiency and equality of society. Under the company's corporate message of "Orchestrating a brighter world," NEC aims to help solve a wide range of challenging issues and to create new social value for the changing world of tomorrow. For more information, please visit

http://www.nec.com/en/global/about/vision/message.html

NEC is a registered trademark of NEC Corporation. All Rights Reserved. Other product or service marks mentioned herein are the trademarks of their respective owners. © NEC Corporation.