NEC provides cyber-defense training for government agencies in Malaysia to enhance effectiveness in tackling cyber-attacks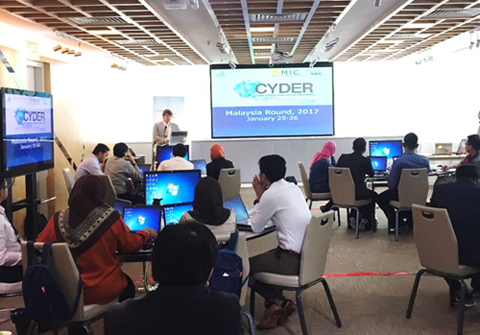 Tokyo, Japan - March 7, 2017 - NEC Corporation (NEC; TSE: 6701) today announced that it has provided government agencies in Malaysia with hands-on cyber-defense training.

More than 20 officials from The Malaysian Communications and Multimedia Commission (MCMC) and Cyber Security Malaysia (CSM) attended the two-day training held in Cyberjaya, Malaysia recently.

The hands-on cyber defense training organized by NEC Corporation and NEC Corporation Malaysia was aimed at enhancing the abilities of system administrators in government agencies to effectively handle the increasing threat of cyber-attacks. By providing simulations of a customer's ICT infrastructure, the practical training enables the cultivation of system administrators with comprehensive cyber defense capabilities.

"This project is another example of NEC's leading position in the field of cyber-crime prevention," said Chong Kai Wooi, Managing Director of NEC Corporation of Malaysia. "In order to cope with increasingly complex and sophisticated cyber-attacks, it is critically important to cultivate experts who can analyze vulnerability across an organization and respond to cyber incidents quickly and appropriately."

NEC conducted this training as part of the "Hands-on pilot training aiming to increase cyber defense capabilities in ASEAN countries," a project commissioned by Japan's Ministry of Internal Affairs and Communications (MIC).

In January 2017, Malaysia's Ministry of Communications and Multimedia (KKMM) and the MIC signed a memorandum of understanding for cooperation in the area of Information and Communication Technologies, including cyber-security. As part of this cooperation, NEC, in collaboration with the Embassy of Japan in Malaysia, provided hands-on cyber defense training for two government agencies in Malaysia. This training was similar to the MIC's "Cyber Defense Exercise with Recurrence (CYDER)" provided in Japan.

The program capitalized on simulated government office network environments to provide students with valuable first-hand experience in handling a full cyber-attack, from the onset of an information security issue, to its final resolution. The training not only imparted technical skills in handling a cyber-attack, but provided important organizational measures for preventing the spread of damages, including possible instructions for staff and the sharing of information with related institutions.
***
About NEC Corporation
NEC Corporation is a leader in the integration of IT and network technologies that benefit businesses and people around the world. By providing a combination of products and solutions that cross utilize the company's experience and global resources, NEC's advanced technologies meet the complex and ever-changing needs of its customers. NEC brings more than 100 years of expertise in technological innovation to empower people, businesses and society. For more information, visit NEC at http://www.nec.com.

The NEC Group globally provides "Solutions for Society" that promote the safety, security, efficiency and equality of society. Under the company's corporate message of "Orchestrating a brighter world," NEC aims to help solve a wide range of challenging issues and to create new social value for the changing world of tomorrow. For more information, please visit

http://www.nec.com/en/global/about/vision/message.html

NEC is a registered trademark of NEC Corporation. All Rights Reserved. Other product or service marks mentioned herein are the trademarks of their respective owners. © NEC Corporation.
About NEC Corporation of Malaysia Sdn. Bhd
Originally established as NEC Malaysia Sdn Bhd in March 1988, NEC Corporation of Malaysia Sdn. Bhd ("NEC Corp Malaysia") is a total solutions provider for a comprehensive range of NEC's IT, networking and telecommunications, and display technologies in Malaysia. By combining NEC's and other third-party hardware and software to deliver a competitive edge to its clients, NEC Corp Malaysia also provides a wide range of systems integration solutions, business process analysis and system design, technical expertise, implementation and training, and support services through its NECare Support Center that provides comprehensive services nationwide, 24/7. Visit us at: http://my.nec.com/.