NEC develops radio sensing system to visualize use of radio spectrum in real time
Tokyo, October 3, 2016 - NEC Corporation (NEC; TSE: 6701) today announced the development of a radio sensing system that measures the usage of radio spectrum and visualizes its use in real time. The system aims to promote the effective usage of radio spectrum, such as the dynamic allocation of radio spectrum for the Internet of Things (IoT) and the allocation of radio spectrum for events or emergency situations.

The new system consists of a small radio spectrum sensor and software to visualize the status of radio spectrum. The sensor extracts only the radio signals within a target frequency between 30 MHz and 3 GHz, which are used for major wireless systems, including TV broadcasting and mobile phones. Moreover, the system can perform measurements with 100 times greater sensitivity than existing technologies*.

The sensor can even perform high-precision measurements of weak radio frequency signals in areas that are close to transmitter stations radiating strong radio signals. It also enhances the desired radio frequency signals to be measured and comprehensively visualizes the status of radio spectrum in the area to be measured.

"This technology makes it possible to identify the actual use of radio frequency resources, including unused frequencies," said Yuichi Nakamura, General Manager, System Platform Research Laboratories, NEC Corporation. "This is accomplished by measuring the distribution of a radio frequency signal's intensity and its variation over time for each frequency at each point and visualizing the measurements in real time."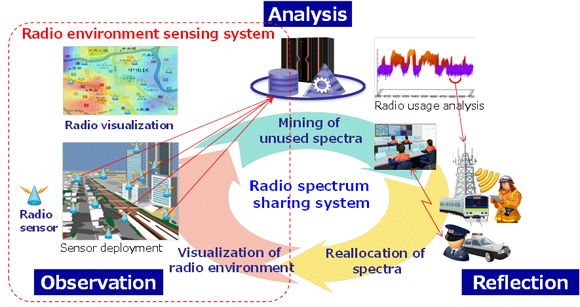 Overview of shared radio spectrum use
Primary features of this system include the following:
Use of a small sensor for high-sensitivity measurement of radio frequency signals over a wide range of frequencies

NEC developed an MEMS-based tunable filter that extracts only the radio signals at the frequency to be measured from the radio frequency signals received by the antenna.

This technology combines the functions of five filters into a single filter by enabling changes in frequencies to be rejected by the filter. In addition, NEC successfully reduced the size of the radio spectrum sensor to the size of smartphone by combining functions to eliminate unnecessary frequency signals and amplifying the desired frequency to be measured into one chip, thereby reducing the mounting space by 90% or more by using our wideband receiver CMOS IC.

Thanks to these technologies, the radio spectrum sensor no longer needs to be installed in a steel tower, but instead can be installed in various places such as street lights and building walls. As a result, a larger number of sensors can be installed, making it possible to measure radio frequencies with greater precision.


The sensor picks up only the radio frequency signals in the target direction for more precise measurements

There are times when there is more than one unnecessary radio frequency signal around the radio frequency range to be measured. The analog null-steering technology developed by NEC eliminates unnecessary radio frequency signals, providing greater precision when measuring the target radio frequency.

This technology eliminates 99% of the unnecessary radio frequency signals that come from directions other than that of the desired radio frequency signals to be measured. This makes it possible to measure weak radio frequency signals even in areas close to transmitter stations that radiate strong radio signals.




MEMS-based tunable filter (left) and Wideband receiver CMOS IC (right)

Comprehensive visualization of the usage of radio spectrum in the measurement area
NEC developed software that automatically estimates and interpolates the status of radio spectrum in places where there are no sensors installed by collecting and using a variety of actual measurement data, such as frequencies, radio frequency signal's intensities, and measurement times. This software makes it possible to perform exhaustive and highly precise estimates of the use status of radio spectrum. It visualizes this use in real time, even in urban areas where there is a concentration of high-rise buildings that make it difficult to install a sufficient number of sensors.
Going forward, NEC aims to have this technology adopted throughout a wide variety of applications, such as the monitoring of radio signals in crowded areas (stadiums, rail stations, airports, etc.), the planning of optimum deployment and operation of wireless infrastructure, the management of radio spectrum and the detection of illegal radio stations.

Part of this research was performed under the research contract of "Research and Development on control schemes for utilizations of multiple mobile communication networks," by the Ministry of Internal Affairs and Communications, Japan.
***
About NEC Corporation
NEC Corporation is a leader in the integration of IT and network technologies that benefit businesses and people around the world. By providing a combination of products and solutions that cross utilize the company's experience and global resources, NEC's advanced technologies meet the complex and ever-changing needs of its customers. NEC brings more than 100 years of expertise in technological innovation to empower people, businesses and society. For more information, visit NEC at http://www.nec.com.

The NEC Group globally provides "Solutions for Society" that promote the safety, security, efficiency and equality of society. Under the company's corporate message of "Orchestrating a brighter world," NEC aims to help solve a wide range of challenging issues and to create new social value for the changing world of tomorrow. For more information, please visit

http://www.nec.com/en/global/about/vision/message.html

NEC is a registered trademark of NEC Corporation. All Rights Reserved. Other product or service marks mentioned herein are the trademarks of their respective owners. © NEC Corporation.