DOCOMO PACIFIC selects NEC to build "ATISA" submarine cable
- A new cable connecting Guam and Saipan -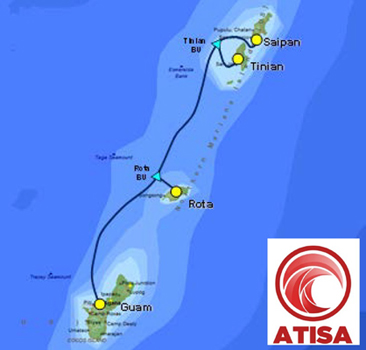 ATISA submarine cable system map
Saipan, Commonwealth of Northern Mariana Islands - March 10, 2016 - DOCOMO PACIFIC Inc., a wholly-owned subsidiary of NTT DOCOMO, Inc., and NEC Corporation (NEC; TSE: 6701) today announced the signing of a contract to build ATISA, an optical submarine cable system that will connect Guam with the Commonwealth of Northern Mariana Islands.

ATISA, a state-of-the-art six fiber pair optical fiber submarine cable system measuring approximately 280 kilometers in length, will connect the islands of Guam, Saipan, Rota and Tinian. Following the anticipated completion in early-2017, ATISA is expected to enhance connectivity among the four islands.

Mr. Jonathan Kriegel, President and CEO of DOCOMO PACIFC, added by saying "Today marks the beginning of a new era in communications connectivity between Guam and the CNMI. Project ATISA was born out of the collective desire of elected leaders, business owners, and most especially, our customers to bring transformative change to our islands' infrastructure."

"We are very pleased to have the opportunity to take part in the deployment of ATISA. Once completed, ATISA will have a significant and measurable impact on the ways the Northern Mariana Islands and Guam interact and communicate with the rest of the world. For over 35 years, NEC has supplied submarine cable systems, and today, we are proud of adding ATISA to our long list of contributions to the region," said Mr. Naoki Yoshida, General Manager, Submarine Network Division, NEC Corporation.
***
About NEC Corporation
NEC Corporation is a leader in the integration of IT and network technologies that benefit businesses and people around the world. By providing a combination of products and solutions that cross utilize the company's experience and global resources, NEC's advanced technologies meet the complex and ever-changing needs of its customers. NEC brings more than 100 years of expertise in technological innovation to empower people, businesses and society. For more information, visit NEC at http://www.nec.com.

Based on its Mid-term Management Plan, the NEC Group globally provides "Solutions for Society" that promote the safety, security, efficiency and equality of society. Under the company's corporate message of "Orchestrating a brighter world," NEC aims to help solve a wide range of challenging issues and to create new social value for the changing world of tomorrow. For more information, please visit
http://www.nec.com/en/global/about/solutionsforsociety/message.html.

NEC is a registered trademark of NEC Corporation. All Rights Reserved. Other product or service marks mentioned herein are the trademarks of their respective owners. © NEC Corporation.