JAXA launches X-ray astronomy satellite "Hitomi" (ASTRO-H)
- NEC conducts manufacturing and testing as the system coordinator -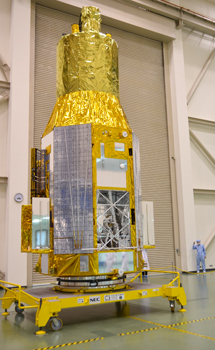 Hitomi (ASTRO-H) satellite
Tokyo, Japan – February 17, 2016 – The X-ray Astronomy Satellite "Hitomi" (ASTRO-H) was launched today from the Japan Aerospace Exploration Agency's (JAXA) Tanegashima Space Center atop the H-IIA Launch Vehicle No. 30. Hitomi has successfully entered the intended orbit and deployed its solar array paddle as scheduled.
Under the direction of JAXA, NEC coordinated the system design, assembly, testing and integration support for Hitomi. Moreover, in addition to the design and manufacturing of the overall bus systems apart from the optical bench, NEC also conducted the design and manufacturing of on-board equipment, such as star tracker sensors and GPS receivers. NEC will continue to support initial operations for the next one and a half months, and subsequent routine operation.
Setting high-energy celestial bodies such as black holes as the target for observation, Hitomi strives to gain new knowledge of space science through X-ray observation using multiple payloads, including the micro-calorimeter detector that can measure the energy of X-rays with ultra-high resolution.
For communications networks between internal satellite equipment such as bus equipment and mission equipment, Hitomi fully adopts SpaceWire (*1) and RMAP (*2), which are the advanced data communications network standards for artificial satellites. Using these standards helps to enhance the efficiency of integration tests and improve reliability of the satellite due to the ability to create redundant configuration in a flexible manner, and achieve better operations that are capable of handling complicated operational and data processing requests.
"Since the launch of Japan's first satellite "Osumi" in 1970, NEC has worked on the development and operation for approximately 70 satellites," said Masaki Adachi, General Manager, Space Systems Division, NEC Corporation. "By utilizing our know-how and expertise obtained from these experiences, NEC is fully committed to continue supporting Hitomi's mission."
***
About NEC Corporation
NEC Corporation is a leader in the integration of IT and network technologies that benefit businesses and people around the world. By providing a combination of products and solutions that cross utilize the company's experience and global resources, NEC's advanced technologies meet the complex and ever-changing needs of its customers. NEC brings more than 100 years of expertise in technological innovation to empower people, businesses and society. For more information, visit NEC at http://www.nec.com.

Based on its Mid-term Management Plan, the NEC Group globally provides "Solutions for Society" that promote the safety, security, efficiency and equality of society. Under the company's corporate message of "Orchestrating a brighter world," NEC aims to help solve a wide range of challenging issues and to create new social value for the changing world of tomorrow. For more information, please visit
http://www.nec.com/en/global/about/solutionsforsociety/message.html.

NEC is a registered trademark of NEC Corporation. All Rights Reserved. Other product or service marks mentioned herein are the trademarks of their respective owners. © NEC Corporation.