NEC develops new user interface that turns arm into virtual keyboard
*** For immediate use November 5, 2015


Tokyo, Japan - November 5, 2015 - NEC Corporation (NEC; TSE: 6701) has developed the ARmKeypad, a new user interface for use with smart eyeglasses, that displays a virtual keyboard on a person's arm.

The system displays a virtual keyboard on the forearm by means of new recognition technology linking smart eyeglasses and a smartwatch to make it appear that the arm is equipped with a keyboard and input buttons. Since users can input information hands-free, the system contributes to greater efficiency in carrying out tasks such as equipment maintenance, product inspection and inventory control.

As soon as the user puts on the smart eyeglasses and looks at their forearm, the virtual keyboard appears and they can begin the input operation. This means that tasks are not interrupted by the motion of taking out and holding an input device.

The large size of the keyboard displayed on the forearm makes it easy to input data, and its virtual nature means that the layout of keys can be modified freely in accordance with the purpose of use. The high recognition accuracy and smooth operability of the keys also make it suitable for use in noisy environments, where voice input is difficult.

Yukio Maruyama, General Manager, System Integration & Services Technologies Management Division, NEC Corporation said, "The ARmKeypad is an innovative data input interface that can be applied to various fields. Moving forward, we plan to commercialize solutions based on this system to enhance the efficiency of tasks that require hands-free operations, such as security, distribution, and medical services."
***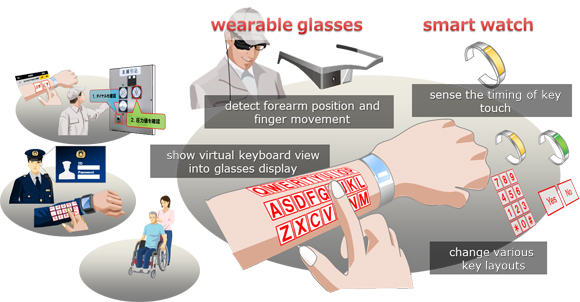 ARmKeypad usage scenarios
About NEC Corporation
NEC Corporation is a leader in the integration of IT and network technologies that benefit businesses and people around the world. By providing a combination of products and solutions that cross utilize the company's experience and global resources, NEC's advanced technologies meet the complex and ever-changing needs of its customers. NEC brings more than 100 years of expertise in technological innovation to empower people, businesses and society. For more information, visit NEC at http://www.nec.com.

Based on its Mid-term Management Plan 2015, the NEC Group globally provides "Solutions for Society" that promote the safety, security, efficiency and equality of society. Under the company's corporate message of "Orchestrating a brighter world," NEC aims to help solve a wide range of challenging issues and to create new social value for the changing world of tomorrow. For more information, please visit
http://www.nec.com/en/global/about/solutionsforsociety/message.html.

NEC is a registered trademark of NEC Corporation. All Rights Reserved. Other product or service marks mentioned herein are the trademarks of their respective owners. ©2015 NEC Corporation.