NEC launches all-flash M-Series storage products with high-speed database processing
*** For immediate use October 15, 2015


Tokyo, Japan, 15 October, 2015 - NEC Corporation (NEC; TSE: 6701) today announced the launch of all-flash storage products, the NEC Storage M310F and M710F, for the NEC Storage M-Series.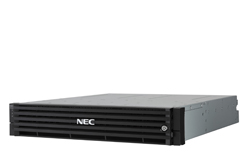 NEC Storage M310F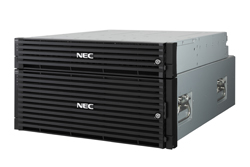 NEC Storage M710F
The new products incorporate solid state drives (SSDs) for all of the storage media, achieving a processing speed that is up to 100 times (*1) faster than storages containing an equal number of hard disk drives (HDDs). The faster processing speed eliminates performance bottlenecks in virtualized environments and opens the way for high-speed database processing.

In addition, the new models require as little as one twentieth of the space (*1) required for HDD-based storages when constructing a system with the same input/output operations per second (IOPS).

"The use of big data is spreading throughout the enterprise sector, leading to greater needs for systems with higher processing performance," said Shigeru Matsuura, Deputy General Manager, Global Platform Division, NEC Corporation. "The new products with the all-flash feature have a considerably higher processing speed than conventional HDD-based storage systems. This paves the way for the real-time analysis of complicated big data in response to the rising demand for higher processing performance."
***
About NEC Corporation
NEC Corporation is a leader in the integration of IT and network technologies that benefit businesses and people around the world. By providing a combination of products and solutions that cross utilize the company's experience and global resources, NEC's advanced technologies meet the complex and ever-changing needs of its customers. NEC brings more than 100 years of expertise in technological innovation to empower people, businesses and society. For more information, visit NEC at http://www.nec.com.

Based on its Mid-term Management Plan 2015, the NEC Group globally provides "Solutions for Society" that promote the safety, security, efficiency and equality of society. Under the company's corporate message of "Orchestrating a brighter world," NEC aims to help solve a wide range of challenging issues and to create new social value for the changing world of tomorrow. For more information, please visit
http://www.nec.com/en/global/about/solutionsforsociety/message.html.

NEC is a registered trademark of NEC Corporation. All Rights Reserved. Other product or service marks mentioned herein are the trademarks of their respective owners. (C)2015 NEC Corporation.