*** For immediate use June 12, 2015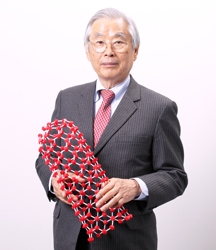 NEC Senior Research Fellow Sumio Iijima
Tokyo, June 12, 2015
-
NEC Corporation
(NEC; TSE: 6701) today announced that Sumio Iijima, one of the company's Senior Research Fellows, has been awarded a European Inventor Award. The award was presented at the European Inventor Award awards ceremony held in Paris, France, on June 11, 2015. The award was presented to Dr. Iijima as the inventor and developer of carbon nanotubes
*
.
The European Inventor Award was established in 2006, and is given every year by the EPO (the European Patent Office, headquartered in Munich, Germany) to recognize the inventors of outstanding inventions that have contributed to technological, social and economic advancement. The award consists of the five categories of Industry, Research, SMEs (Small-to-Medium-sized Enterprises), Non-European Countries and Lifetime Achievement; as well as the Popular Prize, for which the winner is determined by a public vote.
On this occasion, Dr. Iijima and his fellow researchers were awarded the prize in the Non-European Countries category.
Carbon nanotubes possess a variety of unique characteristics. They are stronger than steel; become either semi-conducting or metallic depending on their shape and the way in which they are made, such as the state and number of layers in their tubular structure; and also possess excellent thermal properties. They are said to be one of the key materials that will support nanotechnology. Active R&D and product development efforts utilizing this material are currently underway all over the world.
For more information about Dr. Iijima's career history and the development of carbon nanotubes, please refer to the following link:
URL:
http://www.nec.com/en/global/rd/innovation/cnt/index.html?
***

---
Note:
* Dr. Iijima discovered carbon nanotubes in 1991 as Chief Researcher at NEC's Fundamental Research Laboratories.
---
---
About NEC Corporation
NEC Corporation is a leader in the integration of IT and network technologies that benefit businesses and people around the world. By providing a combination of products and solutions that cross utilize the company's experience and global resources, NEC's advanced technologies meet the complex and ever-changing needs of its customers. NEC brings more than 100 years of expertise in technological innovation to empower people, businesses and society. For more information, visit NEC at http://www.nec.com.

Based on its Mid-term Management Plan 2015, the NEC Group globally provides "Solutions for Society" that promote the safety, security, efficiency and equality of society. Under the company's corporate message of "Orchestrating a brighter world," NEC aims to help solve a wide range of challenging issues and to create new social value for the changing world of tomorrow. For more information, please visit http://www.nec.com/en/global/about/solutionsforsociety/message.html.

NEC is a registered trademark of NEC Corporation. All Rights Reserved. Other product or service marks mentioned herein are the trademarks of their respective owners. (C)2015 NEC Corporation.