*** For immediate use March 31, 2015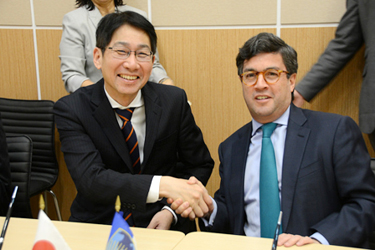 (from left) Mr. Takayuki Morita, Executive Vice President, NEC; Mr. Luis Alberto Moreno, President, IDB
Tokyo, March 31, 2015
-
NEC Corporation
(NEC; TSE: 6701) announced today the signing of a Memorandum of Understanding (MOU) with the Inter-American Development Bank (IDB), the leading source of development financing for Latin America and the Caribbean (LAC), to collaborate on the development of data centers in LAC.
Under the agreement, NEC and the IDB aim to jointly produce a study on data centers and the importance of their use as a means for improving quality of life, security and governance. The joint study could cover a description and analysis of the necessity of data centers, the expected role of governments with respect to data centers and the required internet environments and technologies for their implementation.
Moreover, the partners aim to collaborate around the production of communications materials to disseminate the study, and the organization of joint seminars and workshops for individual LAC countries to promote its conclusions and recommendations. "NEC is committed to helping Latin American and Caribbean countries solve data center related challenges through innovative technologies, including Software-Defined Networking (SDN) and Network Functions Virtualization (NFV) that contribute to the strength and improvement of communities," said Takayuki Morita, Executive Vice President, NEC Corporation.
***

---
About the Inter-American Development Bank
Established in 1959, the Inter-American Development Bank (IDB) is the leading source of development financing for Latin America and the Caribbean, with a strong commitment to achieve measurable results, increased integrity, transparency and accountability. It has an evolving reform agenda that seeks to increase our development impact in the region. Read more about the IDB at www.iadb.org.

About NEC Corporation
NEC Corporation is a leader in the integration of IT and network technologies that benefit businesses and people around the world. By providing a combination of products and solutions that cross utilize the company's experience and global resources, NEC's advanced technologies meet the complex and ever-changing needs of its customers. NEC brings more than 100 years of expertise in technological innovation to empower people, businesses and society. For more information, visit NEC at http://www.nec.com.

Based on its Mid-term Management Plan 2015, the NEC Group globally provides "Solutions for Society" that promote the safety, security, efficiency and equality of society. Under the company's corporate message of "Orchestrating a brighter world," NEC aims to help solve a wide range of challenging issues and to create new social value for the changing world of tomorrow. For more information, please visit http://www.nec.com/en/global/about/solutionsforsociety/message.html.

NEC is a registered trademark of NEC Corporation. All Rights Reserved. Other product or service marks mentioned herein are the trademarks of their respective owners. (C)2015 NEC Corporation.