*** For immediate use January 8, 2015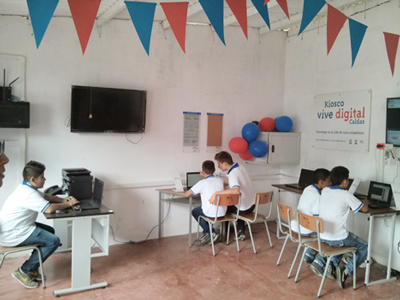 ICT Room in the Caldas Department
Tokyo, January 8, 2015
-
NEC Corporation
(NEC; TSE: 6701) announced today the building of 648 Information and Communications Technology (ICT) Rooms at schools and community centers, called "Kiosco Vive Digital," throughout seven of Colombia's thirty-two regional departments (
*
). These ICT Rooms, built in partnership with Hispasat, a leading Spain-based satellite solution provider, will feature personal computers, printers, wireless LAN, and satellite connections that enable users to quickly and easily access the Internet. NEC will also provide educational courses on the maintenance, operation and use of these ICT Rooms.
In recent years, the ICT Ministry of Colombian government has been promoting its "Vive Digital" plan, which seeks to promote the nationwide spread of broadband Internet and to narrow the country's digital divide through the creation of more than 4,200 ICT Rooms. NEC was chosen in a public tendering process as one of the telecommunications solution providers for providing construction, maintenance, operational support and education programs for ICT Rooms, a major aspect of this government plan.
"We are proud of NEC's contributions to expanding nationwide access to broadband connections and to helping close the digital divide through the creation of easily accessible ICT environments," said Yesid Alonso, Project Manager of Kiosco Vive Digital, NEC de Colombia S.A. "Going forward, NEC will continue our role in driving the expansion of advanced ICT infrastructure throughout Colombia and markets all over the world."
***

---
Notes:
(*) The Cundinamarca Department, home to the country's capital of Bogota, the Boyaca Department, Caldas Department, Amazonas Department, Risaralda Department, Vaupes Department and Guainia Department.
---
About Hispasat
The HISPASAT Group is composed of companies with a foothold in Spain as well as in Latin America, where its Brazilian affiliate HISPAMAR, sells its services. The Group is a leading Spanish and Portuguese language content broadcaster and distributor, including over important direct-to-home television (DTH) and high-definition television (HDTV) digital platforms. HISPASAT is one of the world's largest companies in terms of revenue in its sector, and the main communications bridge between Europe and the Americas. For more information, visit www.hispasat.com.

About NEC Corporation
NEC Corporation is a leader in the integration of IT and network technologies that benefit businesses and people around the world. By providing a combination of products and solutions that cross utilize the company's experience and global resources, NEC's advanced technologies meet the complex and ever-changing needs of its customers. NEC brings more than 100 years of expertise in technological innovation to empower people, businesses and society. For more information, visit NEC at http://www.nec.com.

Based on its Mid-term Management Plan 2015, the NEC Group globally provides "Solutions for Society" that promote the safety, security, efficiency and equality of society. Under the company's corporate message of "Orchestrating a brighter world," NEC aims to help solve a wide range of challenging issues and to create new social value for the changing world of tomorrow. For more information, please visit http://www.nec.com/en/global/about/solutionsforsociety/message.html.

About the ICT Ministry: http://www.mintic.gov.co/

About Kiosco Vive Digital: http://www.mintic.gov.co/portal/vivedigital/612/w3-propertyvalue-7059.html

NEC is a registered trademark of NEC Corporation. All Rights Reserved. Other product or service marks mentioned herein are the trademarks of their respective owners. (C)2015 NEC Corporation.