News
NEC Wins Contract for First Optical Submarine Cable System Linking Maldives to Sri Lanka
May 25, 2006
NEC Corporation (NEC) (NASDAQ: NIPNY) announced that it has signed a contract valued at US$22.7million with Dhiraagu (Dhivehi Raajjeyge Gulhun Private Limited), the largest telecom carrier in the Maldives and Sri Lanka Telecom for an optical submarine cable system.
"We are very excited about the step change in Maya-1 to meet the rapid growth of bandwidth requirements in the Caribbean region" commented Edward West, Upgrade Project Manager.
The contract is for construction of the first submarine cable system in the Maldives, consisting of international system connecting Male' to Colombo which will be jointly invested by Dhiraagu and Sri Lanka Telecom and domestic system connecting four islands in the Maldives. The total length of the new submarine cable will be approximately 1,100km with a initial transmission capacity of 20 Giga bit per second (Gbps), which is capable of being increased to up to 160Gbps. The system adopts WDM, or Wavelength Division Multiplexing. NEC will provide a comprehensive set of equipment and services including commissioning and integration on a full turnkey basis.
The Maldives, consisting of over 1,200 islands, is well known as one of the world's most famous resorts and diving spots. The country currently relies on the satellite system for an international telecommunication connection. However, in order to improve international and domestic network services, Dhiraagu has decided to construct a submarine cable. Upon completion, the condition of the Maldives' international connection will be drastically enhanced as it will link the Maldives to Asia, Europe and the rest of the world through the international submarine cable landed in Sri Lanka.
In the last year, NEC has signed three supply contracts for the construction of new submarine cable systems (Indonesia JASUKA project, EAC1 Qingdao Extension project and Bharat Lanka (India - Sri Lanka) cable project). In addition to the new construction contracts, NEC has also been awarded capacity upgrade contracts for existing submarine cable systems including APCN2 (Asia Pacific Cable Network 2), MAYA-1 in the Caribbean and domestic cables in Malaysia, Indonesia and Japan.
"We are honoured to take part in construction of the first submarine cable in the Maldives. This is certainly a reflection of our comprehensive project implementation capability and highly advanced DWDM technologies for broadband telecommunication, proven by our past submarine cable projects. NEC will continue to aim to win other projects for the upgrading and new construction of submarine cable systems", said Mr. Osamu Harada, General Manager at NEC Corporation.
Background Information
NEC Corporation has been supplying submarine cable systems for more than 30 years. In particular, it has been involved in the installation of most cable systems constructed in Asia and the Asia Pacific region. This includes involvement in the construction of huge networks such as 19,000km APCN2 (Asia Pacific Cable Network - 2), 11,000km AJC (Australia-Japan Cable), 7,800km EAC2 (East Asia Crossing 2), 1,000km TIS (Thailand-Indonesia-Singapore), 2,500km AUFS-West (Alaska United Fiber System-West), 160km DMCS (Dumai-Melaka), 1,080km JASUKA (Indonesia Domestic), 350km EAC1 Qingdao Landing Extension, and 320km Bharat Lanka (India ? Sri Lanka) Cable System.
Supplemental Information
Dhiraagu Submarine Cable Network
| | |
| --- | --- |
| Orderer : | Dhiraagu (Dhivehi Raajjeyge Gulhun Private Limited) Sri Lanka Telecom |
| Full Amount of Contract: | US$22.7Million |
Route Map: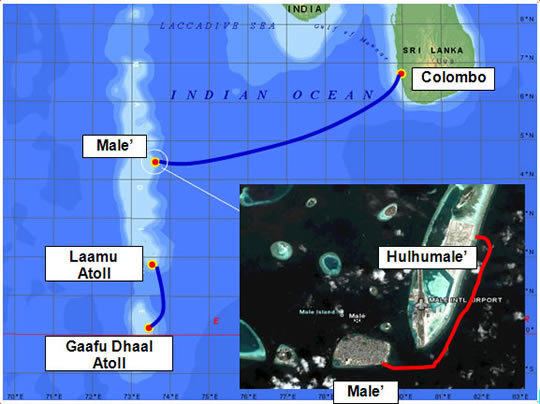 About NEC Corporation
NEC Corporation (NASDAQ: NIPNY) (FTSE: 6701q.l) is one of the world's leading providers of Internet, broadband network and enterprise business solutions dedicated to meeting the specialized needs of its diverse and global base of customers. NEC delivers tailored solutions in the key fields of computer, networking and electron devices, by integrating its technical strengths in IT and Networks, and by providing advanced semiconductor solutions through NEC Electronics Corporation. The NEC Group employs more than 140,000 people worldwide and had net sales of 4,855 billion yen (approx. $45 billion) in the fiscal year ended March 2005. For additional information, please visit the NEC home page at: http://www.nec.com.