*** For immediate use January 6, 2015



Tokyo, January 6, 2015 - NEC Corporation (NEC; TSE: 6701) announced today the global availability of its new "File Security Solution," offering comprehensive protection of confidential information and aiming to help government agencies and organizations defend against the growing number of cyber attacks.

NEC's File Security Solution protects files by encryption from the time of their creation to the time of their deletion, thereby preventing unauthorized individuals from viewing a file's content. Moreover, even if a file is mistakenly sent outside of an organization, the file can still be deleted from a remote location. As a result, this solution prevents information leakage and ensures safe communications.

In recent years, there have been many high profile cases where important information was leaked by companies and large scale organizations. This information has not only been leaked through sophisticated e-mail attacks, but also through information passing without authorization from internal members to third parties. Therefore, in addition to implementing encryption measures within an organization, it is also necessary to establish a file's management authority in order to ensure that it is protected when sent or taken outside of an organization.

NEC's File Security Solution automatically protects (*1) files from the time of their creation until their deletion, and creates file access logs of all operations, including who the operator is, which file is used and what purpose it is used for. Furthermore, even though general file security products decrypt a file when it is opened, the File Security Solution encrypts files at all times and certifies whether the person who attempts to open a file has the appropriate authority.

"With NEC's File Security Solution, when an unauthorized person attempts to open a file, the administrator can receive an alert and delete the file from a remote location. Furthermore, administrators are able to set expiration dates when files will automatically delete themselves, thereby ensuring comprehensively file protection." said Hironori Takahashi, general manager, National Security Solutions Division, NEC Corporation.

NEC has made cyber security (*2) one of the core businesses of its "Solutions for Society," which aim to ensure the safety, security, efficiency and equally of society. In support of these initiatives, NEC began full operations of its "Cyber Security Factory" in June 2014 (*3) in order to protect information assets through the introduction and operation of measures against cyber-attacks.

The File Security Solution is the the first solution produced by the Cyber Security Factory's "Ozone" project, an initiative based on the concept of realizing "zero risk within cyber space."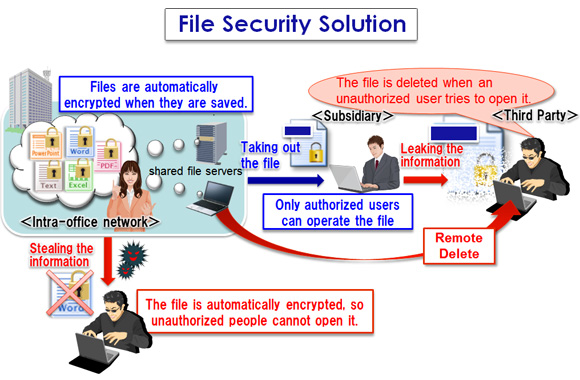 ***

---
Notes:
---
NEC Public Safety: Information Management
---
About NEC Corporation
NEC Corporation is a leader in the integration of IT and network technologies that benefit businesses and people around the world. By providing a combination of products and solutions that cross utilize the company's experience and global resources, NEC's advanced technologies meet the complex and ever-changing needs of its customers. NEC brings more than 100 years of expertise in technological innovation to empower people, businesses and society. For more information, visit NEC at http://www.nec.com.

Based on its Mid-term Management Plan 2015, the NEC Group globally provides "Solutions for Society" that promote the safety, security, efficiency and equality of society. Under the company's corporate message of "Orchestrating a brighter world," NEC aims to help solve a wide range of challenging issues and to create new social value for the changing world of tomorrow. For more information, please visit http://www.nec.com/en/global/about/solutionsforsociety/message.html.

NEC is a registered trademark of NEC Corporation. All Rights Reserved. Other product or service marks mentioned herein are the trademarks of their respective owners. (C)2015 NEC Corporation.