*** For immediate use November 4, 2014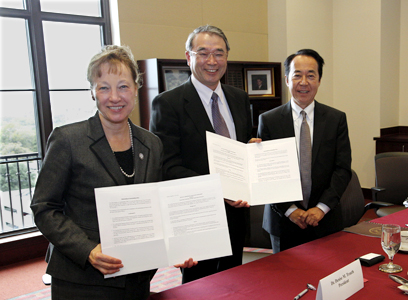 (from left) Dr. Denise Trauth, president, Texas State University;
Dr. Nobuhiro Endo, president, NEC Corporation; Mr. Shinsuke Takahashi, president, NEC Corporation of America
Irving, Texas, Tokyo, Japan and San Marcos, Texas – Nov. 4, 2014
– NEC Corporation,
NEC Corporation of America
and Texas State University today announced the signing of a Memorandum of Understanding (MOU) that establishes a partnership between NEC and the University to conduct collaborative research and development to improve existing social infrastructure operation and management, such as water conservation and resource management.
Under the agreement, NEC and the University will jointly pursue future strategies to develop solutions for the responsible and sustainable use of natural resources. NEC and Texas State will work together to identify opportunities to perform testing related to advanced water conservation technology.
One such project is water leak detection. NEC has developed cutting-edge technology that offers municipal water utility companies a cost-effective way to manage water resources to help meet the water needs of the communities they serve. This technology utilizes high-precision sensors that collect data on leaks in a community's water system. NEC collects and analyzes the sensor data through the cloud and then offers remediation solutions to the water utility companies. NEC will be conducting Proofs of Concept (POC) of the water leak system in a few U.S. cities.
"NEC is committed to using innovative technology to help strengthen and improve communities and build a thriving and sustainable future," said Dr. Nobuhiro Endo, president of NEC Corporation. "This new alliance will give NEC the opportunity to closely collaborate with Texas State University, a recognized leader in natural resource management, to identify exciting opportunities to provide new solutions that will benefit society as a whole."
"We are thrilled to be partners with NEC on projects that will have such a strong impact on society," said Dr. Denise Trauth, Texas State University's president. "NEC has a legacy of advancing green technologies and developing solutions to sustain our natural resources, and Texas State is committed to enhancing conservation and preservation efforts in everything from energy to water across the state."
Photographs and information about the Texas State University and NEC collaboration:
http://goo.gl/UWnLvo
***

---
About Texas State University
Texas State University is an Emerging Research University that offers about 200 bachelor's, master's and doctoral degrees at campuses in San Marcos and Round Rock, Texas. With an enrollment of more than 36,700, it is the fourth-largest institution in Texas and has been named one of America's Best Value Colleges by the Princeton Review.

About NEC Corporation
NEC Corporation is a leader in the integration of IT and network technologies that benefit businesses and people around the world. By providing a combination of products and solutions that cross utilize the company's experience and global resources, NEC's advanced technologies meet the complex and ever-changing needs of its customers. NEC brings more than 100 years of expertise in technological innovation to empower people, businesses and society. For more information, visit NEC at http://www.nec.com.

Based on its Mid-term Management Plan 2015, the NEC Group globally provides "Solutions for Society" that promote the safety, security, efficiency and equality of society. NEC's brand message of "Orchestrating a brighter world" represents the fusion of advanced information and communication technologies and know-how created in coordination with partners and customers all over the world in order to contribute to the betterment of society and realize a brighter and more prosperous future.

About NEC Corporation of America
Headquartered in Irving, Texas, NEC Corporation of America is a leading provider of innovative IT, network, communications and biometric solutions for customers across multiple vertical industries, including healthcare, public sector, education and hospitality. NEC Corporation of America delivers one of the industry's broadest portfolios of technology solutions and professional services, including communications, analytics, biometrics, managed services and technology solutions that unleash customers' productivity potential. NEC Corporation of America is a wholly-owned subsidiary of NEC Corporation, a global technology leader with a presence in 140 countries and $30 billion in revenues. For more information, please visit www.necam.com.

(C) 2014 NEC Corporation of America. NEC is a registered trademark of NEC Corporation. All Rights Reserved. Other product or service marks mentioned are the trademarks of their respective owners.