*** For immediate use September 10, 2014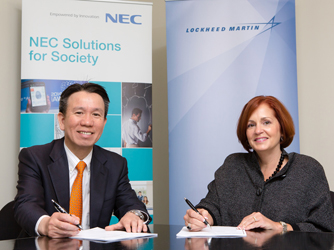 Left : Mr.Tetsuro Akagi, Managing Director of NEC Australia
Right : Ms. Sondra L Barbour, Executive Vice President, Information Systems & Global Solutions, Lockheed Martin

Canberra and Tokyo, 10 September 2014
- NEC Corporation (NEC; TSE: 6701) and NEC Australia, a leading Australian IT solutions and services company, have announced its appointment as a key partner on the Australian Department of Defence's Centralised Processing Project, which will deliver a single integrated capability for the management and provision of Centralised Processing facilities, infrastructure and services across multiple security domains.
NEC Australia has been appointed as a key member of a team led by Lockheed Martin Australia, which has recently concluded a contract with the Australian Department of Defence after being selected in April as the preferred tenderer for its Centralised Processing project. The project will involve the transformation and consolidation of multiple data centres located across Australia and International locations to a centralised set of core data centres to increase efficiency and reduce costs.
"Lockheed Martin Australia will partner with Defence and a number of innovative Australian-based enterprises such as NEC to deliver effective and efficient information technology infrastructure and services critical to supporting Defence business and military operations," said Lockheed Martin Australia Chief Executive, Mr Raydon Gates.
NEC Australia will provide critical technical and monitoring support to Defence and Lockheed Martin Australia throughout the project. Centralised Processing will establish a single, integrated capability for the management and provision of data centre facilities, infrastructure and services for Defence's Unclassified, Restricted and Secret information security domains.
NEC Australia will be responsible to Lockheed Martin Australia for maintaining the stability and efficiency of Defence systems as the project consolidates from within 280 data centres across Australia and at international locations to a centralised core consisting of 11 facilities within Australia and three located overseas.
Specifically, NEC Australia will assist to re-host its applications in the transformed facilities and will coordinate with Lockheed Martin Australia and Defence to decommission and dispose of legacy data centre equipment throughout the transition to the new operating environment.
During the transition to the new environment, NEC's operations team will assume responsibility for Defence's Business As Usual infrastructure, including mid-range servers and storage systems. NEC Australia will also continue to operate the new environment until the end of the project.
The project will be undertaken through a close and collaborative partnership with Lockheed Martin Australia that has been designed to leverage the strengths of both companies to deliver Defence's consolidated data centre, infrastructure and applications strategy.
The project will help Defence move to a transformed environment by improving the overall effectiveness and efficiency of Defence ICT services, disaster recovery, and provide greater certainty of service continuity to Defence and its people. The project will also reduce Defence's implementation time and cost of service, and will improve system availability, agility, responsiveness, reliability and security.
Tetsuro Akagi, Managing Director of NEC Australia said: "NEC Australia's new partnership with Lockheed Martin Australia and the Department of Defence builds on NEC's 45 year legacy of helping Australian customers gain greater business value from their technology investments, and supports the organisation's transformation in becoming a leading ICT services company."
***


---
About NEC Corporation
NEC Corporation is a leader in the integration of IT and network technologies that benefit businesses and people around the world. By providing a combination of products and solutions that cross utilize the company's experience and global resources, NEC's advanced technologies meet the complex and ever-changing needs of its customers. NEC brings more than 100 years of expertise in technological innovation to empower people, businesses and society. For more information, visit NEC at http://www.nec.com.

Based on its Mid-term Management Plan 2015, the NEC Group globally provides "Solutions for Society" that promote the safety, security, efficiency and equality of society. NEC's brand message of "Orchestrating a brighter world" represents the fusion of advanced information and communication technologies and know-how created in coordination with partners and customers all over the world in order to contribute to the betterment of society and realize a brighter and more prosperous future.


About NEC Australia
NEC Australia is a leading technology company, delivering a complete portfolio of ICT solutions and services to large enterprise, small business and government organisations. We deliver innovative solutions to help customers gain greater business value from their technology investments.

NEC Australia specialises in information and communications technology solutions and services in multi-vendor environments. Solutions and services include: IT applications and solutions development, unified communications, complex communications solutions, network solutions, display solutions, biometrics, research and development services, systems integration and professional, technical and managed services. For more information, visit NEC Australia at au.nec.com

NEC is a registered trademark of NEC Corporation. All rights reserved. Other product or service marks mentioned herein are the trademarks of their respective owners. (C)2014 NEC Corporation.