*** For immediate use August 5, 2014


Singapore & Tokyo, 5 August 2014 - NEC Asia Pacific, a leading infocomm technology provider and wholly owned subsidiary of NEC Corporation, will be implementing solutions for SMRT Corporation, a Singapore public transport service provider, that will enhance bus service excellence through improving bus drivers' driving behaviour and bus operations.

NEC Asia Pacific had recently implemented Singapore's first telematics system consisting of eco-drive sensors that monitor and analyze driving behaviour. The sensor indicators will light up when a bus driver speeds for a prolonged period, accelerates or decelerates quickly, or changes lane abruptly, and provide visual cues for bus drivers to adjust their driving speed. The bus performance data is transmitted from each bus to a real-time centralised tracking software solution monitored at the control station via Global Positioning System (GPS). The telematics system will be installed on SMRT's fleet of 1,200 buses.

As part of the collaboration, NEC Asia Pacific will be implementing business analytics which leverage on Big Data technologies to identify high-risk driving behaviours, through analysing data collected from the driver profiles, driving behaviour, historical route-related information, as well as others. This will enable SMRT to align risk management and performance monitoring strategies to enhance passenger safety and mitigate risks.

In addition, NEC Asia Pacific will also be implementing smart fleet solutions to manage operations and monitor the buses' exact locations. Coupled with GPS, proprietary dead reckoning algorithms will also be implemented as part of the solution to provide bus locations in real-time for a finer level of control. With this solution, the distribution of buses can be monitored with greater real-time accuracy by route coordinators on an on-screen map, to help in quick decision-making.

As part of the smart fleet solutions, the self-equalising headway engine solution will also be implemented. It will recognise when bunching or gapping of buses occur, and will automatically suggest options that can help maintain regular spacing between buses to reduce passenger waiting time.

"NEC Asia Pacific is excited to be the technology partner for SMRT's telematics and fleet management system to help deliver a better commuting experience to the public. The telematics project marks the first public transportation programme launched in Singapore targeted to enhance driving behaviour of bus drivers. We are glad to leverage on our expertise in implementing innovative smart city and public infrastructure solutions to deliver state-of-the-art transport solutions that will benefit public commuters," said Mr Lim Kok Quee, Managing Director, NEC Asia Pacific.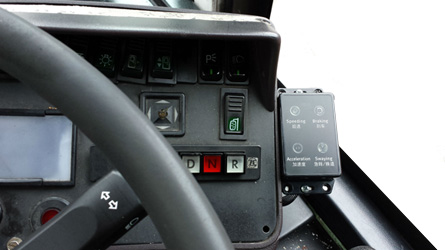 Telematics system provides visual cues to bus drivers when speeding, braking, accelerating or when driving abruptly, to encourage safer and more sustainable driving for an enhanced commuter experience.