*** For immediate use June 16, 2014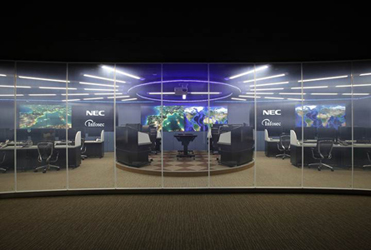 The NEC Cyber Security Factory
Tokyo, June 16, 2014
- NEC Corporation (NEC; TSE: 6701) has begun full operations of its Cyber Security Factory in order to protect information assets through the introduction and operation of measures against cyber attacks.
In recent years, damages from information leaks caused by targeted cyber attacks are on the rise, with targets including public institutions, enterprises and personal information. Damages from these attacks have even forced companies to suspend operations, emphasizing the pressing need to strengthen information security measures.
Serving as a core center for these measures, NEC's Cyber Security Factory provides security surveillance of customer information systems, in-depth analysis of cyber incidents, and develops cyber security technologies to deal with evolving cyber attacks. This is accomplished through collaborations between the NEC Group security firms Cyber Defense Institute (CDI) and Infosec Corporation (Infosec) as well as FFRI, Inc., LAC Co., Ltd., NRI Secure Technologies, Ltd., S&J Consulting Corp., Trend Micro Incorporated and others.
The Cyber Security Factory capabilities include a Security Operations Center providing round-the-clock security surveillance of customers' networks and websites, human resource development for training qualified security professionals, and a cyber intelligence function for analysis of cyber attacks.
NEC has already been providing systems and solutions aimed at protecting customer information assets from cyber attacks, such as its "Cyber Security Total Support Services" (
*1
) which include the "cyber incident on-site intervention service" for providing emergency responses when abnormalities are detected, and the "targeted attack investigation service" (
*2
) for confirmation of damages.
Moreover, in 2012 NEC signed a partnership agreement with INTERPOL (
*3
) where they can draw on one another's strengths to provide national authorities operational support against digital crime, which is complex and ever changing.
Going forward, NEC will strengthen its cyber security business as a central domain of its Solutions for Society while aiming to capitalize on its years of experience to provide total solutions in support of measures against cyber attacks on governments and private customers. NEC seeks sales of 26 billion yen in businesses related to the Cyber Security Factory in fiscal year 2017.
[Attachment] Key features of the Cyber Security Factory


***


---
Notes:
*3) About INTERPOL
INTERPOL is the world's largest international police organization, with 190 member countries. Its role is to enable police around the world to work together to make the world a safer place. Its high-tech infrastructure of technical and operational support helps meet the growing challenges of fighting crime in the 21st century.
---
About NEC Corporation
NEC Corporation is a leader in the integration of IT and network technologies that benefit businesses and people around the world. By providing a combination of products and solutions that cross utilize the company's experience and global resources, NEC's advanced technologies meet the complex and ever-changing needs of its customers. NEC brings more than 100 years of expertise in technological innovation to empower people, businesses and society. For more information, visit NEC at http://www.nec.com.

Based on its Mid-term Management Plan 2015, the NEC Group globally provides "Solutions for Society" that promote the safety, security, efficiency and equality of society. NEC's brand message of "Orchestrating a brighter world" represents the fusion of advanced information and communication technologies and know-how created in coordination with partners and customers all over the world in order to contribute to the betterment of society and realize a brighter and more prosperous future.


NEC is a registered trademark of NEC Corporation. All Rights Reserved. Other product or service marks mentioned herein are the trademarks of their respective owners. (C)2014 NEC Corporation.