*** Tokyo, June 5, 2014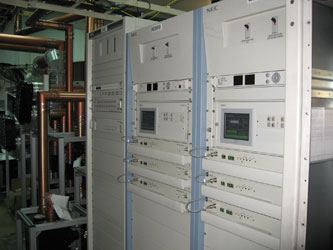 NEC's DTU-70D digital terrestrial television broadcasting transmitter
Bangkok, Tokyo, June 5, 2014
- NEC Corporation (NEC; TSE: 6701) announced today that it will be implementing digital TV transmitters nationwide for the Thai Public Broadcasting Service (Thai PBS) through NEC Corporation (Thailand) Ltd. , for all of its 44 locations across the Kingdom of Thailand.
The commencement of commercial operations of digital TV transmitters at Bangkok Station on 1 April 2014 makes Thai PBS the first digital TV operator in Thailand. The targeted completion for the installation of all digital TV transmitters for all 44 locations is by August 2015.
The network operator's transition to broadcast digital terrestrial TV will support 6 digital TV channels to broadcast their content. With the transmission of digital TV, TV broadcasters are now equipped to provide better quality services to their viewers. Digital TV networks enable the delivery of high quality digital video and audio content that can also be displayed on a variety of platforms such as online, mobile and on-air, and can potentially bring more choices to audiences.
Thai PBS is utilizing NEC's cutting edge DTU-70D, DTL-30 and DTL-10 digital TV broadcasting transmitters, which support the world's major digital broadcasting standards, including DVB-T2. These eco-friendly models occupy a smaller footprint and consume less power when compared to previous systems.
Thai PBS Deputy Director General, Mr Mongkon Leelatum said, "This is a great success, where we are meeting all the schedules set by National Broadcasting and Telecommunications Commission (NBTC) regulating authority."
"We are glad to support Thai PBS in providing an enhanced viewing experience for their audience. NEC has provided innovative broadcasting solutions to over 100 countries, helping many customers successfully transition to sophisticated digital broadcasting from analogue systems. Leveraging NEC's global expertise and capabilities, we will work with Thai PBS to continue improving their broadcast services," said Mr Hiroshi Sato, President, NEC Corporation (Thailand).
NEC began providing digital TV broadcasting transmitters for international markets in 1997, when it provided equipment for the world's first commercial terrestrial digital broadcasting service in the United Kingdom. Since then, NEC has shipped more than 3,700 transmitters to 50 countries throughout the world. In recent years, NEC's provision of transmitters included Myanmar and Indonesia in 2012 as well as Korea and Latin America in 2013.
***


---
About NEC Corporation
NEC Corporation is a leader in the integration of IT and network technologies that benefit businesses and people around the world. By providing a combination of products and solutions that cross utilize the company's experience and global resources, NEC's advanced technologies meet the complex and ever-changing needs of its customers. NEC brings more than 100 years of expertise in technological innovation to empower people, businesses and society. For more information, visit NEC at http://www.nec.com.


About NEC Asia Pacific Pte Ltd
Singapore-based NEC Asia Pacific is the regional headquarters for NEC Corporation (HQ: Japan) in the Asia Pacific region (South and Southeast Asia, and Oceania). As a leading infocomm technology provider and systems integrator offering regional sales and services support and consultancy, NEC APAC develops solutions on carrier network, global identity, RFID, enterprise server, unified communications, multimedia display, and contact centre, as well as provide outsourcing and managed services.

To leverage on its technological expertise, NEC APAC has established regional competency centres for public safety and display solutions to expand its capabilities and expertise to support businesses in the Asia Pacific region. In line with the NEC Group Vision to realize an information society friendly to humans and the earth, NEC embarks on corporate social responsibilities initiatives to support the Nature (environment), Education and Community.

NEC is a registered trademark of NEC Corporation. All Rights Reserved. Other product or service marks mentioned herein are the trademarks of their respective owners. (c)2014 NEC Corporation.


About NEC Corporation (Thailand) Ltd
NEC Corporation (Thailand) Ltd was first established in 1988 to provide sales and technical support in Thailand. NEC Corporation (Thailand) has established a reputation in Thailand, providing superior technical support and solutions in the areas of telephony network, contact centre, network communication, IT platform, display, security, systems integration, retail, network operation center, NECare and calibration services. NEC Corporation (Thailand) aims to be one of the leading network and cloud solution providers in Thailand.
Visit th.nec.com for more information.