*** For immediate use May 13, 2014



Moscow and London, 13 May 2014 – NEC Corporation (NEC; TSE: 6701) announced today that NEC Neva Communications Systems (NEC Neva) has completed the delivery and installation of LED displays for SITRONICS KASU as part of the new intelligent transport system (ITS) in Moscow.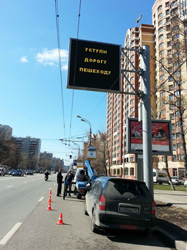 The 28 LED displays, each 9 square meters in area, are designed to inform drivers about traffic jams, accidents and weather forecasts in real-time, helping them select the best route to reach their destination quickly which is already reducing congestion in the city.

The information on the displays can be seen by the drivers up to a maximum of 250 meters away. The screen brightness levels adjust automatically according to external light conditions or can be managed remotely by an operator to ensure that they can be read in very strong sunlight or at night. Wireless radio connectivity is available as a communication channel between monitoring center and displays for screen's management and update.

Each display is accompanied by video cameras, enabling the traffic management situation centre to monitor traffic flows and record traffic violations. Smoke and temperature detectors help city officials to rapidly identify and respond to vehicle fires and provide highly localized weather information.

Akihiro Sakurai, Managing Director of NEC Neva Communications Systems, noted: "Ensuring the safety of drivers, pedestrians and cyclists by managing road traffic more efficiently remains one of the priority tasks for a contemporary major city. Involvement in the project was a great honour for us and enabled NEC to assert the company's status as an international leader in integrated IT solutions delivery".

Vyacheslav Smirnov, SITRONICS KASU Director General, added: "We applied state-of-the-art road traffic automation and safety solutions when implementing this important intelligent transport system project for the city. The timely provision of traffic information to drivers is one of the important tools for managing traffic flows and reducing the number of jams in our city."

The existing intelligent transport control system has already helped reduce congestion caused by traffic accidents and the number of traffic fatalities is down by 24% according to the Department of Transport and Road Infrastructure.


***


---
About NEC Corporation
NEC Corporation is a leader in the integration of IT and network technologies that benefit businesses and people around the world. By providing a combination of products and solutions that cross utilise the company's experience and global resources, NEC's advanced technologies meet the complex and ever-changing needs of its customers. NEC brings more than 100 years of expertise in technological innovation to empower people, businesses and society. For more information, visit NEC at http://www.nec.com

NEC is a registered trademark of NEC Corporation. All Rights Reserved. Other product or service marks mentioned herein are the trademarks of their respective owners. (C)2014 NEC Corporation.

About NEC Neva Communication Systems
CJSC "NEC Neva Communications Systems" was established in May 1997 as a local factory of NEC's digital switching system and provides engineering, system integration and professional services. NEC has owned 100 per cent of its shares since Autumn 2009. For detailed information, please, visit the website http://ru.nec.com

ABOUT SITRONICS KASU
SITRONICS KASU CJSC was founded in December 2002 as a Scientific Centre Concern. SITRONICS KASU CJSC is the designer and integrator of B2B and B2G solutions; it has a worldwide partnership network together with global vendors.
SITRONICS KASU CJSC is aimed at building an efficient innovative economy, improving the social quality of life, and developing and promoting modern technological solutions.
Further information on solutions and technologies, history and financial performance of the Company is available at www.sitronics.ru