*** For immediate use March 3, 2014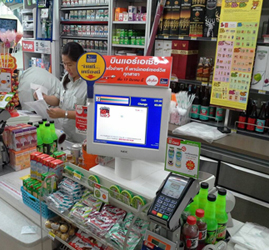 Tokyo, March 3, 2014 - NEC Corporation (NEC; TSE: 6701) has received an order via NEC Corporation (Thailand), a wholly owned subsidiary, from CP ALL Public Company Limited (CP ALL), a Bangkok-based operator of 7-Eleven stores, Thailand's largest chain of convenience stores, for the latest space-saving and integrated all in one POS terminals.

CP ALL operates approximately 7,500 7-Eleven stores in Thailand, and is planning to increase that number to 10,000 stores by 2018. Each store will be equipped with two or three POS terminals, which NEC will provide by 2020.

Having provided CP ALL with approximately 20,000 POS terminals since 2006, NEC has helped the company to expand its operations on a long-term basis, and was even presented with the "Partnership Award 2013: Best Cooperation and Support."

In order to help CP ALL improve services, increase efficiency and reduce costs, NEC will provide POS terminals that feature the following benefits:


Substantial space savings through integrated POS terminals
Integrated terminals enable substantial space savings, occupying an area approximately 60% smaller than the POS terminals currently used by CP ALL. With a 12-inch twin-screen display, rotating keyboard and printer, these new integrated terminals offer enhanced visibility and usability for customers and staff alike.



Improved reliability and reduced operating costs
Terminal displays are backlit using LEDs, which last longer and cost less to replace. They are also easier to maintain than conventional terminals, and offer improved CPU processing performance and memory capacity.
NEC aims to capitalize on this project in order to expand its overseas retail solutions business in the Asia-Pacific region, while leveraging the capabilities of its Regional Retail Business Support Center (RBSC)
*
.
Based on its Mid-term Management Plan 2015, the NEC Group is working towards the safety, security, efficiency and equality of society. NEC aims to develop solutions for a wide range of social issues, as a company that creates value for society through the promotion of its "Solutions for Society," which provide advanced social infrastructure utilizing ICT.
NEC is providing further background on this project at "RETAILTECH JAPAN" from March 4-7, 2014 at Tokyo Big Sight.
***

---
Note:
* Established in May 2013 as part of NEC Asia Pacific, the NEC Group's regional management company in the Asia-Pacific region, the RBSC provides solutions for the retail industry, including planning regional strategies, providing sales and technical support, and assisting with human resource development.
---
About NEC Corporation
NEC Corporation is a leader in the integration of IT and network technologies that benefit businesses and people around the world. By providing a combination of products and solutions that cross utilize the company's experience and global resources, NEC's advanced technologies meet the complex and ever-changing needs of its customers. NEC brings more than 100 years of expertise in technological innovation to empower people, businesses and society. For more information, visit NEC at http://www.nec.com.

NEC is a registered trademark of NEC Corporation. All Rights Reserved. Other product or service marks mentioned herein are the trademarks of their respective owners. (C)2014 NEC Corporation.