*** For immediate use December 11, 2013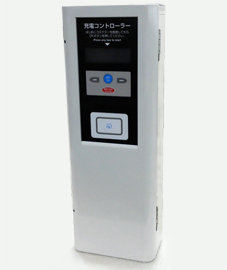 NEC Wall-Mounted Charger Controller
Tokyo, December 11, 2013
- NEC Corporation (NEC; TSE: 6701) today released a versatile new charger controller that is compatible with a variety of electric vehicles (EV) and plug-in hybrid vehicles (PHV). This charger controller centralizes functions such as user certification, billing management, monitoring and control. The new controller is approximately 60% smaller and 40% lighter than existing products of its kind (
*1
), in addition to being compatible with a range of rapid charger terminals and capable of wall installation.
This new charger controller is scheduled to be introduced to select Nissan Motor Co., Ltd. (Nissan) dealership locations equipped with rapid charger terminals (
*2
). Charger services are provided to Nissan dealership locations by Japan Charge Network Co., Ltd.
Key features of the new charger controller include the following:
Compact, lightweight, wall-mounted device that is compatible with rapid charger terminals
The new charger controller is approximately 60% smaller and 40% lighter than existing devices. This enables the controller to be installed in convenient locations that include wall mountings or attached directly to a rapid charger terminal.



Compatible with a variety of charger terminals
NEC's charger controller is compatible with Japan's 14 leading domestic manufacturers of charger terminals, including rapid charger terminals from Nissan and standard charger terminals from Toyota Industries Corporation. The strength of these cooperative relationships with charger terminal manufacturers enables the provision of charger services that are suitable for a variety of charger terminals and related products.
Going forward, NEC will continue to develop and produce products and services for the construction of secure, convenient and user friendly charger infrastructure for EV and PHV as part of its support for the early realization of a low-carbon society.
NEC is scheduled to exhibit the new charger controller at "Eco-Products 2013" from December 12 - 14 at the Tokyo Big Sight (Tokyo International Exhibition Center).
***

---
Notes:
(*2) Approximately 800 Nissan dealership locations in Japan are equipped with rapid charge terminals
---
About NEC Corporation
NEC Corporation is a leader in the integration of IT and network technologies that benefit businesses and people around the world. By providing a combination of products and solutions that cross utilize the company's experience and global resources, NEC's advanced technologies meet the complex and ever-changing needs of its customers. NEC brings more than 100 years of expertise in technological innovation to empower people, businesses and society. For more information, visit NEC at http://www.nec.com.


NEC is a registered trademark of NEC Corporation. All Rights Reserved. Other product or service marks mentioned herein are the trademarks of their respective owners. (C)2013 NEC Corporation.