*** For immediate use September 19, 2013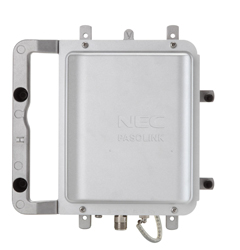 iPASOLINK Outdoor Unit (ODU) with Gallium Nitride (GaN) Technology
Tokyo & London, September 19, 2013
- NEC Corporation (NEC; TSE: 6701) has launched a new high power version of the iPASOLINK outdoor unit (ODU). The unit boasts three times the transmitter power compared to the previous generation, further enhancing NEC's mobile backhaul solution portfolio. First shipments of the new product are scheduled for October 2013.
With increasing digital ubiquity, more connected devices in more connected places, mobile network operators are designing their networks with new levels of coverage and capacity. This addition to NEC's mobile backhaul portfolio meets this demand and enables an important opportunity to differentiate the LTE user experience. The new ODU's strong power output and low power consumption functionalities will enable telecom operators to implement high-capacity and long-distance microwave links at lower cost.
The power output from the new unit is a major benefit to customers. Even with its new ultra-compact design, the introduction of Gallium Nitride (GaN) technology enables the ODU to reliably deliver three times more power than its predecessors.
By combining the iPASOLINK indoor unit with 2048 Quadrature Amplitude Modulation (QAM) technology, the new ODU can deliver up to 1Gbps long distance transmission without data compression.
Furthermore, the ODU gives operators dynamic control of power consumption in response to its current transmission environment. As a result, customers can experience up to a 50% reduction in power consumption when compared to the previous generation.
"Today's announcement is another example of our commitment to lead innovation in the mobile backhaul arena," said Ichiro Kaneko, Senior Manager, Mobile Wireless Solutions Division, NEC Corporation. "We are seeing increasing demand for smaller and more power efficient equipment that can handle large amounts of data whilst reducing cost. The advanced ODU gives our customers a powerful tool for differentiating their network."
NEC is showcasing its latest microwave solutions and technologies, including the new ODU at the Packet Microwave & Mobile Backhaul Forum in Dusseldorf, Germany 23-25 September 2013.
For further information, please visit:
http://www.nec.com/en/global/prod/nw/pasolink/products/iPASOLINK_ODU.html
***
---
About NEC Corporation
NEC Corporation is a leader in the integration of IT and network technologies that benefit businesses and people around the world. By providing a combination of products and solutions that cross utilize the company's experience and global resources, NEC's advanced technologies meet the complex and ever-changing needs of its customers. NEC brings more than 100 years of expertise in technological innovation to empower people, businesses and society. For more information, visit NEC at http://www.nec.com.


NEC is a registered trademark of NEC Corporation. All Rights Reserved. Other product or service marks mentioned herein are the trademarks of their respective owners. (C)2013 NEC Corporation.