*** For immediate use September 14, 2013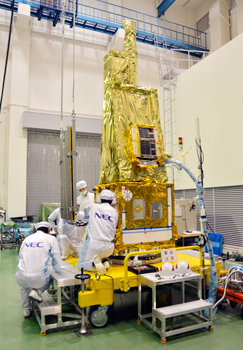 SPRINT-A Satellite



Tokyo, September 14, 2013 - The Japan Aerospace Exploration Agency (JAXA) today announced that its "HISAKI" (SPRINT-A, *1) satellite has successfully entered its intended orbit and deployed its solar array paddle (Figure 1) as scheduled. HISAKI was launched by the first Epsilon Launch Vehicle from the Uchinoura Space Center on September 14, 2013.

NEC, under the supervision of JAXA, designed and built HISAKI. The satellite bus (*2), "SPRINT," (*3) utilized for HISAKI is a semi-made-to-order standard platform developed by JAXA. NEC contributed to the development of HISAKI with its vast experience in the development of satellites, beginning from the "OHSUMI" satellite launched in 1970. NEC also supports satellite operations, including launch preparations and the initial confirmation of functions after launch.

Going forward, NEC will continue to provide support for the first two months of operations for the one-year Spectroscopic Planet Observatory mission of HISAKI. NEC also aims to contribute to future missions that capitalize on the SPRINT satellite platform.

NEC aims to realize an information society that is friendly to people and the earth based on state-of-the-art space technologies nurtured through the development of Japan's space industry.

Please refer to the attachment for an overview and images of HISAKI.

For more information about "HISAKI" (SPRINT-A), please visit:
http://www.jaxa.jp/projects/sat/sprint_a/index_e.html



***


---
Notes
*2) Satellite bus system
A system that provides basic functions for satellites, including telemetry/command communication, altitude/orbit control, thermal control and electric power supply. The satellite bus consists of a main structure, solar array panels, thermal control devices and Telemetry/Command communication equipment.
*3) SPRINT bus
A semi-made-to-order flexible standard bus developed by JAXA with the aim of reducing the costs of satellite development through its flexible interface for accommodating a wide range of missions. The SPRINT-A satellite platform was developed as part of efforts to increase scientific satellite missions and to promote scientific achievement.
---
About NEC Corporation
NEC Corporation is a leader in the integration of IT and network technologies that benefit businesses and people around the world. By providing a combination of products and solutions that cross utilize the company's experience and global resources, NEC's advanced technologies meet the complex and ever-changing needs of its customers. NEC brings more than 100 years of expertise in technological innovation to empower people, businesses and society. For more information, visit NEC at http://www.nec.com.


NEC is a registered trademark of NEC Corporation. All Rights Reserved. Other product or service marks mentioned herein are the trademarks of their respective owners. (C)2013 NEC Corporation.