*** For immediate use June 21, 2013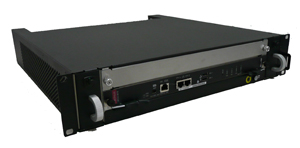 LTE Small Cell Gateway
Tokyo, June 21, 2013
- NEC Corporation (NEC; TSE: 6701) today announced a compact, all-in-one LTE small cell gateway that accommodates approximately 1,000 LTE small cell access points in a single unit.
This new gateway enables telecommunications carriers to provide small scale LTE small cell services while supporting the AdvancedTCA®(
*1
) standard and concentrating security, maintenance, user data processing and traffic control functions on one blade. Additionally, as subscribers increase, the gateway's capacity can easily be extended by increasing the number of blades.
Furthermore, connecting this new gateway to existing 3G small cell gateway equipment enables telecom carriers to smoothly migrate to LTE small cell gateway equipment, which allows them to support both 3G and LTE services. As a result, telecommunications carriers are able to expand services while maintaining control of capital expenditures.
This new gateway can also be integrated with multiple LTE small sell access points and connected to a telecommunications carrier's core network. This helps reduce the burden on telecommunications carriers' core networks when compared to directly connecting access points to a core network. Moreover, the gateway's security functions contribute to the safety of core networks and help reduce operating costs.
"In recent years, telecommunications carriers have been introducing LTE, optimizing wireless capacity and promoting greater capacity in response to the rapid increase in communications from smartphones, tablets and other devices," said Katsumi Tanoue, Assistant General Manager, Mobile Radio Access Network Division, NEC Corporation. "NEC's new gateway is ideally suited for satisfying this increasing market demand."
In addition to this gateway, NEC is also promoting the development and commercialization of an LTE small cell gateway that supports more than 10,000 LTE small cell access points.
Going forward, NEC will continue to drive the expansion of its carrier network business by leveraging advanced wireless transmission technologies and capitalizing on high quality, highly efficient manufacturing practices.
***




---
Note
(*1) AdvancedTCA® is a PCI Industrial Computer Manufacturers Group (PICMG) specification. PICMG is a consortium of companies who collaboratively develop open specifications for high performance telecommunications and industrial computing applications.
---
About NEC Corporation
NEC Corporation is a leader in the integration of IT and network technologies that benefit businesses and people around the world. By providing a combination of products and solutions that cross utilize the company's experience and global resources, NEC's advanced technologies meet the complex and ever-changing needs of its customers. NEC brings more than 100 years of expertise in technological innovation to empower people, businesses and society. For more information, visit NEC at http://www.nec.com.


NEC is a registered trademark of NEC Corporation. All Rights Reserved. Other product or service marks mentioned herein are the trademarks of their respective owners. ©2013 NEC Corporation.