*** For immediate use February 12, 2013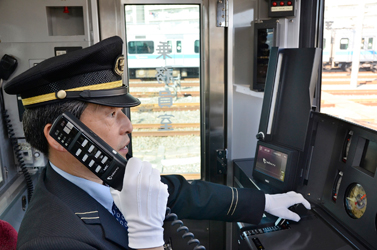 NEC's Digital Train Wireless System
Tokyo, February 12, 2013
- NEC Corporation (NEC; TSE: 6701) is providing wireless systems for the latest trains operated by Odakyu Electric Railway Co., Ltd. (Odakyu), who operates an extensive railway network starting from the largest train terminal in Japan, Shinjuku Station, which serves an estimated 1.95 million passengers every day. These Software-Defined Radio (SDR) equipped systems are scheduled to be fully operational by July 2016.
The wireless digitization of systems for new trains helps to ensure their safe operation within the crowded scheduling of the Tokyo metropolitan area.
Traditionally, in order for trains from different railway operators to run compatibly on each other's lines, each train had to be equipped with multiple wireless systems.
This new system enables different railway operators to use a single wireless device, whose specifications and software can be easily updated for each train. These are the first systems that share specifications between different railway operators as part of minimizing the amount of equipment required for a trains wireless systems and ensuring their efficient operation.
Furthermore, the introduction of this system also facilitates an easier transition from existing analog systems to digital systems, which support superior audio and data transmissions.
As a result, instructions from the control center as well as train service information can be provided more accurately and more quickly to monitors positioned in locations such as the conductor's cabin and passenger areas.
The software-defined radio adopted by this system utilizes globally standardized Software Communication Architecture (SCA).
Going forward, NEC aims to continue driving the adoption on "Digital Train Wireless Systems" as part of contributing to the safety of railway operations throughout the world.
[ Attachment ] NEC Digital Train Wireless Systems
***



---
About NEC Corporation
NEC Corporation is a leader in the integration of IT and network technologies that benefit businesses and people around the world. By providing a combination of products and solutions that cross utilize the company's experience and global resources, NEC's advanced technologies meet the complex and ever-changing needs of its customers. NEC brings more than 100 years of expertise in technological innovation to empower people, businesses and society. For more information, visit NEC at
http://www.nec.com
.
NEC is a registered trademark of NEC Corporation. All Rights Reserved. Other product or service marks mentioned herein are the trademarks of their respective owners. (C)2013 NEC Corporation.
---
NEC Press Contacts (Japan)