*** For immediate use January 29, 2013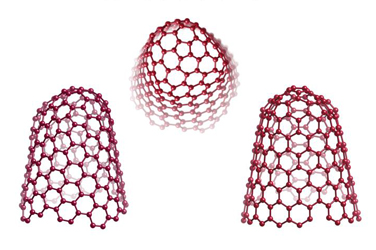 figure:1 Carbon Nanohorn
Tokyo, January 29, 2013
- NEC Corporation (NEC; TSE: 6701) announced today the availability of the "carbon nanohorn," a form of carbon nanotube (
*1
), that can be used for a wide range of purposes, including medical innovations and capacitor enhancement.
Carbon nanohorns were first discovered in 1998 by a research team lead by Dr. Sumio Iijima, Senior Research Fellow, NEC Corporation. Each carbon nanohorn is approximately 2-5 nm (nanometers) in diameter and 40-50 nm long (figure: 1). When several thousand are collected together, carbon nanohorns or carbon nanohorn aggregates can form a spherical shape that is approximately 100 nm in diameter with a wide surface area per unit mass. This formation boasts a range of unique characteristics that include easy dispersion and high conductivity.
Carbon nanohorns are expected to be used with materials spanning industries throughout the world, including the medical field (e.g. as a carrier for drug delivery systems), the electrical component field (e.g. capacitors, actuators and fuel cells) and others.
"NEC is initiating these sales activities following the development and successful testing of technologies and equipment that can mass produce 1kg of 95% pure carbon nanohorns each day," said Masayuki Hasegawa, assistant general manager, NEC. "We are now approaching businesses, universities, research centers and others in order to promote the sale and co-development of applications using carbon nanohorns. NEC aims to provide these materials to 20 organizations within the next 3 years."
Key features of carbon nanohorns include the following:
Unique structure and properties that enable its adoption for a wide range of purposes


Approximately 2-5nm in diameter and 40-50nm in length. Several thousand can be gathered together in order to form a spherical shape of approximately 100nm in diameter.
Wide surface area per unit mass. Surface area expands by approximately 5 times when carbon nanohorns with holes (holey carbon nanohorns) are formed by oxidation treatments.
The wide surface area and high electrical conductivity of carbon nanohorns enable capacitors to carry a larger capacity and actuators to provide stronger propulsion. Furthermore, their adoption with fuel cells enables greater output.
Carbon nanohorns are being used in research to treat cancer as "carriers" for "drug delivery systems" that can administer drugs directly to affected areas.
Resistant to fusion with other materials, making them well suited for encapsulating highly reactive gas and other sensitive substances.





High expectations as a "carrier" for medications due to their lack of metallic impurities and spherical configuration


Carbon nanohorns are free from metallic impurities since metal catalysts are not used in their creation process. Moreover, a variety of tests carried out on cells and in vivo have detected no short-term toxicity.
High expectations are placed on carbon nanohorns as a safe "carrier" for medications since their 100nm spherical structure has no negative impact on surrounding cells and tissues.





Low cost


Since carbon nanohorns can be efficiently produced using simple methods (Pulsed Laser Ablation Method, *2) at room temperature and under normal atmospheric conditions, they can be provided at a low cost when compared to the cost of other nano carbon materials that are complicated to produce.
Carbon nanohorns can be mass produced at more than 1kg each day using NEC technologies and equipment in order to quickly meet the needs of business.
Going forward, NEC will actively promote the use of carbon nanohorns as part of contributing to the advancement of electronics, medical technologies and businesses throughout the world.
NEC will showcase these materials at the Nanotechnology Business Creation Initiative booth at "nano tech 2013," at Tokyo Big Sight from 30 January to 1 February 2013.
***



---
Notes
(*1) Carbon nanotube:
Carbon nanotubes are a carbon material first discovered by Sumio Iijima in 1991. They have a cylindrical carbon atom structure and are approximately the size (diameter) of 5 - 10 atoms.
(*2) Pulsed Laser Ablation Method
This is a method for producing carbon nanohorns where a graphite target (mass of carbon) is irradiated with a strong CO2 laser. This makes it possible to easily produce high-purity carbon nanohorns at room temperature.
---
About Carbon nanohorns
---
About NEC Corporation
NEC Corporation is a leader in the integration of IT and network technologies that benefit businesses and people around the world. By providing a combination of products and solutions that cross utilize the company's experience and global resources, NEC's advanced technologies meet the complex and ever-changing needs of its customers. NEC brings more than 100 years of expertise in technological innovation to empower people, businesses and society. For more information, visit NEC at
http://www.nec.com
.
NEC is a registered trademark of NEC Corporation. All Rights Reserved. Other product or service marks mentioned herein are the trademarks of their respective owners. (C)2013 NEC Corporation.
---
NEC Press Contacts (Japan)