*** For immediate use November 22, 2012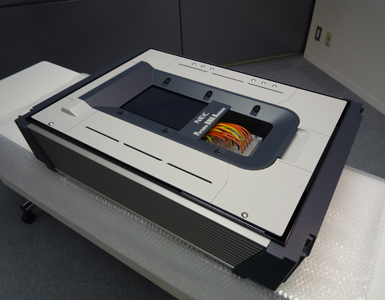 NEC's Portable DNA Analyzer (approximation)
Tokyo, 22 November 2012
- NEC Corporation (NEC; TSE: 6701) and Japan's National Research Institute of Police Science are jointly evaluating the accuracy of NEC's portable DNA analyzer that is currently under development. This collaborative evaluation is scheduled to continue until the end of the 2013 fiscal year.
NEC partnered with several companies in order to equip the Portable DNA Analyzer with an analysis chip (a plastic board for analysis) and a reagent package that manage extremely small quantities of liquid through low cost technologies. The combination of equipment with this analysis chip and reagent package enables it to be easily operated without pipettes, which are required for existing analysis methods.
The DNA analysis process consists of (1) cell extraction, (2) DNA extraction, (3) PCR amplification to increase the amount of DNA (
*1
), (4) electrophoresis for examining DNA size and (5) STR analysis to distinguish between individual differences (
*2
). These processes are conventionally carried out by separate devices, but NEC's Portable DNA Analyzer independently accomplishes each one.
This unification allows each process to work together, and significantly accelerates the repeated warming and cooling of the PCR amplification process. As a result, the time for each process has been shortened, including DNA extraction and analysis, which enables the entire evaluation process to be complete in approximately 60 minutes. Furthermore, this integrated device is approximately the size of a suitcase, enabling it to be conveniently transported between locations.
The first stage of these cooperative evaluations took place from October 24 to November 7 using DNA samples prepared by the National Research Institute of Police Science. The accuracy and reproducibility of the new equipment compared favorably to evaluation results for existing DNA analysis methods, thereby raising expectations for future commercialization.
The National Research Institute of Police Science reported that if certain issues become improved, a rapid DNA test method could soon be established, and that they remain committed to continuing this collative work with NEC in order to contribute to law enforcement activities.
NEC will leverage these evaluations as part of continuing to improve the equipment and aiming to assist with criminal investigations, crime deterrence and contributing to a safer society. NEC seeks to commercialize this equipment in the 2014 fiscal year.
For more information on NEC's Portable DNA Analyzer, please see the following URL:
http://www.nec.com/dna
NEC jointly developed this equipment with the following companies and organizations:
***

---
Notes
(*1) PCR: Polymerase Chain Reaction is the principle for amplification of DNA or the method that uses this principle.
(*6) Micro Total Analysis System technology: The technologies placed on several centimeters of a chip which are necessary for analysis, stir, washing, separation, detection, etc.
---
About NEC Corporation
NEC Corporation is a leader in the integration of IT and network technologies that benefit businesses and people around the world. By providing a combination of products and solutions that cross utilize the company's experience and global resources, NEC's advanced technologies meet the complex and ever-changing needs of its customers. NEC brings more than 100 years of expertise in technological innovation to empower people, businesses and society. For more information, visit NEC at
http://www.nec.com
.
NEC is a registered trademark of NEC Corporation. All Rights Reserved. Other product or service marks mentioned herein are the trademarks of their respective owners. (C)2012 NEC Corporation.
---
NEC Press Contacts (Japan)