*** For immediate use November 14, 2012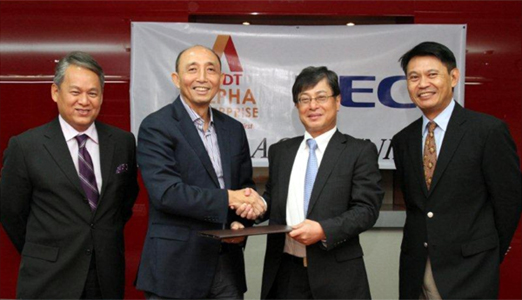 Manila and Tokyo, November 14, 2012 - Telecoms leader PLDT has partnered with NEC Philippines, Inc., wholly-owned subsidiary of Japan's NEC Corporation (NEC; TSE: 6701), to enhance its portfolio of cloud services with the launch of its own cloud infrastructure.

PLDT's IaaS or Infrastructure-as-a-Service enables enterprises to reduce their IT infrastructure or management expenses, with computing resources such as virtual data centers and machines in a cloud network that can simply be accessed and managed from any web browser. This solution allows for the rapid deployment as well as immediate scaling when the number of users increases; enterprises also enjoy computing power on demand, paying only for actual usage while still enjoying full control of these computing resources.

NEC Philippines will provide and maintain the Cloud Computing Infrastructure for PLDT's IaaS offering. NEC was selected after a rigorous evaluation given its capabilities in IT and networking solutions, as well as its expertise in managing cloud solutions and supporting other telecom operators around the world.

This implementation at PLDT is the first cloud project for NEC in the Philippines. PLDT's public cloud service is envisioned to help accelerate the adoption of cloud computing technology locally, as it would bring the benefits of cloud computing to a wider audience.

Photo shows (from left) Eric Alberto, PLDT Executive Vice President and Head of Enterprise and International & Carrier Business; Napoleon L. Nazareno, President and CEO of PLDT and SMART; Kiyofumi Kusaka, President of NEC Philippines, CEO of NEC Asia Pacific Pte Ltd., and Associate Senior Vice President of NEC Corporation; and Leonardo Santos, Executive Vice President of NEC Philippines during the formal contract signing held at the PLDT head office.



***

---
About PLDT
PLDT is the leading telecommunications service provider in the Philippines. Through its principal business groups -fixed line, wireless, business process outsourcing and information and communications technology - PLDT offers a wide range of telecommunications services across the Philippines' most extensive fiber optic backbone and fixed line and cellular networks.

PLDT is listed on the Philippine Stock Exchange (PSE:TEL) and its American Depositary Shares are listed on the New York Stock Exchange (NYSE:PHI). PLDT has one of the largest market capitalizations among Philippine-listed companies.

About NEC Philippines, Inc.
NEC Philippines is the local subsidiary of NEC Corporation and was incorporated in January 11, 1996. It officially started operations in April 1996, though prior to this, NEC was already present in the Philippines through its Manila Representative Office since the 1960s. NEC Philippines is primarily a sales, marketing & services company engaged in the supply of telecommunications equipment, computer systems, network, IP and Data Networks, ICT Integration, IT solutions and services, among others. NEC Philippines also recently launched NECareCenter, its 24x7 support center that not only provides after sales and warranty support, but also offers other services like IT integration, project management and other IT- and networking-related services.

About NEC Corporation
NEC Corporation is a leader in the integration of IT and network technologies that benefit businesses and people around the world. By providing a combination of products and solutions that cross utilize the company's experience and global resources, NEC's advanced technologies meet the complex and ever-changing needs of its customers. NEC brings more than 100 years of expertise in technological innovation to empower people, businesses and society. For more information, visit NEC at
http://www.nec.com
---
Press Contacts