*** For immediate use September 20, 2012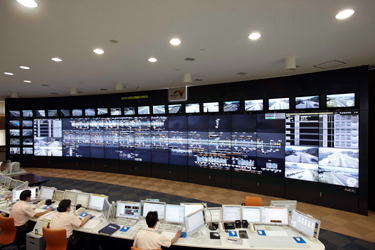 Shin-Tomei Expressway: Road Control Center
Tokyo, September 20, 2012 - NEC Corporation (NEC; TSE: 6701) is providing the Central Nippon Expressway Company Limited (NEXCO Central) with traffic control systems for the Shin-Tomei Expressway that opened in April 2012.

NEC's traffic control systems contribute to the safety, security and comfort of drivers by providing them with roadway information from sources that include sensors and emergency telephones and keeping them connected to important instructions from the Expressway Control Center.

This new system, installed at NEXCO Central's Tokyo control center, provides real time traffic information by rapidly processing large volumes of data (big data) collected from roadway sensors at approximately 1 minute intervals, roughly 5 times the frequency processed by existing systems. Moreover, IP networks efficiently transmit information from roadway sensors to the control center, where traffic conditions can be easily observed from large scale screens. Furthermore, this system is connected with the Tomei Expressway and Chuo Expressway systems, which enables effective responses to large scale emergencies.

Key features of this system include the following:

High speed processing of big data enables up to the minute information and images
The provision of real time traffic information is enabled by the system's improved server performance. The servers support high speed data processing of roadway information from sensors, which arrives approximately every minute, roughly 5 times the volume of information processed by existing systems.

In addition, the roadway control center features large scale displays of 46 x 64 inches and 32 x 28 inches that allow the observation of present roadway conditions and enable staff to share and confirm traffic information with one another.

Moreover, servers for the new system occupy approximately 90% less space than those for existing systems, which results in a significant reduction in power consumption.


Highly reliable, high speed communications network
All 744 roadside access points, featuring emergency telephones and sensors, are constructed with network equipment. These access points support the transition from existing metal lines to IP's high speed optical lines, which connect networks to access point sensors and emergency telephones. As a result, emergency telephone calls and big data received from roadside sensors, such as traffic counting devices, can be rapidly processed.

Ethernet ring protocol(*) enables local networks that connect between access networks to maintain high speed switching (within approximately 0.5 seconds) even when the optical fiber fails.

Furthermore, a wide area backup configuration utilizing trunk networks ensures that a highly reliable broadband networks remain, regardless of road damage or other such barriers.


Emergency backup systems
The backup sites for the traffic management systems of the Shin-Tomei Expressway, Tomei Expressway and the Chuo Expressway are in remote locations. In the event of a large scale emergency, this enables communications between backup sites and roadside equipment to continue, even if communications from the main site have been disabled.

These backup systems not only allow business operations to continue, they can also contribute as an emergency communications network during major emergencies.
NEC is Japan's top vendor of traffic control systems for expressway operators. The company began introducing these systems in 1984 and has since provided them for roadways that include the Meishin Expressway, Hokuriku Expressway, Joban Expressway, Shin-Tomei Expressway and the Chuo Expressway.
NEC aims to capitalize on this know-how and technology to provide advanced traffic control systems to countries throughout the world featuring the sophisticated development, construction and operations it has gained from nearly 30 years in the field.
***


---
Note
(*) Ethernet ring protocol:
Ethernet ring protocol uses a network configuration where switches are connected in a ring. This protocol monitors network conditions and changes transmission paths in response to changing conditions, such as transmission failures and recovery.
---
About NEC Corporation
NEC Corporation is a leader in the integration of IT and network technologies that benefit businesses and people around the world. By providing a combination of products and solutions that cross utilize the company's experience and global resources, NEC's advanced technologies meet the complex and ever-changing needs of its customers. NEC brings more than 100 years of expertise in technological innovation to empower people, businesses and society. For more information, visit NEC at
http://www.nec.com
.
NEC is a registered trademark of NEC Corporation. All Rights Reserved. Other product or service marks mentioned herein are the trademarks of their respective owners. (C)2012 NEC Corporation.
---
NEC Press Contacts (Japan)