Displaying present location in the site.
Committed to advancing healthcare technology for more than five decades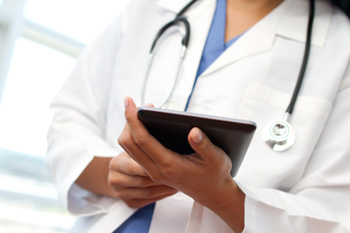 Today the impact of our aging society and related labor shortages are making themselves felt in a variety of areas. Medicalcare and other health-related fields such as nursing care and welfare are now having to deal with the ramifications of these societal changes, including a shortage of doctors, nurses, and caregivers and a decline in the number of experienced technical staff. At the same time, there is a growing need for smooth interdepatmental sharing of medical information, as well as improved healthcare quality, reduced medical malpractice, more effective preventive medicine, and a new approach to dealing with the exponential increase in foreign patients. An additional complicating factor is the government's proposed "Work Style Reform," which aims at reducing extended work hours and achieving a flexible, healthy work environment. In line with this, efforts have been undertaken in recent years to promote efficiency streamlining and labor saving as a whole in medical and healthcare workplaces.

For more than five decades — since the development of Japan's first medical receipt system in 1966, NEC has provided a variety of systems and technologies dedicated to healthcare fields.

In this issue, we take a retrospective look at various solutions developed for healthcare fields as discussed in featured stories and articles published in past issues of NEC Technical Journal.
NEC's healthcare systems have been delivering successful results since the 1960s
NEC's long history of commitment to the advancement of healthcare was inaugurated with the achievement of Japan's first medical receipt system in 1966. Since then, we have developed and provided a wide range of systems to healthcare institutions in Japan. During the 1970s, we developed and delivered various systems — as packages to improve efficiency of each department of a hospital while optimizing interdepartmental cooperation at the hospital — for medical accounting, clinical laboratory testing, medication inventory, and medical imaging, as well as automated dispensing systems for pharmacies.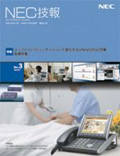 In the 1980s and 1990s, we developed medical ordering systems that would connect systems between departments via a network to integrate the sharing and utlization of clinical data within a hospital, in addition to nursing support systems. Then as we entered the 21st century, we began building full-fledged electronic medical record systems.

The MegaOak-NEMR system — an electronic medical record system introduced by NEC in 2000 — was brought to fruition after repeated trial-and-error testing to assure the most rigorous adherence to such crucial attributes as security and high-speed response time. As the functionality of this system was expanded, its efficiency and sophistication has continued to grow. NEC's ongoing efforts and continued technological advances led in 2006 to the introduction of the MegaOak HR, which incorporated an array of advanced new functions and featured a redesigned system structure.

The MegaOak HR not only serves as a comprehensive electronic medical record system, but also links and analyzes a broad range of data information including doctor consultations, accounting, and intra-hospital logistics This helps achieve qualitative improvement of diagnosis and treatment, prevention of medical malpractice, and improvement of hospital management, not to mention improvements in task efficiency.

Nothing stands still for long in the constantly healthcare changing environment and in 2013, we released the MegaOak/iS, which was designed to offer the latest functions by leveraging a non-customized package and upgradable system to better support improvements in task efficiency at hospitals.
Electronic Medical Record System "MegaOakHR"
MegaOakHR is a core electronic medical record system that is used to record and share medical information including order instructions, medical record entries and information references. This paper reviews the development background of MegaOakHR and introduces the innovative functions and modifications now featured in its internal structure.
NAMIKAWA Hirokazu, MIYAKAWA Riki, SATO Yusuke, TAKASHIMA Koji
(NEC Technical Journal Vol.3 No.3 September, 2008)
Leveraging communications platforms and medical technologies that support healthcare
NEC also leverages communications platforms and medical technologies that support healthcare. Not only have we focused on providing mechanisms to integrate and utilize various data within a hospital, we have also helped build a network platform that forms the foundation for the hospital as a whole and have developed numerous technologies that support regional healthcare.

One of these technologies is software-defined networking (SDN), which makes possible flexible and scalable expansion of a network in a short period of time. At large-scale hospitals, networks tend to be built separately at the department or branch level — which frequently requires addition and replacement of equipment, thereby so complicating the process of understanding the whole picture that it becomes virtually incomprehensible. However, thanks to the world's first introduction of SDN using OpenFlow protocol on a commercial basis, we have been able to reduce the load on hospital administration and management, ensuring stability, and providing extension and modification capabilities that can promptly and flexibly cope with the organizational expansion of a hospital. As a result, our SDN solutions have been highly evaluated in the healthcare field.

Meanwhile, the ever-increasing number of foreign tourists and workers in Japan has resulted in an increase in the number of foreigners using hospitals, posing potential language problems. NEC was quick to respond to this issue. We took the lead to develop an interpretation cloud service in 2013. At first, operation was based on conventional teleconference systems at hospitals and pharmacies, but today, dedicated apps on smartphones and tablets are the dominant means of accessing this service.
Integrating LAN Systems and Portable Medical Examination Machines' Network - OpenFlow Brings Groundbreaking Innovation to Hospital Networks
The network infrastructure created by Kanazawa University Hospital has been expanding under the pressure of the individual needs of each department and laboratory and has thereby become too complex to be managed effectively. Moreover, under the constraints of such a complex network system, it has been increasingly difficult to operate the new equipment that is frequently added to the network. This situation has resulted inevitably in too much time and effort being spent in changing the network settings accordingly. In consequence the Kanazawa University Hospital has decided to introduce NEC's OpenFlow compliant "UNIVERGE PF Series" network solution and has thus received various benefits including reductions for network management and operations load. The hospital is now planning to extend the employment of OpenFlow in their network. OpenFlow is expected to realize universal connectivity, by which the appropriate network policy of medical equipment such as portable diagnostic devices will be applied once it is connected, regardless of which LAN port is used for a connection.
Case study: Kanazawa University Hospital
(NEC Technical Journal Vol.8 No.2 April, 2014)
Versatile self-monitoring technologies to support the health and safety of the elderly
In addition to systems for medical institutions, NEC has been developing other healthcare technologies designed to help people monitor their own health. In 2013, we introduced drug-taking reminder and detection technology to prevent home-care patients from forgetting to take their medications. This system features a smart pill case with an LED that blinks at dosage time and turns off when the pill is taken out of the case. The administration time is recorded and the data is sent to physicians and pharmacists via a smartphone app.

More recently, in 2019, we developed a digital health platform that allows doctors and other medical staff to monitor a patient's medication status with the patient's consent. We plan to improve this platform by adding functions that will coordinate patient behavioral data with medication administration time, as well as with vital data and an electronic medication organizer. We are also getting ready to introduce a smart pill case able to accommodate medication blister packs in different sizes.

We have also developed low-load sphygmomanometry technology that automatically measures blood pressure on a regular basis. Unlike conventional 24-hour sphygmomanometers which have a separate arm band and battery, our low-load sphygmomanometry features a lightweight integrated design. This means it doesn't interfere with the wearer's movement or apply pressure to the arm that can disturb the wearer's sleep.

In 2016, we took our IoT-based elderly self-monitoring solution from the laboratory into the field. With this system, the subject wears a compact sensor, which transmits the subject's pulse, temperature, heartbeat, sleep condition, and location information via Wi-Fi and Bluetooth to a family member or caregiver, making it possible to detect any condition that is different from usual. By making it possible to quickly detect any signs of risk, this helps ensure the subject's health and safety.
Safe, Reliable, Convenient Self-Monitoring Services That Use Wearable Devices
As businesses and entrepreneurs begin to understand the power of IoT to create a dynamic and seamless network of devices interacting behind the scenes, interest in, and demand for, IoT solutions is growing rapidly. The range of IoT solutions is expanding rapidly, encompassing not only quality/operation control, Home Energy Management Systems (HEMS), and security, but also such applications as life care and healthcare, well as autonomous cars and driving support systems. This paper introduces advanced wearable device-based personal IoT solutions (self-monitoring systems) developed by NEC and reviews challenges for the future.
SHIMOMURA Junichi, GOTOU Fumihiro
(NEC Technical Journal Vol.11 No.2 June, 2017)
Introduction of new self-monitoring technology using biometrics and AI
In 2017, we developed adaptive video streaming technology that connects emergency vehicles and nursing facilities with hospitals via mobile networks and the Internet, enabling real-time transmission of high-quality images. This technology instantaneously predicts throughput on a public communications network with unstable transmission speed and dynamically controls the video transmission rate to assure stable, high-quality video transmission. This makes it possible for hospital staff to observe the condition of a patient in transit and immediately start making appropriate preparations to receive that patient.

NEC currently has proprietary biometric technologies in six categories — face, iris, fingerprint, palmprint, finger vein, voice, and ear acoustics. Ear acoustic authentication technology — a biometric solution that takes advantage of the acoustic characteristics of the human ear to distinguish the unique shape of each individual's ear canal — has been getting a lot of attention lately for its simplicity and accuracy. A hearable device worn on either ear identifies the individual and incorporates a microphone, speaker, and various sensors. Vital data is transmitted to a server in the cloud via a public communications network. The data is subject to AI analysis according to preset rules and notifications and warnings are transmitted back to the wearer as necessary. Ideal for self-monitoring of the elderly, this technology can also be used to facilitate efficient communication between medical practitioners and other health professionals.
Human-Oriented IoT Solutions Using Hearable Technology from NEC
The relationship between IoT, AI, and the network technology that connects it is often described using metaphorical comparisons with the brain, the nervous system, and the five senses. The Internet experience, for example, is shifting from one where user and media are isolated from one another, their interaction mediated by monitors and speakers, to one where technologies such as augmented reality (AR) and mixed reality (MR) are used to partially or totally immerse the user in a virtual physical space. A related concept - already in use - is called omnichannel, in which all potential communication channels - both physical and digital are integrated to provide the customer with a seamless, flawless experience that combines real-world physicality with mobile convenience. Now, more and more people are talking about the coming wave of hearable technology, which goes beyond earbuds and hearing aids to advanced computational devices that you wear in your ear and which interface you with AI, robotics, and IoT, all without interfering with your activities in physical space. This paper introduces NEC-developed ear acoustic authentication technology and a geomagnetic indoor positioning system which will be core technologies of NEC's hearable systems.
FURUTANI Satoshi, KOSHINAKA Takafumi, OOSUGI Kouji
(NEC Technical Journal Vol.12 No.1 October, 2017)
Making healthcare more efficient. Contributing to people's health, safety, and security
Visitors to the C&C User Forum & iEXPO 2018 put on by NEC were amazed to see the astonishingly diverse array of advanced technologies and systems developed for the healthcare field. Among the many impressive systems on display were a health checkup forecast simulation system that leveraged our AI technology to analyze data from previous patient checkups using health checkup forecast models derived from that analysis. Other AI technology included a system that can predict and detect potential problems including individuals at high risk for aspiration pneumonia, as well as a platform to share health data obtained with patient consent between hospitals and health-related companies. There was even a flying car! A real crowd-please, the flying car is not a gimmick and is likely to play an active role in medical practice and drug delivery in disasters and other major emergencies.

NEC is committed to pushing forward aggressively to develop even more sophisticated technologies to support all areas of healthcare. By leveraging our ICT to support more efficient healthcare and extension of healthy life years, we are confident that we can make it possible for people all over the world to maintain their health and live heathier, safer, and more secure lives.
Check out NEC's latest efforts to support Healthcare.
(Published September 30, 2019)