Displaying present location in the site.
Featured articles related to Productivity Improvement
In today's rapidly changing business environment, productivity is one of the key management factors that contributes to a company's competitiveness and growth. To achieve higher levels of productivity, there is a growing need for innovative work methods and processes, including the digitization of business through the incorporation of digital transformation and artificial intelligence. The following articles introduce technologies and solutions that are developed by NEC to improve productivity.
A Relaxed and Enjoyable Customer Experience, More Efficient Store Management — The Cashierless Future is Here
The post-digital era poses far more challenges to retail businesses. As consumers demand more flexibility, more choice, and more convenience, retail businesses are scrambling to create a more relaxed and enjoyable customer experience (CX), while striving for greater efficiency by adopting labor-saving systems. NEC has committed tremendous resources to creating the labor-saving and store management systems required to power next-generation stores. To this end, we built our own cashierless store in 2019 at the NEC headquarters building. Still in operation today, this store is a showcase for NEC's advanced retail technologies. NEC has succeeded in this project by combining the world's number one face recognition technology and sensing technology based on sales management and customer management technologies we had already developed for various customers. This paper describes NEC's conception of what such a store should look like, how it should function, and how it should feel to the customer. We also look at new ways to utilize the data collected from the systems used in these stores.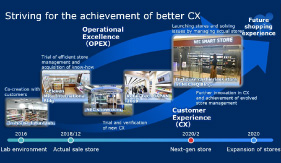 YAMASAKI Shinya, OZEKI Ai, SHIGA Mayumi, NAKAMURA Motoyuki, ISHII Kenichi, NOTOMI Narumitsu
Smart Factory Enabled by Local 5G
The business environment of the manufacturing industry is not only affected by various present changes including labor shortage, the handing over of skills to the next generation and mass-customization, but also by new issues that have surfaced due to the COVID-19 epidemic such as disruption of supply chains and restrictions on the movement of employees. The Smart Factory is a factory that is not only capable of dealing with the presently recognized challenges, but can also respond flexibly to unknown issues that may occur in the future. NEC is promoting the transformation of our factories into smart factories by combining our knowledge as both a manufacturing company and an IT vendor. At the same time, we provide the knowhow of smart factory construction to our customers by making best use of our expertise. This paper introduces the use of local 5G in smart factories.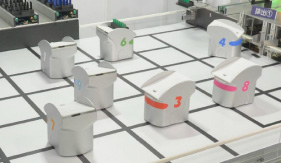 FUCHIGAMI Hirotaka, KURODA Hiroshi
Visual Inspection Solutions Based on the Application of Deep Learning to Image Processing Controllers
The use of artificial intelligence (AI) in product inspection applications is becoming increasingly common. This paper examines a joint effort between NEC and Nippon Electro-Sensory Devices (NED) — a manufacturer specializing in line sensor systems — to create a defective product detection system that incorporates NEC's RAPID machine learning in image processing software used in image inspection systems. In addition to providing customer value which makes it easy to build an image inspection system incorporating machine learning, we have incorporated other cutting-edge NEC technology into NED's products with a view to deploying these solutions in new fields and promoting digitalization in manufacturing.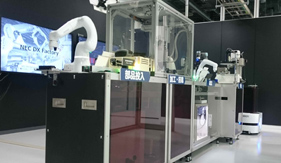 YOKOI Hidehiko, TAKAGI Kazuhisa, ONISHI Yoshifumi, KAWAMOTO Masahiro, HIROSE Mao, MIZUNO Yoshinori
Construction Site Personnel Entrance/Exit Management Service Based on Face Recognition and Location Info
In a construction site, the field supervisor manages the site and personnel with skills in various expert techniques are organized to advance the work. As the required techniques vary depending on the operation process, personnel belonging to several companies enter and exit from the site during the construction period. Since some of the field operations are dangerous, the supervisor must secure the safety of each worker by identifying all of the workers on the site and managing their data. NEC has implemented a service that performs these management procedures with face recognition-based personal identification and the location information without installing additional equipment. Thanks to the capability of easily obtaining the entrance/exit data, this service can check the credentials of each worker and output the results of entrance/exit data calculations. This paper introduces the features of this service.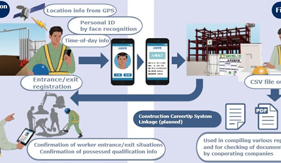 SASADA Yukie, HARADA Kenji, URASAWA Kenichi, NAKAO Tomoaki
Industrial Operations Supporting Industry 4.0
Industry 4.0 (The fourth industrial revolution) has the purpose of enabling mass-customization in the manufacturing industries and in significantly reducing manufacturing costs by advancing the entire SCM. In the near future this trend is expected to spread throughout the manufacturing plants of Japan. This paper focuses on the industrial operations (operations management) that are applying the AI technology and by which especially important reforms may be expected to be introduced. Industrial operations issues related to cost minimization and quality maximization that are important in applying AI technology are also introduced as are the AI technology procedures used by NEC in this field.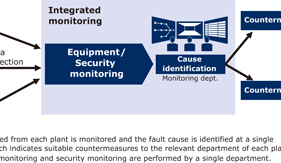 Case Studies of Edge Computing Solutions
One of the objectives of edge computing is to provide the advantages of cloud computing in AI and big data processing while minimizing the use of IT resources in the real world. This paper introduces five cases of edge computing solutions offered by NEC. Two of the examples, the walkthrough face recognition system and the human behavior analysis service, perform image processing such as face recognition at the edge layer, then perform actuation at local or behavior analyses on the cloud. This paper also describes cases like use cases of beacons, collecting and visualizing temperature data via sensor with the edge computing and NEC's activities to implement the solution with IoT smell/odor sensor.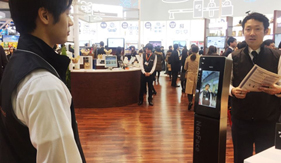 SAITO Kenji, MIKAMI Akiko, ARIGA Kenichi, YASUTAKE Hiroshi, KIMURA Shigeo, HANE Hidetaka