Displaying present location in the site.
Emphases for NEC and its Businesses to Achieve a Nature Positive Mindset
Note:The following dialogue was held on Feb, 2023.
Importance of Natural Capital in Business
Pedersen: Natural capital is a recently featured topic, and I am pleased to be able to discuss it at long last. The idea of "regeneration and restoration" has become a key topic for business since the early 2020s, and is now recognized as one basic premise for conducting business. There is a hierarchy of corporate value creation, and the most basic foundation is natural capital.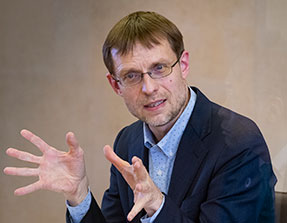 Fujikawa: NEC has also laid out the three levels of environment, society, and economy in the "NEC 2030VISION" announced in 2021, and the foundation of this vision is the environment. We are designing our business based on the environment as well, including natural capital.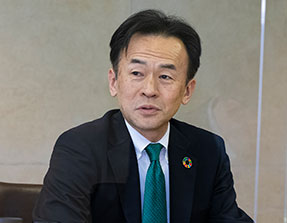 Adachi: In order to realize Nature Positive in business activities, it is not enough to strengthen conservation alone. It is important for companies to find ways to engage in "sustainable consumption and production," and these activities will lead to the achievement of objects of the Convention on Biological Diversity.
In other words, it is necessary to work on reducing the impacts in the supply chain and value chain, and managing land use and managing invasive species properly.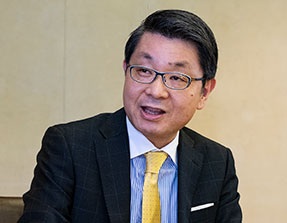 Natural Capital and Human Rights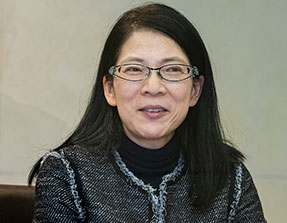 Nagai: Natural capital is also essential for human coexistence and quality of life, and these issues and human rights issues need to be viewed in an integrated manner rather than segmenting vertically. The GBF*, which was decided at COP15, includes respect and protection for indigenous peoples, local communities, women, and girls in six of its 23 goals. It is important to listen to the voices of these social minorities and consider how the reduction of natural capital will affect them.
Shimizu: Natural capital should be considered throughout the supply chain and should be addressed together with suppliers and partners for business continuity. We recognized that natural capital should be mutually shared in terms of carbon neutrality and human rights.

Nagai: I think NEC can have a great positive impact to solve issues through digital technology. I believe that by learning about customer concerns through direct discussions, NEC can broaden its business perspectives. I recommend you to enlighten your employees and have discussions involving suppliers.
Natural Capital Disclosure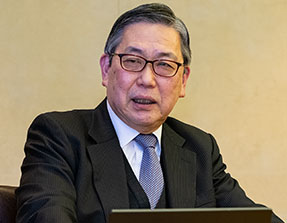 Arai: The balance of ESG investments is 493 trillion yen in 2022 and will continue to grow, putting intense pressure on companies.
At the core of TNFD, the disclosure of natural capital information, there is a purpose to reduce investor risk and change the stream of business. Proactively communicating and disclosing data from management perspectives will help investors make investment decisions and benefit both parties.
Adachi: The EU Taxonomy covers biodiversity as well. As due diligence is planned to be mandated soon, it is necessary to use only deforestation free materials to sell products in the EU market.

Arai: Sustainability disclosure regulations are becoming stricter year by year. It is necessary to clarify KPIs to determine what goals the company has and what actions it will take to achieve them. I would like NEC to refer to examples of advanced cases of overseas companies.
Integrated climate and variable natural capital
Shimizu: In carbon neutrality, there is the idea of offsetting. We recognize that regionality is important for natural capital, but is there such an idea of offsetting?

Adachi: Though location is critical for natural capital, the biodiversity offset is still possible within a very narrow scope. For example, in some states in the U.S. and Australia, for more than 30 years, when a factory is built, it has been required to offset an area by conserving or restoring a similar landscape in the immediate vicinity, and this has developed a large market.

Shimizu: NEC announced in February 2023 that it will study the value to disaster prevention and mitigation as potential carbon credits. This is focused on climate change, but we feel that there is also value in protecting natural capital such as forests through disaster prevention.

Adachi: Non-life insurance companies are also considering new forms of insurance. Traditionally, fire insurance policies for wildfires only covered direct damage, but they are now considering how to restore nature by expanding the scope of insurance to include reforestation after wildfires. Climate change and natural capital can no longer be solved in isolation; they affect each other, and both need to be tackled at the same time.

Pedersen: The idea of a Climate-Nature Nexus, which relates to both carbon neutrality and the restoration of natural capital, is beginning to spread, and it is good for NEC to declare both internally and externally that the company will focus on this "Climate-Nature Nexus".
Arai: NEC also need to collaborate further with external partners and co-create with those who have expertise in know-how and information so that both companies can grow in their businesses.

Pedersen: In the Nature Positive x digital field, the fields of agriculture, fisheries, and cultured meat are also making progress. If digital technology can be utilized in areas that have traditionally had an image of being outdated or tough areas to work in, where young people do not want to work new possibilities open up.

Fujikawa: NEC is co-creating with other companies. There is value that we realized only because there were partners for new business. Multiplying the good points of both companies will lead to new value and business. It is also necessary to create a mechanism to find many new businesses. We would like to continue to work on new areas in cooperation with our research labs and other internal divisions.
*

GBF: Post 2020 Global Biodiversity Framework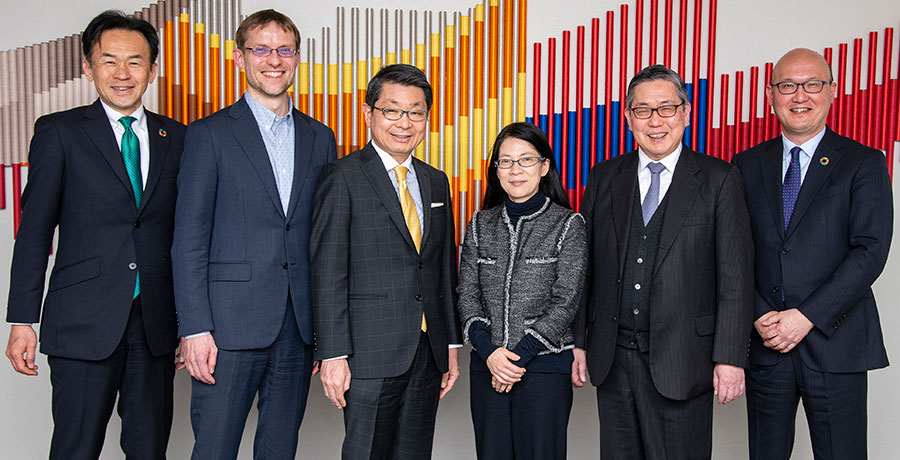 Guest members (outside experts)
Naoki Adachi, PhD

Representative Director, Response Ability Inc.
Executive Director, Japan Business Initiative for Biodiversity (JBIB)

PhD. in Ecology from the Faculty of Science and the Graduate School of Science at the University of Tokyo. After engaging in tropical research at the National Institute for Environmental Studies, he became an independent consultant in sustainable management. He is especially known as an expert on business and biodiversity and sustainable procurement. He has served on numerous committees for the Ministry of the Environment, as well as the Ministry of Agriculture, Forestry and Fisheries, and the Consumer Affairs Agency.