Displaying present location in the site.
The Progress of Sustainability Promotion and Our Response to the Human Rights Risks under Purpose-driven Management
Note:The following dialogue was held on May, 2022.
In order to realize its Purpose, NEC Corporation has declared its intention to "seize the future together" with its stakeholders under the Mid-term Management Plan 2025.

As part of this effort, in this discussion the Sustainability Advisory Committee drew up a vision of society that it would like NEC to create with its stakeholders and introduced activities that would create a mindset that could put the Company on the path toward this society, as well as initiatives to increase employee engagement. We also asked members of the committee for their opinions on the correlation analysis we conducted between non-financial indicators and financial performance that we embarked upon in fiscal 2022, which was aimed at more sophisticated non-financial management.

In addition, Ms. Asako Nagai from BSR shared the latest movements as to how human rights risks are addressed in light of rising geopolitical risks and ongoing due diligence legislation and obligations that draw from the United Nations Guiding Principles on Business and Human Rights (UNGPs). Each member of the committee highlighted key issues that they thought demanded attention, and the committee discussed countermeasures. The discussion yielded a variety of opinions that included recommendations to conduct impact assessments by country and business on a continual basis, to determine rules and principles in anticipation of emergency situations, to show stakeholders that the Company is taking a serious approach to these risks, and to maintain clear communication. We intend to incorporate these opinions into our future activities.
NEC's Approach and Key Initiatives toward Promoting Sustainability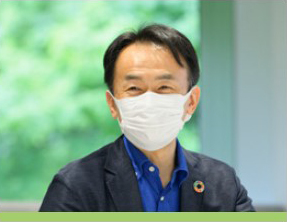 Fujikawa NEC promotes management for sustainability by following three basic principles—we contribute to solving social issues through our business activities, we strengthen risk management and enforce compliance, and we promote communication with stakeholders. We believe that working in line with these principles and realizing our Purpose can lead to sustainability, both for society and the NEC Group. Bearing this in mind, we have embarked on Thought Leadership activities in an effort to "seize the future" as postulated in the Mid-term Management Plan 2025. We want to work with the public sector and people to create an ideal vision for society, and our hope is to generate thoughts—technologies and ideas that will put us on the path to realizing this vision. That being said, we realize that, if sustainability is to be a deep-rooted part of management, we need to cultivate businesses that seize the opportunities that sustainability offers and delve further into non-financial strategies that take financial impact into account. For this reason, in fiscal 2022 we worked to cultivate business related to carbon neutrality, in addition to embarking on a correlation analysis of regarding the relationship between non-financial indicators and financial performance in collaboration with ABeam Consulting Ltd.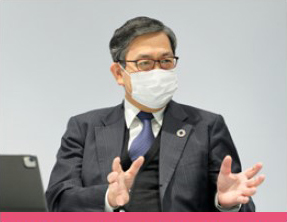 Arai These Thought Leadership activities are of particular interest to me. In an age when companies need to make clear what their various goals are and what they are capable of, Thought Leadership can help companies develop shared goals that they can work on together. Investors expect large companies to grow together, expanding upon their existing efforts and involving outside groups. It would be good if companies were to get on board with creating this sort of society and worked together to make it happen.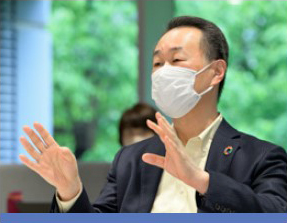 Matsukura Thought Leadership is about developing this sort of world view and direction to work with a variety of stakeholders and create an ideal society. The intent is to have people who communicate and sympathize with the ideas of one another build an ecosystem and cooperate as a team going forward. I think, then, that Thought Leadership conveys an important message—that we are trying to envision how we should be from a social perspective, and not in terms of churning out products.

Arai Simply thinking about the future will not change it. Companies are aware that if they do not express what they are capable of now, and, for example, what is required from 2030 onward, it could be difficult for anything to materialize. I would like to see NEC communicate the role it will play and where it intends to take the lead, and then take action.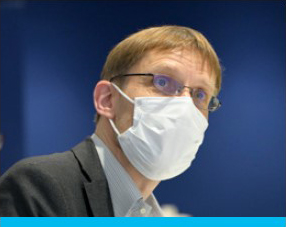 Pedersen (Chair) My understanding is that NEC will shift from innovation based merely on what we call product-out or technology-out, to a stronger focus, also, on what I personally call future-in and society-in. It is in the field where social demands and corporate competencies and strategic priorities intersect that the biggest business opportunities exist.
—Non-Financial Indicators, Their Impact on P/B, and Employee Engagement Score—
Fujikawa The correlation analysis we are conducting with ABeam Consulting regarding the relationship between non-financial indicators and financial performance analyzes how non-financial data correlates with Priceto-Book Ratio (P/B). Accumulating data and conducting repeated analyses of which initiatives stakeholders find meaningful, as well as which lead to greater corporate value, will help us manage our non-financial initiatives with greater sophistication. I would like us to continue with this effort, because, while it does take time, I believe it is important.

Arai Data collection is extremely important. A greater amount of data than collected by other companies will be an advantage in the future.

Matsukura Although the correlation between financial and non-financial operations is starting to become apparent, we are still researching whether there is a causal relationship. In the Mid-term Management Plan 2025, we hypothesized that by bringing together a diverse set of talent, as stipulated by the NEC Way, we would spark major innovation, which would lead to employee growth, and by extension, company growth. We set the employee engagement score as one of the indicators to measure this hypothesis.

We began measuring employee engagement in fiscal 2019, and the survey in fiscal 2020 showed a yearon-year increase of 10%. I believe this increase is a result of changes made to employee working environments and evaluation methods, as well as monthly town hall meetings held this year by the CEO, Mr. Morita, which reaffirmed the Company's goals and direction. Put together, these efforts have helped clarify what we want of each employee as well as their position. More than 10,000 people attend each online town hall meeting, making the most of the power of digital technology.

Arai To create innovation, everyone, from officers to employees, needs to be pointed in the same direction. We are in an age where scattered thinking cannot keep up with the speed of change. For that reason, I think the online town halls are a very good endeavor.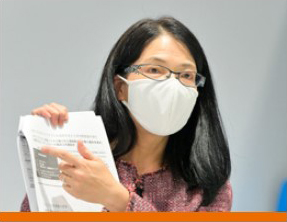 Nagai The competition to acquire digitally literate personnel is growing fierce worldwide, so the employee engagement score is also a good focal point from a business strategy perspective. On the other hand, it is also important to keep an eye on qualitative efforts in the "S" and "G" of ESG—social and governance. Take human rights as an example. In this case, a good approach is to establish a plan for the medium to long term and confirm how much of the plan has been achieved along the way. If you have no view toward the medium to long term, you may accumulate results, but you may lose track of what your goal was in the first place.
Pedersen It is also worth looking to see if an organization allows for "cognitive diversity," or diversity of thinking, since this can be a wellspring for innovation. As Japan's population shrinks and the country has to look overseas for its workforce, development of a more "cosmopolitan culture" seems like a given as well. These two things put together make for a strong organization. There is also data showing that a culture where diversity is respected—where people can raise their hands freely—and supported by purpose-driven management, the organization will have a better chance at securing human resources and lowering their rate of turnover.
Analysis of correlations in financial and non-financial information in partnership with ABeam Consulting Ltd.
Employee engagement score
Preparing for and Responding to Human Rights Risks
Fujikawa The negatives that come with geopolitical risks and AI technology can have a strong impact financially. What specific themes should we prioritize and what measures should we take to manage risk as far as efforts to preserve human rights are concerned?

Nagai Globally, efforts are underway in line with the UN Guiding Principles on Business and Human Rights (UNGPs), and the European Union has drafted a proposal regarding human rights and the environment—the Corporate Sustainability Due Diligence Directive. Companies are making preparations to reflect current bills in their regulations, but they will also have to monitor legislative trends going forward.

Needless to say, NEC has to respond to any reporting obligations targeting it. However, it also needs to take the perspective of a supplier and respond to obligations targeting its customers. This means that NEC needs to step up its efforts beyond what it has done to date, regardless of whether it is the target of such obligations or not.

Approaches to human rights do not end with a one-shot implementation of measures. The approach needs to be ongoing, based on how target themes change and how assessments unfold. NEC is making dedicated efforts toward assessment at the corporate level, but next it needs to consider assessments at the national and regional level, as well as at the business, product, and services level. There also needs to be evolution in areas such as stakeholder engagement, under the purview of the Sustainability Advisory Committee. Looking at Europe and the U.S., we see that companies are resolving issues alone—or rather, they are coming together with other companies in the same industry, NGOs, and investors to establish global initiatives that form multi-stakeholder opinions. There are also cases where a company's decisions are reviewed by an external organization, after which the company essentially follows the reviewing organization's recommendations. One way initiatives can garner global endorsement is by developing them from a variety of perspectives and visualizing this process.

Pedersen In Japan, the "G" in ESG, or governance, is usually limited to the Board of Directors, officer compensation, and similar matters, but globally, the "E" and "S" of ESG, its environmental and social components, are integrated into governance, and climate change and human rights are also factored into governance as a matter of course.

Arai Alongside the movements in Europe, the IIRC,*1 SASB,*2 and CDSB*3 have been absorbed by the IFRS Foundation,*4 which has prompted the integration of sustainability standards. In particular, the move to create standards for climate change is rapidly underway, and disclosure according to these standards will be required in future Japanese securities reports.
Shimizu Human rights risks throughout the value chain must be dealt with, and we are working to set mechanisms to do so in the supply chain. However, I feel like some of the risks exist in the usage phase of our products and services as well. What often happens is that sold products are used for a long time, which makes it difficult to determine what to secure, where to secure it, and to what extent should a geopolitical or similar risk occur.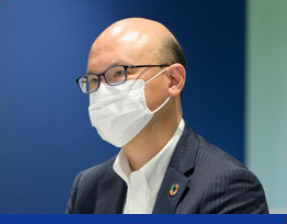 Nagai It is important to set up checkpoints for conducting human rights assessments. These checkpoints need to be set at various points in time relative to business processes, such as the development of a product or service, interactions with customers, or whenever conditions in existing markets become unstable. If there is some aspect that cannot be controlled after selling to customers, there needs to be language written into contracts concerning usage and other measures to ensure that the product or service cannot be implemented outside of its intended use through original programming. Several companies ensure that regular assessments take place as part of their existing workflows, which include setting assessment checkpoints when products are developed, when proposals are made to customers, during quality control, and upon project evaluation.
—Assumed Risks in a Geopolitical and High-Surveillance Society, and How to Prevent Them—
Arai There are many risks associated with data management. NEC and other companies in the ICT sector are under scrutiny as to whether they are taking appropriate measures to defend against data leakage caused by cyber attacks. Another problem is data privacy. Also, responses to geopolitical risks could be delayed if criteria for identifying these risks are not made clear. As for audits, I think that NEC needs to set auditing standards for suppliers to determine, among other things, where risks can be identified with a questionnaire, and where they require on-site audits.

We are at a stage where globalization has basically taken hold, and the world is becoming multi-polarized. In a world where everyone is different, be it in terms of culture, society, religion, or otherwise, these differences must be recognized, and therefore it is important that a company discusses how it accepts diversity. Human rights are at the core of capitalism and liberalism. Human rights must be protected, no matter what a nation's stance may be. Companies need to have a clear understanding of this.

Nagai It's easier to imagine companies playing a part in or being indirectly involved with human rights risks, as opposed to infringing on human rights directly. Indirect involvement can be hard to notice, which makes it a major risk. And, while we place a certain amount of value on human rights, it's a complex concept that cannot be simplified. I believe that it moves along multiple vectors as opposed to a single "yes or no" vector. Political change in countries and regions is a risk factor, as are diversifying stakeholder opinions.

Human rights risks are typically a case of a majority of people with strong authority infringing on the human rights of the vulnerable. The question then is, how can we protect these vulnerable people? Another question for NEC is, how will the Company respond if customers use its products and services in an unintended manner? Depending on this response, NEC's image could be damaged in the eyes of the world, and it runs the risk of its businesses, products, and services being rejected, a drop in employee engagement, and a loss of employee support.

Pedersen Lackluster initiatives and poor communication relative to other companies can pose risks. Companies cannot be passive, and instead must take the initiative and conduct activities ahead of when they are needed. They should also focus on how they communicate. Technology can be both a risk and an opportunity. Although you cannot eliminate every risk, you need to think through each process strategically, be it R&D, inspection of functions, engagement with governments, contract-related processes, and so on. Society is not asking NEC to be perfect, it is asking NEC to be serious in its approach. As for geopolitical risks, it is important to decide upon rules and principles in anticipation of an emergency situation, prepare a contingency plan in advance, and ensure that things can move straight away should an emergency occur—and the later the response, the worse the blowback.
Matsukura Globalization has caused fundamental changes. Global functions cannot be managed using capital-based logic alone. Instead, we are faced with the question of how to optimize operations when these functions are unevenly distributed and costs are high. So, in addition to our inwardlooking policies we are also looking for ways to optimize from a different perspective by using our knowledge as a DX provider.

The future is unclear as one big change happens after another, and we need to increase our ability to respond to the environment and its changes. I believe the key to doing so is a diverse set of human resources. This will enable sound risk management and innovation.

Shimizu I am concerned about visualizing upstream risks in the supply chain. I think if companies share the same values as NEC, they would be able to work together in exchanging information and mapping risks, as opposed to NEC going it alone.

Fujikawa Our corporate message for 2022 is "Truly Open, Truly Trusted." This message represents an opportunity to create an open and trusted world by sharing a safe and secure infrastructure platform, created by trusted members, with people who share our values.

While we are working on developing a Plan B as part of our scenario planning, the series of highly impactful problems over the last three years—the COVID-19 pandemic, the parts shortage, and the situation in Ukraine—is a powerful reminder of how difficult it is to foresee every case. As business moves forward, we have had to make anticipatory decisions to ensure continuity and prevent suspension of operations, and if something happens we need to have made the proper preparations to mount an immediate response in order to minimize management risks.
*1

International Integrated Reporting Council

*2

Sustainability Accounting Standards Board

*3

Climate Disclosure Standards Board

*4

International Financial Reporting Standards Foundation