Displaying present location in the site.
NEC México: Reduction of Environmental Impact in CIVAC Plant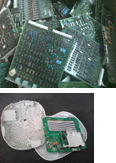 According to the report released by the Tokyo-based United Nations University, 44.7 million tons of E-waste was generated in world-wide, which was up by 8 percent from 2014 and the overall average of E-waste collection or recycling is 20%.

When these E-wastes are discarded, they become very polluting waste. The vast majority contains substances such as bromine, cadmium, phosphorus or mercury that can be very harmful to health and the environment.



NEC México, performs the correct recovery of these substances in PRO of the Environment through its recycling with Certified Companies in Authorized Government Institutions, also contributing to save money and resources to companies that carry out processes to extract them from nature, generating less waste toxic, not forgetting that many materials that are recycled as copper, gold, silver or aluminum are valuable in themselves.

NEC México contributes to reduce the Environmental Impact by raising environmental awareness of its employees through the following environmental trainings.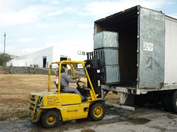 1.- Training and Awareness to the Personnel on the correct separation of residues generated in their Work Processes and daily Activities and the Environmental Impact that they can cause.
2.- Control and Classification of Industrial Waste generated by Daily Work activities and disposal of Electrical and Electronic Equipment Obsolete or out of use
3.- Checking the procedures of recycling of waste through a certified company or in events carried out by government institutions, as well as the corresponding Manifest (Official Authorized Document of Waste Recycling)
NEC DE COLOMBIA: Recycing Program Contributing to "DESAYUNITOS"
NEC Colombia has an internal recycling program that collects recyclable material and donates this material to a non-profit foundation called "DESAYUNITOS", this foundation is in charge of reconditioning and giving adequate final disposal to the donated recycled material and with this activity the foundation obtains funds for the fulfillment of the following social objectives:
Support children with limited resources located in Bogotá with nutritional programs
Pedagogical reinforcement for children and
School of parents that encourage the creation of microenterprises.
In this way, the foundation DESAYUNITOS with the material recycled by NEC of Colombia (environmental focus) wants to improve quality of life on a personal, family and social level in the neighborhood where the foundation is localized.

Finally, NEC COLOMBIA has been interested in this environment and social work since 2016, contributing approximately 80 Kg per month of recyclable material to the foundation DESAYUNITOS, in this way our environmental objective of having a recycling program is fulfilled and we also contribute to the creation of social value to our community.
NEC Chile: Preventive Measures for Accidents of E and HS
Based on the EHS program that NEC has started in world-wide, in 2015 to 2016 NEC Chile created a process to certify its vendors by getting EHS commitments from them.
After that process, we maintained this practices, producing alignment with Proc urement Department, in order to request all new Vendors this kind of Declaration. And such activities allowed us to declare no incidents were produced during last years.

Not only confirming the EHS compliance of vendors, but NEC Chile has developed countermeasures and policy to prevent incident in the context of the important projects. The scope of these projects cover several sites, such as maintenance services.
NEC Chile has assigned person in charge not only for on site risk prevention but also certifications with Sonda, performing Seminar and sharing information, providing Personal Protection Elements.
During last two years, NEC Chile has been recognized as one of the best Sonda Sub-Contractor in this kind of activities, receiving Diploma during a formal Ceremony in their Headquarter Office.


Websites introducing environmental activities of overseas group companies(LATAM)